02.08.08
Gemini version available ♊︎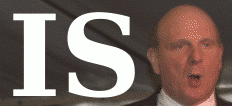 There's hope left for ISO
Finally we have some good news, for a change. After many months (almost years) of protesting against ballot-stuffing, briberies, threats and lies, the European Commission is responding. Microsoft is now under investigation for its OOXML abuses.
European regulators are examining whether Microsoft (NASDAQ:MSFT) Corp violated antitrust laws during a struggle last year to ratify its Office software file format as an international standard, the Wall Street Journal reported.

EU antitrust officials have asked Microsoft for information about its activities in the standards-setting process – an early step in an investigation – and are stepping up scrutiny of the issue, people familiar with the matter told the newspaper.
Personally, I foresaw some legal action, but antitrust scrutiny would be even more effective. It might also have Microsoft's well-document behaviour brought to the mainstream media's attention, a la Netscape trial. █
Permalink
Send this to a friend