10.02.08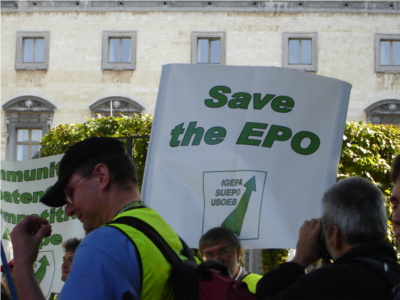 On several occasions since the strike and the protests [1, 2, 3, 4] we have explained what had gone wrong in the EPO. Richard Stallman, whose knowledge of the patent systems around the world became rather profound, has finally gotten around to presenting his point of view and interpretation:
Staff at the European Patent Office went on strike accusing the organization of corruption: specifically, stretching the standards for patents in order to make more money.

One of the ways that the EPO has done this is by issuing software patents in defiance of the treaty that set it up.
It is unrealistic to hope or believe that the system can endure so much manipulation — a manipulation that led to at least one major collapse in the United States. The following new article explains in details what it refers to as "Patent Crisis".
Here's a simple scenario. A startup produces an innovative idea and works with a patent lawyer to file a patent. This takes a considerable amount of time (a few months at least) and a substantial amount of money ($25K+). But the startup does it anyway and after the patent is filed, people feel comforted that their idea is safe.

Right? Of course not! Not even close. Any patent filed today will take 4-6 years to approve. In the current era where a week is a long time and a year is an eternity, the time to process a patent is unbearably long. Because of this gap, filing a patent appears useless. While you can threaten based on a pending patent, people are unlikely to take it seriously.
Another post touches on the issue of "Patent Exhaustion". It's a total mess.
One of the biggest challenges facing the patent system right now—especially in the IT industry—is the fragmentation of patent rights. The combination of more patents, broader patents, and increasingly complex products has made patent clearance extremely difficult for high-tech firms. Patent exhaustion helps because it reduces the number of times a given patent needs to be licensed for any given consumer product. A firm can be reasonably certain that if an upstream supplier has already licensed a particular patent, that firm doesn't need to negotiate a license itself. That's a good thing because negotiating patent agreements is far from costless. Licensing a patent at one point in a supply chain is almost certainly more efficient than a system that requires a fresh patent license for every step in the supply chain.
Does anyone still think that the patent system is sane? That it might actually recuperate without serious intervention? █
"Intellectual property is the next software."
–Nathan Myhrvold, Microsoft patent troll
Permalink Comments off
Send this to a friend