09.28.09
To use your own IRC client, join channel #boycottnovell in FreeNode.
Permalink Comments off
Send this to a friend
Summary: Another quick analysis of how Microsoft 'bear-hugs' the "Open Source" community to advance technical and political goals
THERE IS quite clearly an attack on Free software. Some people really want the movement and its philosophy out of the way so that corporations can "do their thing" and leave that whole "freedom thing" behind. Assimilation is a rather scary strategy because not only is it Microsoft's favourite technique for embracing and extending (or dividing and devouring) but it also makes peers seem like foes, and vice versa.
GNU/Linux is Novell is Microsoft
The vision some people have of GNU/Linux does not have much freedom in mind. Over the weekend, Miguel de Icaza shared nostalgic Microsoft photos and declared that he deletes comments (here in Boycott Novell we never deleted any comments).
If you feel the need to be rude, offensive, lie or you are intentionaly trying to start a fight, I encourage to do that in your blog.
Fellow Novell employee (he came from Ximian) sings praises of Mono, which is almost like gratis promotion of .NET and C#. He addresses the truth about Mono helping Microsoft and never quite catching up:
Unsurprisingly someone attacked Miguel and Mono for "always chasing tail lights" which is a common logical fallacy that the anti-Mono folks love to argue…
A seemingly-reasonable point is then being made: "We're not interested in childish popularity contests, we're interested in making great cross-platform development tools and making the Linux Desktop more inviting to a wider audience of both users and developers."
It can be done with Java, which is equal on more platforms and is also Free software. Quite importantly, it does not suffer from Microsoft's patent cage, it inhibits it.
Open Corers
The most recent attacks on Free software and on Richard Stallman are an issue we addressed in the afternoon, but so did Glyn Moody, who argued that "Without Free Software, Open Source Would Lose its Meaning." It's about blurring, which he warned about 2 years ago when Microsoft was entering the OSI (partly owing to Matt Asay's insistence, being part of the board at the time).
Moreover, if the term "open source" becomes devalued, coders and users will become disillusioned, and start to desert it. The former will find the sharing increasingly asymmetric, as their contributions are taken with little given in return (something that may well happen even to open source companies using the GNU GPL if they demand that contributors cede their copyright, as most currently do). Users will similarly discover that some of these new-style "blurred" open source applications fail to deliver the promised benefits of control, customisation and cost-savings.

But, of course, the point is not "to go mainstream": as Stallman said, it's about having "freedom as a principle." Spreading free software is about spreading *free* software, not free *software*: software is simply the means, not the end.
Mr. Greve (of FSFE fame) argues that it "Seems @mjasay [Matt Asay] should read this again." The cited article from Greve says:
Another approach by which companies such as SAP and Microsoft seek to steer the brand is by escalating, aggravating and encouraging conflict between false enemies, and by seeking to harmonize the wider community with false friends.
This brings us to the last point.
Microsoft and SAP as Part of "Open Source"
Here is the latest episode of this never-ending saga which we wrote about in:
Below is the latest correspondence (up to this morning). My words are marked in red to distinguish from those of the person at the Commission. They shelter moles.
OpenPGP: *Parts of the message have NOT been signed or encrypted*

Dear Mr Schestowitz,

Thank you for your e-mail dated 21/09/2009 registered on 21/09/2009. I hereby acknowledge receipt.

Yours sincerely,

[Anonymised]

[...]

Dear Mr. Schestowitz,

Thank you for your email of 20th March, registered on 23rd March, applying for a copy of documents in accordance with Regulation (EC) N° 1049/2001 regarding public access to European Parliament, Council and Commission documents.

In this message you requested access to the following documents:

"I hereby request electronic access to all documents related to the Towards the European Software Strategy process in the posession of the EU-Commission, in particular access to the following documents:
* the list of participants in the industry expert group
* the list of WGs, WGs sleaders and observing Commission officials
* draft contributions of all industry Working groups on a the European Software Strategy
* draft input to all WG prepared by the Commission
* the participant list of the related meeting on January 20th in Brussels
* all submissions from industry to the ESS consultation under the applicable provisions of regulation 1049/2001 which grant me a right of access to all documents mentioned above."

We were, and still are, unable to identify the documents referred to in the 6th item "all submissions from industry to the ESS consultation", as notified to you in our emails dated 15th April 2009, 8th May 2009, 27th May 2009 and 5th June 2009.

We sent you the documents corresponding to the first five items in your request in our email of 5th June 2009. I would draw your attention to the fact that they can, in no way, be reproduced or disseminated for commercial purposes unless we have first been consulted.

The documents that were sent were:
* the list of participants in the industry expert group: "list of participants in the industry expert group.pdf"
* the list of WGs, WGs sleaders and observing Commission officials: "Working Groups.pdf"
* the participant list of the related meeting on January 20th in Brussels: "Participants list 20th of January.pdf"
* draft input to all WG prepared by the Commission: "Moderator for the European Software Strategy Working Group SMEs Reduction of Fragmentation – D104400.tif" Please note that the email is a model for all the emails sent to the moderators

Please note that the following documents have been drawn up by independent experts and do not necessarily represent the European Commission's views and can in no way be reproduced or disseminated for commercial purposes unless we have first been consulted.
* draft contributions of all industry Working groups on a the European Software Strategy:
"WG1_Future_Internet.pdf"
"WG2_Technology and Business Trends in the Software Industry.pdf"
"WG 3 – IPR, Standards, and Interoperability.zip"
"WG4_Public Procurement – Financing Software Innovation.pdf"
"WG5_SMEs-Reduction of Fragmentation.pdf"
"WG6_Skills.pdf"
"WG7_OSS.pdf"

* draft input to all WG prepared by the Commission: "Software_Strategy_Issues_Paper.pdf"

In our email dated 5th June 2009 we sent you the documents that we had identified from your original email dated 20th March 2009. In your reply, dated 7th June 2009, you subsequently informed us that "I shall ask again for more documents". To date, no request has been received by our services.

Yours sincerely,

[Anonymised]

Thank you for the reply. When I wrote "I shall ask again for more documents" I meant to say "I hereby ask again for the documents". In particular, I wish to see the contributions of Mr. Zuck (he confirmed to me that he was in the panel) and SAP. ACT and SAP have a well documented track record of systematically stomping on Open Source software. Mr. Zuck has been a lobbyist for Microsoft for about a decade, so his role in this paper only help in substantiating allegations that the eventual outcome is manipulated by hostile edits. I adamantly believe that the process — not just the output — should be transparent.
This scandal has gone on for several months (almost half a year) and I have still not received what I requested. Even the active involvement of the ombudsman did not help much, except for the fact that the Commission was pressured/forced to carry on with correspondence comprising mostly excuses. In the mean time, Microsoft, SAP and their lobbyists get their way in Europe. █
"The closing years of life are like a masquerade party, when the masks are dropped"
–Arthur Schopenhauer quotes (German Philosopher, 1788-1860)
Summary: Richard Stallman to help New Zealand defeat software patents, which are mathematical monopolies based on the New Scientist; reform suffers setbacks and Microsoft is unable to obey patent law
Resistors
THE father of Free software, Richard Stallman, shall soon speak about software patents in New Zealand. Here is an introduction/abstract.
In this insightful discussion, international Free Software advocate Richard Stallman (RMS) will argue that software patents seriously and significantly obstruct software development.

Software patents are patents that cover software ideas. Stallman will argue that they restrict the development of software to the point that the risk of legal action as a result of design decisions is dramatically raised. Stallman will also make the point that patents in other fields restrict factories, but in IT, software patents restrict every computer user and consumer.
Stallman was giving such talks several years back when European activists staved off attempts to legalise software patents in Europe (Microsoft was among the large forces lobbying for it). Similar attempts are now being made to legalise software patents in New Zealand where Microsoft tries to colonise, not always successfully though.
Software is Mathematics
Here is a very recent article from the New Scientist, which is a distinguished publication. Therein we find a clear, scientific explanation of why software is mathematics (and should therefore not be patentable).
To prove mathematically that the 7500 lines of its kernel's code were secure, Gerwin Klein of NICTA and his team first had to come up with a mathematical method to express the code. "In the end, programs are just mathematics, and you can reason about them mathematically," says Klein.
One can join the latest discussion about software patents at Groklaw, where the invaluable finding shown above was first identified and brought to more people's attention.
Reform
As we mentioned the other day, the Rick Frenkel (aka Patent Troll Tracker) case [1, 2, 3, 4, 5, 6, 7] is now settled and Law.com offers some more coverage. The sad thing is that those patent trolls managed to gag and perhaps permanently silence their biggest critic. According to Patently-O, on Obama's agenda there are more intellectual monopolies, not less (no surprise there). Here are some details.
President Obama's speech today focused on its newly formed "strategy for American innovation" — his "strategy to foster new jobs, new businesses, and new industries by laying the groundwork and the ground rules to best tap our innovative potential. . . .

[...]

Protect intellectual property rights. Intellectual property is to the digital age what physical goods were to the industrial age. We must ensure that intellectual property is protected in foreign markets and promote greater cooperation on international standards that allow our technologies to compete everywhere. The Administration is committed to ensuring that the United States Patent and Trademark Office has the resources, authority, and flexibility to administer the patent system effectively and issue high-quality patents on innovative intellectual property, while rejecting claims that do not merit patent protection.
There is some very strong language here; it is almost propaganda-inspired, as though it was written by patent lawyers to advance their personal agenda. The Director of the USPTO, David Kappos, says that patents are a "20-year monopoly", which is not the same as referring to patents as a "property", a "right", "protection", or intellect. It's more of a blockade, but monopolies love those.
Microsoft
Microsoft still treats Exchange protocols as patents — a practice which is wrongly seen as acceptable (or a "necessary evil") by some players in the relevant sector; Google is among the victims of ActiveSync, others being Linux vendors which succumbed to Microsoft's patent plot. The funny thing is that Microsoft ignores patent law when it suits its needs. Here is the latest turn of events in the i4i case, as described in the Wall Street Journal.
I4i Inc. doesn't want to prevent Microsoft Corp. (MSFT) from selling its flagship Word product, it just wants Microsoft to remove i4i's technology.

And the closely held Toronto company, which won its patent-infringement case against Microsoft in May, doesn't appear willing to compromise on this point. "You can never say never," said i4i Chairman Loudon Owen, regarding a settlement with Microsoft, "but we're here to build our business and we're here to compete."
More information about the i4i case can be found in [1, 2, 3, 4, 5, 6, 7, 8, 9, 10]. It's an embarrassment to Microsoft and it shows the company's endless hypocrisy when it comes to software patents. █
"The only patent that is valid is one which this Court has not been able to get its hands on."
–Supreme Court Justice Jackson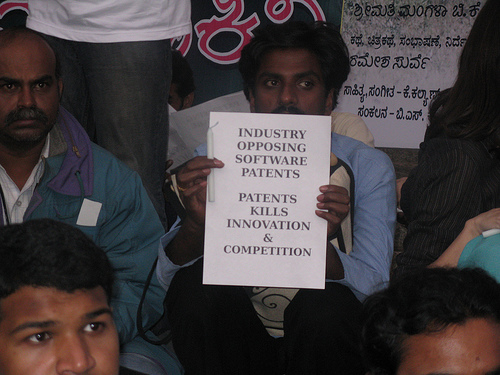 Permalink Comments off
Send this to a friend
Contents
Intel's acquisition of Wind River in the summer means it has a choice of Linux-based operating systems to support with its set-top boxes processors, namely Android, LiMO and its own Moblin OS.

Welcome to the 64th issue of Softpedia Linux Weekly!

We'll start this edition of our weekly with a fine overview of the newly released GNOME 2.28 desktop environment. The following Linux distributions were announced last week: Ultimate Edition Gamers 2.3, Network Security Toolkit 2.11.0 and Moblin 2.0.

We have all read the news that Google is planning to enter the operating system market with their soon to be released Google Chrome OS which is initially targeting the netbook market. Google Chrome OS is based on Google's web browser Google Chrome and a Linux kernel. Little information are know as of yet. The ones that are available state that Google Chrome OS will be released as Open Source, that it will use a minimalistic design and that it will likely be released in the second half of 2010.

[...]

To be 100% clear here. This is a custom Linux distribution and not the official Google Chrome OS. It still resembles the operating system and can be used as a Live CD to run the Google Chrome web browser on Linux. Interested users can download the Live CD or the virtual image from the Chrome OS Linux website.

Desktop

Kernel Space

Applications

The Wine development release 1.1.30 is now available. With Wine it's possible to run Windows applications on top of Linux.

Back in the day, a custom audio CD with the best love songs made a wonderful Valentine's Day gift. Now she'd hardly be impressed.

You'd need to throw in the holiday videos and make sure it works on the high definition plasma to sweep her off her feet.

One of the drawbacks to most people who want to migrate to Linux is that it lacks some really good image manipulation applications. However, thanks to the tireless efforts of a lot of programmers, there are some pretty cool image manipulation applications out there that most newbies are bound to find useful.

Desktop Environments

Today, the KDE Community Forums, in collaboration with "People Behind KDE", have launched a new initiative to give the community an opportunity to get to know each other a bit closer: KDialogue.

At this point, there are no special customizations or anything to mark Gentoo's 10th birthday within this Gentoo LiveDVD, but it is simply a snapshot of the current state of Gentoo. Expect Gentoo Ten to be officially released later this year.

In honor of Gentoo's 10th birthday, we are producing a new livedvd! We need YOU to test it on as many x86 and x86_64 machines as you can and post bugs. Please report your bugs. Feel free to entertain yourself and fellow Gentoo rock stars on our forum.

Ubuntu

Phones

Just one day after Amazon dropped the price of the popular Palm Pre smartphone to $100 USD, Wal-Mart has begun selling the phone for $80 USD with two-year contract with exclusive carrier Sprint.

Dion Almaer and Ben Galbraith, who have been at Mozilla directing the Developer Tools Lab since its inception in October 2008, creating products such as Bespin, have moved to smartphone manufacturer Palm. They will become the Directors of the Palm Developer Relations Team. The team handles relations between the community of web developers and the firm. Almaer announced the move in his web log.

Sub-notebooks
Some people do ask whether the farmers' market is scalable – surely having a big corporation planning all the production is better? But no, each week the market is full of produce produced by local people who love growing it, and customers turn up to sell in proportion to the number of people who show up to buy. No-one seemed to be struggling to make a living. The stallholder had never heard of OpenOffice.org or Firefox, but easily got the idea that software made by a community could be great and that having everyone doing the part they can for themselves means there's no need to have a big corporation wanting you to pay. There are no hidden ingredients either, and despite the lack of pesticides there seem to be fewer bugs…

Open source is "organic software" and its time has come. He's going home to his organic produce and to look for "open source software" and "open office" on the web. Me – I'm reflecting on Software Freedom Day as I prepare my trout.

It's obviously good news for the Web's ecosystem that so many different servers now hold significant market share, since this makes it far more resilient. It's also good to see from the latest Netcraft survey that Apache's share is holding up under this onslaught. The same cannot be said about Microsoft's IIS, which has now dropped back to pretty much the base level it had before it began its big push. So much for countering that advertisement for free software.

Openbravo debuted its Openbravo QuickStart Edition, a version of its open-source ERP application set that the company said can be implemented in as little as 40 to 80 hours — a fraction of the time needed to install most ERP software. Targeting SMBs, the preconfigured, entry-level software package offers application templates and other tools that solution providers use to sell the product with fixed-price services.

With these business owners in mind, we've put together a list of 50 superb open source apps for SOHO users. We tried to narrow the list to well-tested, easy-to-use applications that average small business owners with minimal technical expertise would be able to install and use on their own.

Mozilla

Looking at a rolling 1 week average, Firefox has been above 24% global usage share for for several days now. We probably won't break 24% for the month of September but we're going to come pretty close and I think this puts us on track to easily reach 25% of global usage by the end of the year.

Ricardo Palomares from Mozilla Hispano, had an interview with Robert Kaiser, long time SeaMonkey project coordinator on what's going on with SeaMonkey, the motivations, and other activities including promotion and T-shirts. Oh, and real sea monkeys also.

[...]

2- Why use (and help with) SeaMonkey instead of Firefox + Thunderbird?

Because it's nice (for a certain group of people) to have browser and messaging closely integrated with each other in one single application, and because it's nice to have a lot of advanced features like the cookie viewer right available from the browser menus, not needing deep clicking into subwindows of subwindows to finally arrive there like in Firefox.

Openness

The plan to create OCW, a website publishing virtually all MIT's course material, was announced in 2001. Today almost 2,000 courses, or 80 per cent of those offered by the university, are available online at no cost. The potential benefits to learners were immediately clear – but what was in it for the university?

The books featured during Banned Books Week have been targets of attempted bannings. Fortunately, while some books were banned or restricted, in a majority of cases the books were not banned, all thanks to the efforts of librarians, teachers, booksellers, and members of the community to retain the books in the library collections.

Programming

Also I wish to point out that the efforts in learning C and the big picture are richly paid. No doubt about that. The deeper you go into technology, you want to know about memory, CPU, registers and so on. Embedded programming involves tight programming practices. You should be careful with buffer sizes, with mallocs and so on. Your brain learns to think like a genius once you do C programming for a while.
Privacy

The Home Office is to spend over £500,000 this year on a marketing campaign for the identity card that features cartoon fingerprints.

Owners will be forced to install the microchip containing a barcode that can store their pet's name, breed, age and health along with their own address and phone number.

Remember that the definition of "personal data" includes partially or poorly "anonymised data", which can easily be cross referenced with another system e.g. Vehicle Number Plate and just the first part of the Post Code of the Registered Keeper address will be enough to identify the driver , in most cases.

AstroTurf

Standing in a medical exam room, a neurosurgeon in a white lab coat stares solemnly into the camera and warns that President Obama's health care plan "will hurt our seniors" and "end Medicare as we know it." Two networks, NBC and ABC, declined to run the 30-second ad, but it has probably reached millions of people on Fox, CBS and local stations as well as on the Web.

[...]

The group that says it paid for the campaign– the League of American Voters – incorporated less than two weeks before the ad was released online. The League's executive director, its only employee, declined to identify its founders or donors but claims that in less than two months of existence it has built a membership of 16,000 and raised about $1.7 million in donations. The group says it rents space inside a downtown Washington, D.C., office, an address shared with at least four other conservative groups.

Oh lordy, those poor little plants and animals – deprived of the life-giving CO2. How could mankind be so cruel and insensate? How could we have overlooked such an obvious thing until now?

Update: Don't miss Adam Pope's super-sleuthing in the comments that suggests this site just might have something to do with the gas and oil industries…

Censorship/Web Abuse

AT&T has written the Federal Communications Commission's Wireline Competition Bureau to insist that any new net neutrality rules need be apply to everyone in the industry, including web companies like Google.

The Competitive Enterprise Institute is always good for a laugh thanks to its transparent agenda (the use of the weasel word "competitive" gives it away)…

[...]

Painting the freedom of net neutrality as a kind of slavery in this way is really a tour-de-force of topsy-turvism, even by the high standards of the Competitive Enterprise Institute.
Permalink Comments off
Send this to a friend
Summary: Response to the usual anti-Richard Stallman crowd and their latest incitement against Free software (and to a lesser degree Ubuntu)
THE headline is a response to Matt Asay's latest "Free software is dead" wishful thinking. He is one of those opportunists who believe that they can simply relabel GPL-licensed software "open source" and then magically declare the FSF "irrelevant" and Free software "dead". It doesn't work that way.
"Truth be told, Asay has disliked Richard Stallman all along."Richard Stallman does not shy away from politics and this comes at a cost. Truth be told, Asay has disliked Richard Stallman all along. This fact has been raised here many times before. Like with the Shuttleworth incident, Stallman has been smeared again recently. Free software supporters should not be dismayed, however, because these latest smears against Stallman typically come from pro-Big Business writers (e.g. Apple users/advocates) and also people of the Big Press. They look for triggers to justify their disdain and then make convenient excuses for an outburst du jour.
Speaking from experience, I have not found a single person who agreed with the FSF before those 'incidents' and changed his/her mind. I have seen about a dozen criticisms of Stallman's remark and none surprised me. The shrewder complainers 'sell' the illusion that things suddenly changed; but it could not be further from the truth. In the case of Tux Machines, for example, the Shuttleworth/Ubuntu unrest was nothing new. The editor expressed similar sentiments several times before.
One reader of ours writes: "I think the renewed sexism attack should be counted as an attack on rivals last week. It was dirty and indirect but it was an attack."
On he goes saying in reply to Wallclimber that "the best way to diffuse that is to look at the context and diffuse the lie." She said that "what's bad about these recent attacks is that they know exactly what buttons to push to get people worked up… I think everyone's nerves are a little on edge lately." █
"Today many people are switching to free software for purely practical reasons. That is good, as far as it goes, but that isn't all we need to do! Attracting users to free software is not the whole job, just the first step."
–Richard Stallman
Summary: Microsoft is sniffing a lot around banks and bailout these days; shareholders angry over new scandal
ASIDE from the latest Washington DC PR stunts from Microsoft, there is a lot of interesting news which shows Microsoft getting closer and closer to the banking community. We wrote about Microsoft and M-Com just a few days ago.
Microsoft's relationship with Citibank is a subject that we covered a year ago when there was obvious Microsoft bias from the bank. Well, guess what? Citigroup, the parent of this bank, wants to compete with a financial news site right now. Conflict of interests? Just pretend it ain't so. But look at Citibank's partner for this venture. It's Microsoft.
Citigroup has formed a venture with Microsoft Corp to compete with Mint.com, the personal-finance website that Intuit Inc agreed to buy last week for $170 million (Dh624 million), people familiar with the matter said.

[...]

After last year's $45 billion bailout, Pandit may have to justify the cost of each project, said Thomas Noyes, who until 2007 headed Citigroup's international Internet and mobile-banking businesses.

[...]

Microsoft runs MSN Money, a website that displays stock quotes, offers tools for tracking bank accounts and publishes articles and columns on investments, personal budgeting and credit repair.
This is ridiculous. While not descending to the corruption that led to this whole "bailout" thing (colossal public looting), worth noting here is that it's ethically wrong for a bank to own, control or even collaborate with news sites that cover its activity.
Remember MSNBC [1, 2]? Remember the Chinese president meeting Bill Gates on a rare visit, as though this is his highest priority (coming before a meeting with the US president)? Watch what the Prime Minister of Kyrgyzstan has planned for his own visit to the United States. The following came up some days ago:
Prime Minister Igor Chudinov is visiting USA, governmental press service reports.

During the visit I. Chudinov will take part in a work the 64th session of UN General Assembly and Climate Change Summit.I. Chudinov will meet with leadership of the State Department, World Bank, IMF, representatives of Microsoft corporation.
Watch this carefully. He meets the government, a large bank, another international bank, and then… Microsoft. Anyone else? No.
He met Microsoft before [1, 2], after his nation had been knocked offline by Windows botnets.
Here again in the news is Microsoft and the Bank of New York cooperating on the management of bailout money (i.e. looting allocations). We saw the accompanying press release last week and here is the Federal Computer Weekly Web site (no relation to the government, never kind the gross Microsoft bias) covering this:
Microsoft and Bank of New York Mellon announced earlier this month that they are working together to help state and local governments meet reporting requirements related to economic stimulus funding.
Why does Microsoft get to manage all this? How does the Microsoft-influenced government feel about it?
All these entanglements are getting problematic. Consider for instance Microsoft's newly-found influence at the FCC and watch this release from Microsoft.
A study commissioned by Microsoft Corp. estimates that the unlicensed "white spaces" spectrum coveted by the software giant and other technology companies could be worth more than $100 billion over the next 15 years.

[...]

The companies were met with stiff resistance from the telecommunications, media and audio technology industries, though the FCC ultimately approved the unlicensed use of the white spaces late last year.
Is Microsoft trying to lobby the FCC to give it a place on the table and greater access to taxpayers' money? Is that the purpose of Microsoft paying people to conduct a so-called 'study'? Microsoft does not create white papers for educational purposes; It is not in shareholders' interest.
Speaking of shareholders' interest, one shareholder is publicly blasting Microsoft regarding this incident.
If the say-on-pay had been in place, you have to wonder how many investors would vote to spend that kind of money on relocating one executive.
Jackson, who claims to have a "long position in MSFT," writes:
Microsoft's Distasteful Plans to Save Us from the Housing Crisis

[...]

This last disclosure came out late Friday in Microsoft's preliminary proxy.

Michelle studiously noticed that in that same filing, Microsoft disclosed that it may outdo the Fed and the Obama administration in saving the country from the current financial mess. Specifically, they are going to focus on the housing mess and try to stabilize the market one Bay Area executive mansion at a time.

[...]

The reason for this was that Elop apparently couldn't sell it. Therefore, using bizarre executive comp logic, he hired 3 independent appraisers to peg the value of his home and got Microsoft's shareholders to pay him that amount for the home. This was all to "induce" him to take the job of heading up Microsoft's Business Services Division in Redmond. I know it rains more in the winter in Seattle, but that's quite an "inducement." I guess the "war for talent" is brutal — even in the biggest recession since the Great Depression.

[...]

If Elop couldn't sell his house in the Bay Area and he didn't want to carry the mortgage on it while moving to Seattle, that's his decision. As a shareholder, I'd say let's find some other executive who does want this exciting opportunity. Enough with the "that's what we had to do to get this talent" logic. There are many talented people that would have jumped through hoops for this job.

It's too bad Elop and Kevin Johnson couldn't have coordinated their plans to switch jobs at Microsoft and Juniper Networks. They could have saved shareholders a lot of expense by just doing a house swap.
Going back to the FCC, recall what Microsoft's co-founder Paul Allen is doing with wireless (we wrote about it last week). Allen is still up to mysterious things in his low-profile life:
Microsoft co-founder on secret jaunt to Israel – with 92-meter yacht

Microsoft founder and multi-billionaire Paul G. Allen landed Friday at Ben-Gurion Airport, the day after his 92-meter mega-yacht, Tatoosh, anchored at the Ashdod port – since no regular Israeli marina is large enough to hold the ship, the world's 26th largest motor yacht. He took a helicopter from the airport to his yacht.

[...]

As to what Allen is doing in Israel – he is considered extremely secretive and has banned journalists from his yacht and covering his visit.
How polite. Secrecy sometimes indicates something illegal/unethical is being done, not necessarily a crime. █
"Behind every great fortune there is a crime."
–Honor de Balzac
Permalink Comments off
Send this to a friend
Summary: Watchdogs do not pay attention as yet another deal gets signed for Microsoft to inherit the public sector
Microsoft's dealings with the British government have been dodgy for quite some time [1, 2, 3, 4, 5] and one of the key culprits left his position recently*. But despite apparent change and many promises (false, obviously), Microsoft manages to monopolise the UK public sector yet again. There is not even an apparent tender which weighs those things called "options", so the only real options being considered here are the different prices offered by Microsoft.
With Microsoft rivals excluded, a "good deal" does not mean a better product from ethical companies; it means paying less than some perceived value of a license to run binary code.
You will have been aware that, at the end of May this year, Buying Solutions, negotiating on behalf of the UK public sector, reached a new Public Sector Agreement (PSA09) with Microsoft. The agreement created a more flexible approach to the licensing of Microsoft products, providing the means for public sector bodies to obtain greater value for money.

[..]

Requests for places should be sent to microsoftclinic@buyingsolutions.gsi.gov.uk

More Information

For more information about the new Microsoft deal, visit www.buyingsolutions.gov.uk
Some say that a policy was violated here. This is ridiculous and it warrants investigation. It could be in gross violation of the law and an authority of Switzerland was taken to court for this type of behaviour. We wrote about it in:
As Carlo Piana cautioned the other day, regulators are not paying close enough attention to Microsoft because their leadership may change soon. According to Reuters, Microsoft has successfully burned out those who scrutinise.
EU anti-trust chief eager to close Microsoft case

[...]

The Commission has over the years imposed fines totalling 1.68 billion euros ($2.5 billion) on Microsoft for infringing EU antitrust rules. It could levy another hefty penalty if it were to rule against the company in the web browsers case.
The Commission insists that Microsoft should offer ballots, but so far Microsoft has evaded orders.
European Union antitrust regulators are seeking to ensure that an offer by U.S. software company Microsoft to give users the chance to choose rivals' Web browsers was workable for consumers and its rivals.
The Microsoft crowd is meanwhile inciting people against the Commission, against Firefox/Mozilla, and against Opera. That is how Microsoft typically treats critics of its illegal behaviour. █
_____
* Microsoft owes a lot of its market share to cronyism and even bribery.
"Microsoft is pulling out every favor it's got … It has a very close relationship with DOJ and the White House, and all of that pressure is being brought to bear."
–Knowledgeable tech industry source [via]
Permalink Comments off
Send this to a friend
Summary: Chrapaty jumps ship, but the company she joins could consequently be influenced by Microsoft software; Publicis and EA also show signs of Microsoft impact
JOINING many others in her group, the datacentre VP of Microsoft decides to quit, but she lands inside Cisco, thus posing a threat to the company's GNU/Linux strategy. It's a potential HR issue, as we came to realise in recent years. From IDG:
Cisco is tapping a high ranking Microsoft executive to be the new head of its collaboration software group.
Another report from IDG has this departure confirmed by Microsoft.
Cisco declined to comment on Chrapaty, but a Microsoft spokesperson confirmed the move.

At Microsoft, Chrapaty was corporate vice president of Global Foundation Services, in charge of infrastructure and services elements for Microsoft Live, and cloud and online services. At Cisco, she will likely be in charge of the company's cloud and software-as-a-service strategies.
Speaking of HR issues, Publicis Groupe is no longer a stranger to Microsoft; Microsoft sold over 2,000 employees to Publicis last month and now they sign another strategic deal. Coincidence? Not likely.
Mobile marketing specialist Publicis Groupe Phonevalley is to offer customised ad solutions, technology and metrics across Microsoft's mobile web properties, including the Microsoft Media Network, Bing and MSN.
Here is Microsoft promoting cars and vice versa (suitable for its car salesman-like CEO, with professional family roots in there), as well as another rumour of Microsoft buying a games company. Microsoft executives have been entering Electronic Arts (EA) for quite some time now (e.g. [1, 2]) and then came this:
Electronic Arts stock up on takeover talk-traders

[...]

"There's talk that Microsoft might be interested in acquiring Electronic Arts. It's unsubstantiated chatter, but it's out there," said Frederic Ruffy, an options strategist at WhatsTrading.com in New York.
Microsoft denies this and EA denies also. It does not rule the possibility of this happening some time in the future though. Microsoft also insisted (very repeatedly and vigourously in fact) that it was not making a phone, but it seems to have been lying all along even if technically it was not making any phones at present day (time of the rumours). █
Permalink Comments off
Send this to a friend