08.26.10
Gemini version available ♊︎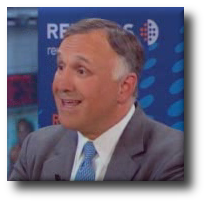 Summary: Very quick coverage about Novell results (more details shortly)
The provider of software used by businesses said revenue for the period ended July 31 fell to $199 million from $216.1 million. Excluding special items, Novell said earnings for the period were 6 cents a share.

Non-GAAP net income fell to $22 million or $0.06 per share from $25 million or $0.07 per share in the year-ago quarter.

Third quarter net revenue declined to $199 million from $216 million in the previous year quarter.

CEO Ron Hovespian said in a statement that results missed initial expectations due to "customer uncertainty" related to the company's March announcement that it is reviewing various alternatives to enhance shareholders value.
Update: Dana Russell speaks out as well. There is additional coverage and our reader gnufreex says: "I am interested to see how many people Novell fired. But they are not reporting that."
Novell Chief Executive Dana Russell declined to say where the company currently stands in terms of seeking a buyer or other related options.

"We're in the middle of a process here, we're impacted by it and feeling the effects, and that's what you see there in the numbers," Russell said. "There's certainly a level of uncertainty with customers, partners and our employees."

Novell Inc.'s (NOVL) fiscal third-quarter profit dropped 5.9% on lower revenue and margins as results were hurt by customer uncertainty about the software company's future.
Permalink
Send this to a friend