09.09.10
Gemini version available ♊︎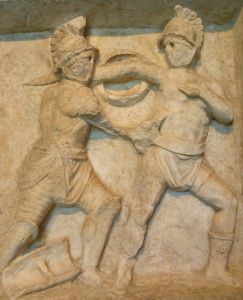 Summary: The patent system (solicitors) is attacking itself, products shown to be retarded by patents, and "death patents" suggest need for overhaul
• Patent Litigation Weekly: IP Law Firms Sued … for Infringing Patents?
That's why two lawsuits launched recently by Connecticut patent lawyer Wes Whitmeyer caught our attention. Whitmeyer is an attorney at St. Onge, Steward Johnston & Reens who holds several patents on software for the online management of patent payments, such as those connected to maintenance fees.
• Former Patent Attorney Turned Patent Litigant… Sues Other Patent Lawyers
Apparently, Whitmeyer has sued a bunch of companies that make software for managing patent payments (how the hell is that not an obvious offering?), and won one of the lawsuits. The law firms listed above are apparently all customers of that firm, CPi. So, beyond attacking other patent attorneys, Whitmeyer is double dipping here. This is allowed, but it's yet another example of how ridiculously distorted the patent system has become.

[...]

This sort of situation is not what the patent system is supposed to encourage.
• If There Were No IP Restrictions, What Kind Of Mobile Devices Could You Build?
I think this even undersells the importance of understanding what's going on here. China is an increasingly important player in the technology space — and, yes, much of the work they do today is imitation and copying, but it certainly isn't always that way, and it won't be in the future. Because these firms are able to experiment and innovate, where firms in other countries are blocked, just watch and see how future generations of innovation from China will come out ahead. They have the opportunity to experiment and increment and (most importantly) learn from what happens when you do that — while those of us elsewhere are held back for no good reason at all.
• Ride wars at Cedar Point? [via]
The fate of Cedar Point's new ride could already be up in the air as a patent war brews between two ride manufacturers.

Brian Mirfin, of Australian ride manufacturer Funtime Group, said the new ride will be the Wind Seeker, made by Dutch-based manufacturer Mondial.

The Wind Seeker, however, is a patent-infringing copy of the StarFlyer — a tower ride the Funtime Group made and owns a patent on, Mirfin said.
• Ideas for a new model of medical innovation
ECONOMIC CRISIS AND ACCESS TO ESSENTIAL MEDICINES:

AWARDING PRIZES FOR DRUG INNOVATION AS A WAY OF ENDING WASTEFUL MONOPOLIES THAT PREVENT AFFORDABLE MEDICINES

"The current system is incredibly wasteful and constantly gamed by Big Pharma. The prize fund approach would radically reform the market for innovation, in the same way the Internet has radically changed the way we use telecommunications. The supply of useful innovation would be a highly competitive activity, rather than one that is crippled by irrational incentives, corrupt marketing practices and unproductive rent-seeking activities."
Permalink
Send this to a friend