11.03.10
Gemini version available ♊︎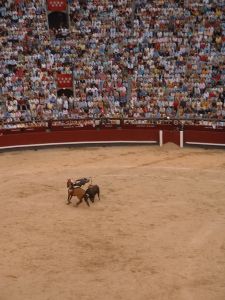 Resumen: Microsoft se entromete en otro panel de PYMES (Pequeñas Y Medianas Empresas) – en Europa, cuyo objetivo es promover las prácticas hostiles contra las pequeñas y medianas empresas a las que dice "representar",-incluyendo los monopolios de patentes.
LAST night we wrote about how Microsoft pretends to speak for SMBs in order to derail public policies.
A reader of ours responded to it by writing:
What MS pretends to speak for SMB's in Europe ? Can be summarized on this:

MS to the SMB's "let me screw you up! It won't hurt, on the contrary it's good for you"

Microsoft dice a las PYMES: "dejenme meterles la yuca no les va a doler, al contrario es bueno para ustedes."
Here is an expanded Spanish translation provided to us by this reader:
Microsoft tiene un grupo de presión que pretende ser un representante de las pequeñas empresas en la Union Europea. Microsoft no siempre se esconden detrás de grupos de presión cuando lo hace. Ahora que Microsoft ataca duramente Linux con las patentes de software en el extranjero (especialmente en el este de Asia) ASUS, ACER, HTC. El convicto monopolista esta trabajando para ampliar las patentes de software a más continentes como Europa. Sabiendo que las patentes de
software son buenos para los monopolistas como SAP, Microsoft, Siemens, etc. Microsoft necesita para secuestrar sólo la voz de la gran mayoría de las empresas que sufren por las patentes de software (ver firmas en cualquier petición de las patentes de software en Europa). Apenas hay una mejor manera de ello que para garantizar que su propio pueblo están en el panel con una triste historia título ("Las empresas innovadoras – Ir a por todas?") y se ocupa de "Cómo
cerrar la brecha de financiación para las PYME ".

Richard L. Hudson (Managing Editor, The Wall Street Journal Europe) está invitando a mucha gente esta semana a una mesa redonda reunión celebrada en Bruselas (en el centro de los grupos de presión). Se llevará a cabo en noviembre 17 y los temas incluyen: "¿Por qué es tan difícil de recaudar fondos para la innovación de empresas jóvenes en Europa?"

¿Empresas jóvenes?, ¿eh? ¿Microsoft? Bueno, uno de sus portavoces es Andrew Herbert, Director General del Microsoft Research Cambridge, y Microsoft Distinguido Ingeniero. Hablando en serio, ¿qué Microsoft tiene que hacer con las pequeñas y medianas empresas PYMES? Microsoft ha estado obliterando a las pequeñas empresas durante décadas, mientras que grupos lobbyists presiónan por leyes que inhiben las operaciones de estas empresas.

"Las cartas sobre la mesa", escribe Hudson incluyen:

"La instauración de un nuevo programa de préstamos y subvenciones a pequeñas empresas innovativas, en estados miembrosy a nivel de Union Europea."

"Creación de nueva financiación en el Fondo Europeo de Inversiones para estimular más las pequeñas y medianas empresas PYME."

"Nuevos incentivos fiscales para las PYME innovadoras y sus inversores."

"Una etiqueta de 'innovadora compañía' para ayudar a las PYME nuevas atraer más financiamiento privado."

"Esta reunión será un debate abierto sobre cómo la política de la Union Europea comunitaria en este ámbito va a evolucionar. Un informe especial ScienceBusiness va resumir y avanzar en la ideas.

Si es la intención de tener un efecto sobre "cómo la política de la Union Europea en este campo va a evolucionar", entonces ayuda a mostrar cómo grupos de presión continuan marcando la agenda y como Microsoft es parte de ella, empujando la "innovación" (en referencia a las patentes) propaganda "en nombre" de las pequeñas empresas.

Es ridiculo proponer que Microsoft tenga un interes en ayudar a las PYMES, es como decir los estamos ayudando mientras lo ahorcamos. Microsoft dice a las PYMES: "dejenme meterles la yuca no les va a doler, al contrario es bueno para ustedes." Microsoft, y sus grupos de presion como la Asociacion de Tecnologia "Competitiva", la BSA y supuestos pro Software Libre individos como Florian Micro Muller son los que estan montando esta mentira. Las pequeñas y medianas empresas de Europa, Latino America y Africa deben estar alerta ante estos intentos de ayuda de parte del convicto monopolista.

Si Microsoft tuviera un genuino interes en las PYMES, entonces deberia deshacerce del los patentes de software que son los que mas perjudican a las pequeñas y medianas empresas. Como esto no va a pasar, las PYMES deben estar alerta y no dejarse "representar" por Microsoft y sus chacales y apoyar formatos libres y la no existencia de software patentes, en Europa y todo el mundo. Ciudadanos de Europa y el mundo, piensen en el future de sus hijos y nietos y no dejen pasar este vil engaño.
Translations of posts are always invited warm-heartedly. █
Permalink
Send this to a friend