Direct download as Ogg (1:18:09, 31.9 MB) | Direct download as MP3 (34.9 MB)
Summary: Tim and Roy discuss Fedora 14 (which Roy installed today), file sharing, DDOS attacks, and they also cover a variety of GNU/Linux distributions
THIS is the fourth episode, which is also the third episode released in 3 days. OpenBytes has some show notes and in the future the structure of the show will be as follows (as per Tim's suggestion):
News headlines summary
One discussion point (or guest interview)
Feedback
Close on highlighted artist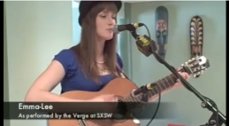 This show closes with a lovely song from the lovely Emma Lee (maybe not the same Emma Lee as the famous one). The song is called "That Sinking Feeling" and it was a free download in SXSW 2009 (Showcasing Artists).
If you wish to be on the show or know someone who ought to be on the show, please let us know. As always, if you enjoy this show, please consider recommending it to others and consider subscribing to the show via the RSS feed. If you have an Identi.ca account, consider subscribing to TechBytes in order to keep up to date. █
As embedded (HTML5):
Download:


(There is also an MP3 version)
Contents
[ubuntu] The Future Is NOW 2010 (Version Finale, Main)
Credit: TinyOgg