Contents
We checked around, and it's true. Linux is all over the place. We rounded up some of the less obvious and more offbeat things that depend upon Linux to function.

Kernel Space

Thomas Gleixner has released the first test version of a real-time (RT) Linux kernel based on a current release candidate of Linux kernel version 3.0; having been slightly delayed, version 3.0 is due to be released any day now. With version 3.0-rc7-rt0, the developers have taken the biggest step towards a modern basis for the RT kernel, a kernel that is chiefly maintained by Gleixner and several other developers – the current stable kernel with real-time capabilities is still based on the Linux 2.6.33 series, which Greg Kroah-Hartman has continued to maintain specifically for the RT developers.

Applications

Games

The GNU/Linux binary was released at 9th of April but no GNU/Linux gaming website reported about it, so I think it could count as "news"

Desktop Environments

GNOME Desktop

In a very short while, I have had the opportunity to try three new desktops. KDE 4 (not new but completely unknown to me previously), Unity on Ubuntu Natty (not a new desktop, but a novel shell nevertheless), and GNOME 3. I have previously documented my experiences on KDE 4 and Unity, and in this third and final installation it is GNOME 3′s turn.

A KDE-based distro powered by Arch Linux? Sounds like a perfect combo. We put Chakra through its paces to find out whether it would bring us closer to Linux computing nirvana…

Pros: Fast and sleek distro with several innovative tools and features backed up by excellent documentation
Cons: The lack of persistent storage capability in the Live CD mode
Chakra Homepage

Sub-notebooks/Tablets

In the fourth quarter, Apple's share of the tablet market fell to 75% from 96%, while Android saw its market share increase to 22% from just 2.3%.

Shocking, isn't it? With Apple selling 9million iPads in Q2 2011, one would expect a better showing for iPad which only made it to #7.

Yet another giant has entered the tablet arena to challenge iPad's dominance in the tablet segment. Lenovo today announced its first family of Android tablets – the IdeaPad Tablet K1 for consumers, the ThinkPad Tablet for business customers, and the IdeaPad Tablet P1 for home and office use.

The tablets run on Android 3.1, backed by more than 250,000 apps.

IdeaPad Tablet K1 is certified to deliver Netflix. Sadly, Netflix requires controverical DRM (Digital Restriction Management) technology to allow users to watch their movies. Lenovo tablets come with this controvercial DRM techology.
Funding

Google's open source Android and ChromeOS have created a viable shop for open source developers to monitize on their apps. Unlike Apple's restricted AppStore, which may take weeks to get an app approved, and you are always at the mercy of Apple for the survival of your app, Google's Chrome WebStore and Android Market offer a more 'democratic' and innovative approch.

FSF/FSFE/GNU/SFLC

There is a systematic marketing campaign to drive users to entrusting their computing and their data to companies they have absolutely no reason to trust. Its buzzword is "cloud computing," a term used for so many different computing structures that its only real meaning is: "Do it without thinking about what you're doing.
Finance

A simple 8-point plan would restore both the banking and the real estate sectors, and end the political dominance of the parasitic "too big to fail" banks.

Craven politicos and clueless Federal Reserve economists are always bleating about how they want to fix the U.S. economy and restore "aggregate demand." OK, here's how to start:

1. Force all banks to mark all their assets to market at the end of each trading day, including all derivatives of all types, including over-the-counter instruments.

2. Allow citizens to discharge all mortgage and student loan debt in bankruptcy court, just like any other debt.

3. Banks must mark all their real estate to market weekly as defined by "last sales of nearby properties" adjusted for square footage and other quantifiable measures (i.e. like Zillow.com).

Goldman Sachs Group Inc. (GS), the U.S. bank that makes most of its money from trading, said it will cut about 1,000 jobs after a plunge in fixed-income revenue that was bigger than analysts estimated.

Second-quarter fees from trading debt, currencies and commodities tumbled 63 percent from the previous quarter, more than twice the drop at other major U.S. banks. Net income was $1.09 billion, or $1.85 per share, the New York-based company said today in a statement, falling short of the $2.30 per-share average estimate of 23 analysts surveyed by Bloomberg.
Contents

Original photo by Matt Buchanan; edited by Techrights
Summary: Amid controversy and uncertainty around the Bilski case, American professionals express their opinions on the future of software patents in the United States
AS NOTED in a previous post, software patents continue to die sometimes, owing in part to In Re Bilski court decisions. Groklaw comments on developers leaving or not catering for the US market and adds the "Inevitable" observation. Professor Webbink writes:"Unfortunately, patent reform is not going to help change this, either in the short run or long run, because patent reform is not addressing what technologies are patentable. While many of us had hoped the decision in Bilski [PDF] would be a first step, the U.S. Supreme Court clearly placed the determination of patentable subject matter in the lap of the U.S. Congress. Yes, Bilksi may have trimmed around the edges, but clever patent attorneys will still work around it. Moreover, given that the U.S. Congress has taken more than eight years to get a patent reform bill to a vote, it simply is not likely that Congress would vote to remove software from the realm of patents.
"Until these patent holders get a good taste of what they are in for, like losing their precious patents, this sort of thing is not going to stop. And if the patents are put into reexamination or litigated in enough courts, they stand a good chance of losing the critical claims of those patents. Look what has happened in the Bedrock case. The $5 million judgment against Google was vacated [PDF] when Google and Bedrock reached a settlement (undoubtedly for far less), and many of the rest of the cases have since been dismissed with prejudice, meaning Bedrock cannot bring those suits again. In other words, a lot of these "presumed to be valid" patents are, in fact, not valid at all."
There is a new batch of articles worrying about the fate of 'clouds' (Fog Computing) in the face of software patents [1, 2] and the latter example (from a self-professed "practitioner of intellectual property") says:
Software Patents are commonly a hot topic of debate. Having been a developer, I believe that software patents are a burden on innovation, as are copyrights which are eventually enforced. While there are efforts to control the quality of patents being granted in Europe and the USA, and the debate (specifically against business method patents) is now amplified, one cannot say the same for the Indian context. Being a practitioner of intellectual property, I have come to realise that software patents are a fact of life and they are here to stay. Additionally, given that most of the labour-intensive areas are in India (for software development), the only incentive for real innovation – in terms of fostering product-based companies rather than another services company – would be to really demystify what software patents are being to the table, in terms of a defence card.
This is not true. Software patents may be legal in the US (but only on the verge of reversal given the controversy), so to say "that software patents are a fact of life and they are here to stay" is simply defeatism and misdirection. We also hear this from lobbyists such as Microsoft Florian. █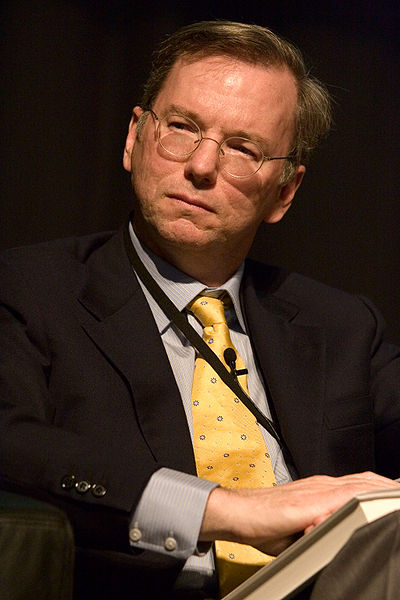 Image from Wikipedia
Summary: As expected, Google steps in to defend Android distributors from patent attacks that mostly fall flat on their face (80% of the patents discarded)
TECHRIGHTS watches the Android patent situation closely because it impacts the future of GNU/Linux, even if just by inference. Google responds with its former CEO claiming that Apple resorts to patent aggression because it "can't respond through innovation" (he does not imply that innovation means patents but rather the opposite). "Patents must be invalid soon. Free world must help here," exclaims one of our readers. It is true that lack of software patents is essential for software freedom, which is why this whole subject is so important. Those who cannot recognise the importance of the matter are advised to look at the recent history of software patents, especially after the patent deal with Novell (which gave purpose to this site).
The remarks from Google's outgoing CEO are important because they suggest that Google will step up to defend partners and patents are currently not the weapon (or defence) of choice. Recall the past of Schmidt inside Apple. He only recently (in historical terms) walked away from Apple and now he slams Apple, promising to defend against Apple's attacks:
Schmidt, speaking at a Google mobile conference in Tokyo today, expressed confidence that HTC will ultimately prevail over Apple, ZDNet Asia reports.

"We have seen an explosion of Android devices entering the market and, because of our successes, competitors are responding with lawsuits as they cannot respond through innovations," he said. "I'm not too worried about this."
The ITC is crippling the US by denying import of fine products. That is the background to the story above. And in other news, Apple's products too might get banned because of the ITC, the enforcement agency of the USPTO, i.e. another inherently corrupted institute which is run by those looking for profit, not public services.
Despite gloomy predictions, the real scenario involves just two patents that need to be tackled now. As one way of putting it:
Apple have filed thirteen complaints of patent violations against HTC (one of the three largest Android device manufacturers) to the US International Trade Commission. This particular body has the right to uphold or ignore patent claims, and in the case of the former the main committee can force a complete import ban on all infringing devices.

It turns out that two patents have already been upheld in this way.
Most of the press just went along with this kind of coverage, looking at the empty half (or 20%) of the glass.
Apple won the preliminary ruling at the end of last week, giving it more confidence that it will prevail in its complaint that HTC is infringing two of its patents. HTC of course will continue to litigate the matter, because as we all know much of the business of the modern IT firm is to sit in court rooms and squabble over who did what to whom and when and how.
It is not clear how applicable this is to companies other than HTC, but some journalists speculate to amplify the fear (Microsoft Florian the lobbyist is pushing for this sort of spin behind the scenes).
Quoting some more coverage of the case, Wintel press (which likes to quote pro-Microsoft talking points) goes with the Microsoft/Apple mainstream, whereas Neil Richards challenges the lack of balance by stating: "ITC, The U.S. International Trade Commission, has rejected 8 out of 10 patent claims made by Apple. Apple originally files a complaint that HTC infringes upon 10 of its patents. The judge ruled that HTC infringed only on 2 patents.
"It is a dead end for Android? No. According to reports only one of the two patents in question might be related to Android.
"Some newspapers are reporting the doom of Android, all referring to a blog written by Florian Mueller. Mueller wrote as if the case is the end of Android without mentioning that it was Apple which lost 8 patents, which means the company won't be able to use those patents against any other mobile player.
Why are they quoting a lobbyist? This just shows the sad state of today's press.
Christine Hall has strong criticism of Apple, noting that "Apple Patents Portrait/Landscape Flipping". She alleges that the "other evil empire, Apple, has managed to obtain a patent on the gee-whiz portrait/landscape flipping feature on the iPhone (and about all other mobile devices these days). Does anybody besides me smell a bunch of lawsuits in the works?"
Well, as put by a reader yesterday, "As M$ becomes less relevant, Apple might become more of a problem especially with patents.
"Apple is now valued at $336 billion. That makes anything it does, good or bad, more pronounced." █
Summary: The cartel being formed against Linux and other disruptive new players is noticed and more software patents are dying in the US
"Good starting to stop devil things," tells us a reader who found out about the downfall of software patents, at least perceptually. For those who have not followed news in this area, Charles from The Guardian wrote a very influential piece that helped change public attitude towards software patents (more on that later as the situation gets worse in the US [1, 2]). It's about the harm of software patents to the US economy. Additional Lodsys attacks (now against Best Buy and Adidas) further motivate this sentiment and "Software Patents: Death Of American Dream" is a self-explanatory headline.
"Developers remove apps from US store, fearing patent lawsuits," says another headline and even terminology has gone mad when O'Reilly's group says that "Intellectual property gone mad". It's about patents:
Patent and copyright law in the U.S. derives from the Constitution, and it's for a specific purpose: "To promote the progress of science and useful arts" (Article I, section 8). If app developers are being driven out of the U.S. market by patent controlling, patent law is failing in its constitutional goal; indeed, it's forcing "science and the useful arts" to take place elsewhere. That's a problem that needs to be addressed, particularly at a time when the software industry is one of the few thriving areas of the U.S. economy, and when startups (and in my book, that includes independent developers) drive most of the potential for job growth in the economy.

I don't see any relief coming from the patent system as it currently exists. The bigger question is whether software should be patentable at all. As Nat Torkington (@gnat) has reported, New Zealand's Parliament has a bill before it that will ban software patents, despite the lobbying of software giants in the U.S. and elsewhere. Still, at this point, significant changes to U.S. patent law belong in the realm of pleasant fantasy. Much as I would like to see it happen, I can't imagine Congress standing up to an onslaught of lobbyists paid by some of the largest corporations in the U.S.
Surely it becomes evident that the US is harming itself by going along with ludicrous laws.
"The market for software patents is hardly dead. Indeed, as shown by recent transactions, including the princely sum ($4.5 billion) bid for Nortel's portfolio by Microsoft, Apple, and others, it's acting very healthy. But it could be coming down with something serious. Stay tuned," writes Rob Tiller in relation to other news. To quote:
When the Supreme Court declined to speak to software patenting in the Bilski case, there was wailing and gnashing of teeth in the open source software world. The new Bilski test for patentable subject matter looked at first like the status quo for software patentability. But, being the sort of person who tries to check clouds for a possible silver lining, I noted a possibility that courts and the Board of Patent Appeals and Interferences would read the test to invalidate some software patents. Later I noted that there were a number of early decisions finding software unpatentable.

That trend is continuing in a good direction. A new study of the first full year of decisions applying Bilski to software confirms that the direction of the case law is toward finding software is not patentable subject matter. The study by Robert Greene Sterne and Michelle K. Holoubek is titled The Practical Side of §101 : One year post-Bilski: How the decision is being interpreted by the BPAI, District Courts, and Federal Circuit. [PDF] It contains brief summaries of 182 decisions of the BPAI, 6 federal district court decisions, and 3 Federal Circuit decisions. The majority of the BPAI and district court decisions concern software. And many of those software decisions apply Bilski to find that the subject matter is too abstract to be patented.
We already covered software patents getting killed by Bilski rulings (at various levels) even years ago. It is good to know that this is still going on. Since Tiller mentioned the cartel formed around Nortel's portfolio it is worth taking note of what Professor Webbink had to say:
Two weeks ago we asked why the Nortel patent sale to Microsoft, Apple, and others wasn't getting Federal Trade Commission and/or Department of Justice Scrutiny (see, Nortel Patent Sale – Why Isn't It Getting FTC/DOJ Scrutiny?). Well, we don't have to ask that question any more. And the government concern is not just in the U.S.; Canada is also looking into the sale.
As we noted this month, both the Canadian and US regulators scrutinised the deal and reports about it being approved were perhaps not entirely sound. Maybe the opposition to the deal comes from multiple levels. Regulators are still lurking. "There must be informed Federal CIO that there must be investigations in patent system and must be informed about problems of companies that is suing about patents and software patents as soon as possible must be stopped and this guy can help," says one person. An outgoing federal CIO meanwhile warns of 'an IT cartel', based on this article in relation to a similar problem:
In a wide-ranging discussion Friday with President Barack Obama's top science advisors, Federal CIO Vivek Kundra warned of the dangers of open data access and complained of "an IT cartel" of vendors.

He also believes the U.S. can operate with just a few data centers.

Kundra, who is leaving his job in mid-August, offered a kaleidoscopic view of his concerns about federal IT in an appearance before President's Council of Advisors on Science and Technology.

In particular, Kundra is worried about the "mosaic effect," the unintended consequence of government data sharing, where data sets are combined angd layered in ways that can strip away privacy and pose security threats.
How come they don't go after patent cartels first? These surely do exist. And how come the government, while it's at it, cannot seem to pursue Microsoft for its avoidance of tax? Even the Indian government has done something about it and one reader gave us some links about it [1, 2], adding: "How Microsoft India avoids taxes through "Gracemac": goo.gl/upsbD and IT Tribunal taking note of it: goo.gl/NRn3t"
We already wrote about Microsoft avoidance of tax many times before.
Check out this new article which says: Are programming languages, program functionality, and data interfaces protectable by copyright law or not? These questions were highly contentious in the United States during the mid-1980s to the mid-1990s. Plaintiffs in several cases argued that because these were parts of the "structure, sequence, and organization" (SSO) of programs, they should be within the scope of copyright protection accorded to programs as "literary works." The EU is now confronting these same questions in the SAS Institute v. World Programming Ltd. case which is pending before the European Court of Justice (ECJ)."
Thanks to Carlo Piana for spotting this and noting: "Think #swpats are a nightmare? If SAS/World Progr. gets bad we'll have SWpats w/out pre-exam. http://ur1.ca/4qarq ACT NOW: RT!"
The threat just never goes away, does it? But we are gradually winning this fight. More on this subject in the next post…█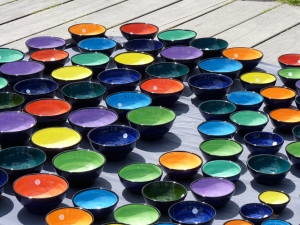 Summary: Deficit and debt lead to cuts in the public sector, which in turn puts Microsoft out of the acceptable price range
SOME MONTHS ago we wrote about the South African dilemma and Microsoft's fight against Free software in that nation. While the budget was there, it was possible for cronies to defend Microsoft contracts, but what happens amid depression or at least a recession?
Recently we learned that the NHS is having problems signing the outrageous UK-wide deals with Microsoft. As the economy weakens in the West, it becomes harder for governments to justify just blindly renewing Microsoft deals. We are going to see more of that in years to come because national debts keep growing along with unemployment and there is public pressure to cut expenses at the federal level. Coming from the South African press we have this interesting new article titled "Govt to ditch Microsoft?" It says:
"Microsoft wants money from us all of a sudden and we don't have the budget for it," says Rayner.

He adds that a national contract was signed in 2002 as a two-year deal for the SA Software Donation Programme. "I was part of the negotiating committee at the time. As far as I was aware at the time, perpetuity applied."

The contract was signed for two years and then extended twice for three-year periods and eventually expired in June 2010.

"Then Microsoft announced its intention to charge us for what they've been giving us for free all this time. They're now demanding a subscription fee."

Anti-competitive donation?

However, education lead at Microsoft SA Reza Bardien says Microsoft is surprised at this reaction since the six-year extension on the deal was given to allow the department to budget for the monetised structure.

"Moving from a free to a monetised agreement requires time on the part of the Department of Education so they can budget and this is why the extension was given. A two-year software agreement grew to an eight-year one and so we're surprised at this take."
Click here

He adds that it was agreed after the second three-year extension that the deal would then definitely come to an end. "We were explicit that it would definitely end in June 2010."

"It is important for Microsoft to move the department to a paying model, as per original intent, as we run the risk of being deemed as behaving in an anti-competitive manner by offering free software," says the company.
It is only a matter of time before/until the public sector widely adopts Free software (at all levels, not just operating systems) and Brazil provides an example in the sense that it's a large nation that values libre, not just libra (gold), Microsoft has been busy trying to make Free/libre software expensive, first using copyrights e.g. (the SCO case, which still refuses to go away based on PJ's update) and then software patents — a subject that Techrights tackles as a matter of high priority. The next few posts will be dedicated to this subject. █