02.17.12
Paper pushers take over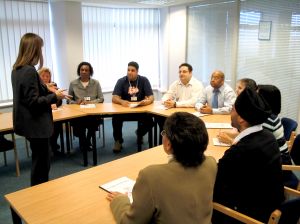 Summary: A roundup of news about the USPTO and companies that use its services
THE USPTO allows those in power to solidify their power, essentially using pieces of paper.
As more software systems are built for this fortress of monopolies, it remains clear that software patents will keep coming, e.g. for a "patent-pending Monitoring Service". The trend of patents expansion (like this or this) symbolises the centralisation of power. More things become forbidden, or in other words the monopoly of a few (or shared monopoly among those who cross-license massive portfolios).
In the midst of this madness we find another patent lawsuit and an interesting one which shows how giants stomp on competitors. "Corporate giant Honeywell," says this one article, "alleges Palo Alto, California-based Nest Labs Inc., founded by iPod designer Tony Fadell and former iPhone software manager Matt Rogers, infringed on patents related to smart energy use technology."
We recently wrote about Eolas showing another ugly aspect of the patent system — one that allows trolls to intimidate producing companies. Here is the EFF's response to this:
Everyone, take a deep breath: it seems we've had a moment of sanity in the patent wars. Last week, a jury invalidated the dangerous Eolas patents, which their owner claimed covered, well, essentially the whole Internet. The patents were originally granted for an invention that helped doctors to view images of embryos over the early Web. A few years later, smelling quick cash, their owner insisted that they had a veto right on any mechanism used to embed an object in a web document. Really? The patents were obvious—now in 2012, and back in 1994, when the first one was filed. Thankfully, a jury realized that and did what should have happened years ago: it invalidated these dangerous patents.
Finally, here we have another example of crazy patents: [via]
Jeremy Lin winning streak prompts patent application

[...]

Yenchin Chang, a 35-year-old Alhambra, California, resident, was the first of two people to file a trademark application for the term "Linsanity." The catch phrase is being used to describe the frenzy surrounding the Knicks point guard who got a 3-pointer in the last second to seal a 90-87 win against the Toronto Raptors last night.
The press continues to mix together trademarks, patents, and copyrights. When reporters do not understand those issues no wonder the public does not comprehend the problems with the USPTO, either. █