08.13.13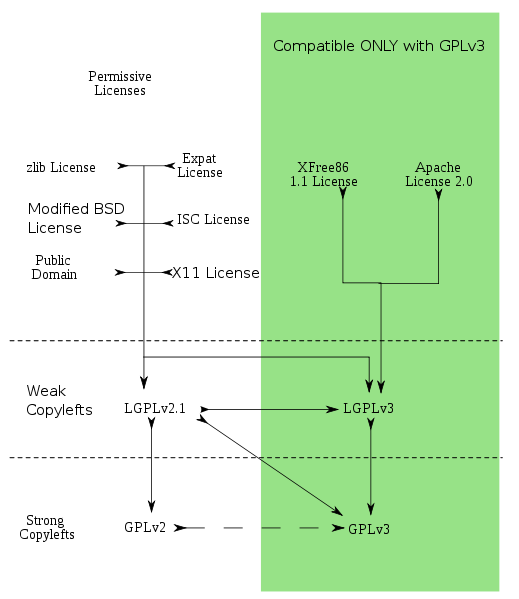 Quick Guide of license compatibility with GPL
Summary: A call for advice on how to handle another Samsung violation of the GPL and betrayal of the community
As a quick reminder, over 6 years ago we called for a boycott of Samsung, which proved that it didn't care about freedom and actively worked against it. In 2 posts [1, 2] from the past few weeks we covered yet another violation of the GPL by Samsung. This one required a leak to be shown and we spoke to the leaker, who prefers to remain anonymous. We consulted internally to see how this can be dealt with.
"Not enough data to do more than guess," iophk wrote, "I do recall that the SFLC disapproved of the 'robin hood' approach to freeing code that had been ripped off.
"This one required a leak to be shown and we spoke to the leaker, who prefers to remain anonymous.""I guess it depends on the provenance of the code. If it is ripped off from the kernel then it comes under GPLv2 or later (IIRC). Then it comes down to v2 or v3. I like what v3 accomplishes, but I do not. like mixing copyright with patents in the same license. Can v3 provide any protection if Microsoft starts to claim to have patents on *FAT?"
This is an interesting possibility that we are exploring. Samsung's GPL violations are in an implementation of exFAT, a very common extortion tool against Linux distributors. "Here is the latest info from the most recent kernel," writes iophk. "It is v2 only."
It is v3 which deals with patent provisions. iophk continues: "Linus likes v2 very much but seems to have removed the "or later" clause that I vaguely recollect being there. Can rxrz [the leaker] say which version of the kernel exfat-nofuse came from? If it is a later one, then maybe v2 is the only option. If it is an earlier one, there might be a choice between v2 and v3."
He later, upon further investigation, adds: "Here's the oldest commit in Git, which has the same preamble. So I'm not sure under which circumstances v3 could be used. It is certainly a safe bet with v2."
"We could like to relay the leaker's question to the wider community."We spoke with the leaker of this code, who wrote: "I just wanted to do a good thing.
"But now I have decided to put the LICENSE file there, containing GPLv2, since Samsung has stolen that code initially from the Linux kernel tree. (I believe it fits this code the best, v3 may be better though, I don't know)"
We could like to relay the leaker's question to the wider community. To quote her, the leaker: "Could you please help the project and make up a LICENSE file content for it? It happens that I'm not too good with legal things myself…"
I promised to work with our community at Techrights or anyone else who reads this to address this issue. Any suggestions of ways forward from here? Or licensing? █