07.14.14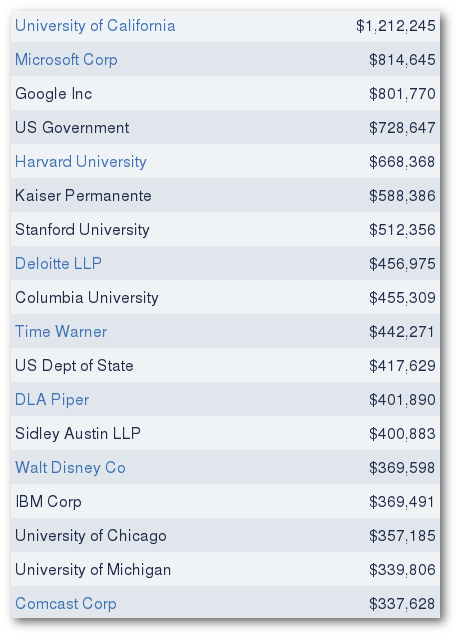 Obama's top contributors in 2012 election. Source: opensecrets.org
Summary: Philip Johnson is no longer poised to become the Director of the USPTO, which is basically an establishment that provides protectionism to primarily US-based corporations
THE USPTO, like much of the US government, is effectively run by corporations that fund it (campaign 'contributions', patent applications, and so on). We previously showed how Apple had been receiving special treatment from the USPTO and other pseudo-Federal branches of government. It's all protectionism. Money calls the shots.
The other day The Mukt covered "Apple fil[ing] Auto-Unlock Patent although already available on Android" and since the USPTO has been approving almost all applications (92% of them) irrespective of prior art and quality, this too might pass. It's just Apple's arrogance, pretending that it invented everything under the Sun when it in fact imitates a lot of companies, as Steve Jobs himself once admitted to the camera."Early Apple Employees Said They Would Never Work With Steve Jobs Again" is a new article that should be read by Apple fans, reminding them or even teaching them that Jobs is more of a con artist than an artist.
Now, given the inherent corruption in the USPTO (serving corporations, not public interests) we were not too shocked to see Philip Johnson almost becoming its new head. It's the outcry from some corporations — not from the public — that must have stopped his appointment. It's corporations that still call all the shots and some hypothesise that resistance to him came from the technology/high-tech sector as opposed to pharmaceutical giants. They vote with their money in the White House (e.g. withdrawing funds or bribing politicians under the guise of campaign 'contributions'). Previously, a man from IBM, David Kappos, ran the USPTO and unsurprisingly promoted software patents (IBM lobbies for them even in Europe and New Zealand).
Kamdar from the EFF says why Philip Johnson oughtn't have been nominated for USPTO Director:
Philip Johnson is Chief Intellectual Property Counsel of Johnson & Johnson, one of the largest pharmaceutical companies in the world. He is also a representative member of the Coalition for 21st Century Patent Reform, the leading trade group opposing patent reform this past year.

And now he's rumored to be next in line to be the director of the United States Patent and Trademark Office.

[...]

What we need is someone who understands the problems with patent law, especially when it comes to software patents. Some are pointing to the fact that David Kappos, the previous director of the Patent Office, was from the tech industry, so the next one has to come from pharma or biotech. This push does a great job of highlighting the fact that one single patent system shouldn't apply to technologies as different as pharmaceuticals and software. In any event, the nominee to head the Patent Office shouldn't be the face of opposition to patent reform that was championed by the White House, passed by a majority of the House, and supported by a considerable proportion of Senators.
Thankfully, as Ars Technica put it, "The White House has reportedly put its chosen nomination for head of the US Patent and Trademark Office on ice."
The Mukt called Philip Johnson "patent extremist" and added: "The Obama administration was about to repeat the mistake it made by picking Tom Wheeler as the head of FCC. The administration was planning to hand over USPTO to Phil Johnson, a Johnson & Johnson executive who is a strong opponent of any patent reform in the country. Johnson actually played a pivotal role in the death of the patent reform bill this May."
We still don't know who will fill the seat formerly occupied by the software patents booster. Just because one patent extremist is not approved by the White House does not mean that a different patent extremist can't take this place. We need to keep watching and praising/criticising, as appropriate, the decisions made by the White House. Corporations that sank billions of dollars in campaign 'contributions' (bribes) have a much louder voice than ours (collectively). They also get privileged access into private meetings in the White House, offering their 'consultation' (lobbying). █