11.29.14
"Our products just aren't engineered for security."
–Brian Valentine, Microsoft executive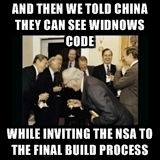 Summary: Errors in Windows that facilitate remote access and privilege escalation (affecting every version of Windows) continue to surface and those who fix these errors risk bricking their systems/services
Having just made (generated rather, using an online tool) the above meme to make an important point (pardon the "Windows" typo), we wish to bring together some recent news about Microsoft Windows, probably the least secure operating system in the world (by design). The NSA is involved in finalising Windows development and knowing what many people finally know about the NSA, it oughtn't be shocking that Windows uses weakened/flawed encryption, enables remote access, etc.
Earlier this month there was a lot of press coverage about a massive flaw and an "emergency" patch for Windows. The NSA, for a fact (based on Snowden's leaks), already knew about this. It knew about before it was patched, as Microsoft tells the NSA about every flaw before patches are applied and flaws become common knowledge.
Stephen Withers, a booster of Microsoft from Australia, said that a "very old but only just fixed Windows vulnerability is the key to a new in-the-wild attack.
"Security vendor ESET says it has detected a real-life exploit for a vulnerability that's been part of Windows for nearly two decades."
So it's not just exploitable by the NSA anymore.
Over at IDG, this flaw was said to have a botched 'solution'. As the author put it: "Last Tuesday's MS14-066 causes some servers to inexplicably hang, AWS or IIS to break, and Microsoft Access to roll over and play dead"
So patch or don't patch, you are in a serious problem either way. Welcome to the "professional" and "enterprise-ready" world of Microsoft.
As Microsoft boosters put it, "Microsoft has announced that they will be pushing an out-of-band security patch today. The patch, which affects nearly all of the company's major platforms, is rated 'critical' and it is recommended that you install the patch immediately."
To brick one's system?
Here is what British press wrote about it:
MICROSOFT HAS ISSUED an emergency patch for the Kerberos Bug that could allow an attacker to perform privilege escalation in several versions of Windows.

In what will be the firm's third emergency patch in the past three months, the fix arrives just a week after the monthly Patch Tuesday release.
In other curious news from the same source, British taxpayers' money has just been wasted cleaning up the mess of Microsoft Windows with its baked-in back doors. Windows is being hijacked en masse, but the corporate media refers to it as "PC", not Windows. This is a crucial omission. The insecurity of Windows is not always accidental. It was designed to be easy to access (only by the "Good Guys", of course!). "THE UK NATIONAL CRIME AGENCY (NCA) has arrested five people," said the British press, "as part of a crackdown on hackers who hijack computers using Remote Access Trojans (RATs)." It's a shame that they don't point out that it's a Windows-only problem. It doesn't even take much in terms of skill to hijack Windows, as many hackers and crackers can attest to. To quote this report: "The NCA said on Friday that it has arrested two 33-year-old men and a 30-year-old woman from Leeds, along with a 20 year-old man from Chatham in Kent and a 40-year-old from Darlington in Yorkshire."
This 20 year-old cracker is about as old as the latest bug door from Microsoft. With 19-year-old flaws in Windows ("critical" too) it oughtn't be hard to hijack Windows-running PCs by the millions and even by the billions. As this article put it, the flaw is very severe and "Microsoft's out-of-band update yesterday fixes a profoundly serious bug: Any user logged into the domain can elevate their own privilege to any other, up to and including Domain Administrator."
Robert Pogson wrote that Microsoft "told the world they were naked and now system administrators are scurrying around to make sure every system running InActive Directory has a patch."
As usual, no logos and brand names for this bug, not even the huge media hype that we saw when GNU Bash and OpenSSL had a bug in them. Perhaps the media learned to accept that Windows is Swiss cheese, or more likely it is unconsciously complicit in Microsoft's PR. █