04.08.15
Large corporations increasingly cast their shadow over European society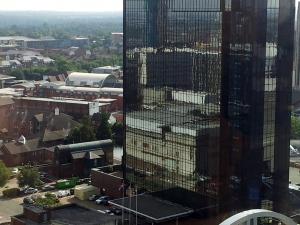 Summary: Recent articles about the EPO and the Unitary Patent are bundled together to highlight truly disturbing developments whereby those in power beget power through instruments of state-sanctioned power, such as the EPO (stateless entity within a continent-wide 'island')
OUR coverage of the EPO-targeting French article will hopefully lead to an English translation pretty soon (more suicides inside the EPO), but in the mean time we wish to take stock of recent European-centic patents-related developments which we have not found the time to properly cover (at least not yet). We will separate and partition this post, then set some headlines to help digestion of the important news.
Unitary Patent
Techrights has written about the Unitary Patent for quite a few years, even before it was called or referred to as "Unitary Patent". In a series titled "UPC Mock Trial" [1, 2] (Unitary Patent Court is UPC) IP Kat provides some interesting information. Since a lot of this stuff is discussed behind closed doors (like TPP and other globalisation treaties) it has not been easy to keep track of what's going on. In part it's about serving huge corporations (multinational and often tax-exempt through loopholes) and it's about software patents. The folks from the FFII (former and current presidents) are fighting back, calling the Unitary Patent unconstitutional. To quote their summary, which made some waves on the Web last week, "ESOMA and iMatix has filed an appeal against the Unitary Patent ratification by Belgium at the Constitutional Court. Equality of languages, separation of powers, and the irresponsibility of the EPO in front of courts are violating the Belgian Constitution. A central patent court will become the single point of failure to validate software patents Europe-wide. Small Software companies cannot afford to go to court or pay damages."
There are similar actions elsewhere. They are fighting back.
European Free Software Foundation
The Free Software Foundation Europe (FSFE), OpenForum Europe and others (such as OIN from the US) were mentioned the other day in this post about the EU patent debate. We deem some of the text quite important (and unique). It states: "I already mentioned earlier the plans to present about the situation of the Open Source community as a consumer of the patent system at the conference on "Innovation in a European Digital Single Market – The Role of Patents" in Brussels on March 17. FSFE, OpenForum Europe, colleagues at OIN and fellow Open Source supporters provided great feedback for the presentation. Many thanks to everybody who contributed! In the end, the concept for the presentation (which was a short introduction to a following panel discussion) was to explain five concrete difficulties the patent system causes in a collaborative production environment."
Towards the bottom it says that "Sage joined the Open Invention Network. OIN is the world's largest patent non-aggression community with the mission to protect Linux and Open Source. It speaks for the credibility that patent non-aggression has achieved and for how OIN represents that idea in the Open Source space when a publicly listed company that grew to success long before Linux really took off subscribes to it. Thanks, Sage! More large and small companies are considering this step. Your company should do so, too. If you have any questions, feel free to contact me."
As we have pointed out before, the problem with OIN is that it does not fight software patents; additionally, it is selective in who is protects and how. Still, for many purposes (not all), it is a lot better than nothing.
Want to Patent Nature? EPO Approves
The EPO is an utter, corrupt, greedy disgrace. On numerous occasions we have shown how the EPO's management, including Benoît Battistelli himself, gloated and bragged about expanding the scope of patents, reducing the quality bar etc. just to increase profits. This is systemic corruption and this in its own right should suffice to oust Battistelli.
Techrights is especially focused on software patents, but it is deeply disturbed to learn just how low the EPO's management can stoop. As it turns out, the EPO now permits patenting natural foods – not just GMO and algorithms. This surely can motivate more EPO staff to rebel against greedy-beyond-control managers. We sure hope to see people standing up and fighting against this abuse by EPO architects, whose priority has become to serve large corporations, not people. See articles such as "Unpatentable Vegetables Are Now Patentable In Europe", "EPO Backs Patents On Conventional Plants: Broccoli, Tomato Cases Decided", and "A Kat revisits Broccoli & Tomatoes, part deux – what does it all mean?" IPKat reported on it quote early on (to its credit).
Software Patents in Europe
Patent scope has gone out of control in Europe. Patents not only on natural things but also on abstract things are now permitted, if not by law then by de facto 'law' (see our wiki page about software patents in Europe). Glyn Moody warned some weeks ago that "Spain [Was] About To Bring In Software Patents — Just As US Starts Moving Away From Them".
Quoting Moody: "Last year, Techdirt noted how the Supreme Court's decision in Alice v. CLS Bank seemed to be having a positive effect on limiting the patentability of software. Against that background, it's regrettable that Spain appears to be moving in the other direction with its new Patent Act (original in Spanish), which is being brought in without any public debate, it seems. The key section of the proposed law is Article 4, which spells out patentability. It specifically says (Section 4c) that "computer programs" are excluded from patentability — but then goes on to add (Section 5) that it is only software "as such" that is excluded."
Greedy patent lawyers from the US (such as Gene Quinn in this case) are already licking their lips over this. "The European technical standard as a guide for drafting software patents" is the title of one recent article from Gene Quinn, one of the most vocal proponents of software patents (he makes money from it).
And guess who he interviews for this article? "Micky Minhas is Chief Patent Counsel for Microsoft Corporation. He is also someone that I have know for over 20 years, which is almost hard to believe."
Yes, Microsoft!
Welcome to Europe, Microsoft. A truly European company!
Microsoft has been lobbying for software patents in Europe for so many years and we wrote many articles about it. Microsoft also paid several proxies to do this lobbying behind the scenes. Among these lobbyists we have had the BSA and ACT listed.
Microsoft's Minhas says: "I've been here about two and a half years in my role as Chief Patent Counsel. The Patent Strategy team is roughly 110 people and we are responsible for all of our new patent filings and preparation. We also have a large analysis group that analyzes a lot of our issued patents and our pending patents and supports our licensing programs. As to the daily life, the job ranges anywhere from issues with the PTO, or any other patent office around the world, to issues supporting our licensing programs. Sometimes it's acquisition related activities; sometimes it's risk mitigation projects. I'm having a lot of fun. It's interesting particularly because Microsoft is in so many different businesses, so the legal issues and the intellectual property issues are often pretty unique. Sometimes what is in the best interest of one division may not be in the best interest of another division. Intellectually, it leads to some pretty interesting strategy assessments and discussions."
So, while Europeans are busy typing computer code, testing, improving, testing again (among other things) Microsoft is working with lawyers to undermine these Europeans and take them to court if they ever become successful and can thus be extorted (like TomTom in Holland). Welcome to Europe's new patent regime?
Fight the System Before It's Too Late
Patent examiners in Europe (scientists, not lawyers) should work hard to prevent the EPO from becoming another USPTO with lots of software patents, patent trolls, and reign by massive corporations such as IBM. Benoît Battistelli seems to be trying to emulate the notorious US patent system, not a saner system whose priority is service to local (European) citizens. Once corporations take over such systems (in a coup d'état fashion) it becomes incredibly difficult to regain control of them, as the US model serves to show. We will provide examples of this in the coming days. █