01.18.16
Support those at the top, for this is part of Battistelli's decapitation strategy (no guillotines but prevention of organised actions)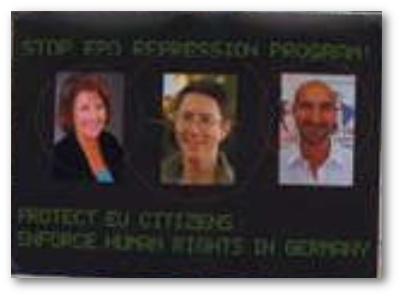 Summary: The Staff Union of the European Patent Office, SUEPO, is organising another action against the management's union-busting moves that culminated in sacking, pension reduction, and a terrible atmosphere of fear and terror
WE ARE trying quite hard to provide a complete picture — irrespective of the consequences — of EPO union-busting actions and what these have involved. Transparency is truth and truth is a sworn enemy of Team Battistelli. We are still hoping to get the text of the internal announcement from Battistelli (we need to prepare a rebuttal for it) and we are still in pursuit of English translations (from German) of two articles, one from Heise and another from journalists in Munich. There are various secure ways to contact us, including E-mail over Tor.
"The SUEPO is banned by Battistelli and has to be replaced by a ¨Union¨ according to his model and wishes."
–AnonymousA lot of people have been posting information in IP Kat, where anonymous comments (not anonymous to Google) can be posted. One person pointed out today that: "From his decision to fire and downgrade SUEPO officials it is clear that for Battistelli individual people does not matter. What is important for him, he believes, is a strong central management. Individuals have to be forced to accept the roles given to them in the office. Examiners are producers, workers for him. These workers experience now that their rights at work are more and more taken away. The SUEPO is banned by Battistelli and has to be replaced by a ¨Union¨ according to his model and wishes.
"Battistelli studied at the ENA is a so called énarque.The énarques were criticised as early as the 1960s for their technocratic and arrogant ways. Such criticism has continued up to present times, with the énarques being accused of monopolizing positions in higher administration [the EPO] and politics without having to show real competence. It has become a recurrent theme for many French politicians to criticise ENA, even when they themselves are alumni of the school."
We previously wrote a great deal about Battistelli's ÉNA roots and his connections with powerful people [1, 2, 3, 4, 5, 6]. Networking with them seems to be his most notable 'skill'. Responding to someone's claim that pension cuts may be "blatantly illegal", one person responded as follows:
The EPO certainly has the right to cut pensions, it says so in the service regulations. Actually, when one reads the service regulations, the EPO can even do that more than once, cutting your pension by a third with each round. The EPO can also do that to pensioners and widows. And the President can decides what he wants and fire you even when the disciplinary committee says otherwise, as he did with Ion Brumme. Obviously, the service regulations were not written in that spirit, and were never used this way in 40 years, but Battistelli is sticking to the letter of the law. And ILO will certainly find it this way as well, in practice ILO only checks whether the service regulations were correctly applied.

Further, the service regulations can be changed at will, as the EPO personal recently found out: career cuts, suppression of invalidity insurance, etc… When you enter the EPO, you sign a contract which you have to respect under penalty of being fired and have your pension cuts… and the EPO can change its end of the deal whenever they want. This kind of contract have a legal name, but nobody realized what they were really offered when they entered the EPO. Now they realize but they can't get out.

Also, this is not only the EPO staff. Patent attorneys would be well advised to check how easily the EPO could damage them. The rumor (unverified, maybe someone knows more?) is that some attorneys were already "gently advised" to stay quiet in their private blogs. Obviously, the attorneys can't get out either, but they have not realized the full extent of the deal yet.

The EPO was given enormous powers and a wide-ranging immunity, with very little check and balances to compensate them. There is not even a decent control system of the EPO finances and the EPO is producing 300 millions a year in surpluses. Anybody can imagine the consequences. Battistelli put one of his old good friends to audit the EPO finances.
Speaking of EPO finances, look how (and by who) money got wasted at an amazing pace. The management of the EPO is a disaster at so many levels. "The current penalty of 20% of pension," wrote another person, "clearly leaves room to increase that to 1/3 if the fired person does not go quietly and/or discloses any details. Likewise, those fired without deduction still risk further steps if they, for instance, discuss their cases without permission. Note also the desire to control former staff's employment (denied by the AC) which, of course, be enforced by attacking any outstanding pension rights. As you say, BB has seen the opportunity for unfettered control and is using it."
"The management of the EPO is a disaster at so many levels."The staff at the EPO is showing high levels of unrest by signing petitions in record numbers, protesting in record numbers, and complaining (anonymously of course) to the media. The EPO's PR team has nothing positive to say these days, so its "following orders"/"it came from above" staff still links to self-manufactured (and paid-for) greenwashing PR every 2-3 days (here is the latest example, citing a page last updated 1.5 months ago!).
A SUEPO demonstration is going to proceed as planned. It's a day and a half away (later this week). "Actions continue at the European Patent Office," SUEPO's site stated today, "next demonstration on 20 January 2016 [...] The next demonstration will take place on Wednesday 20 January starting from the ISAR building at 12.30h. The demonstrators will march peacefully to the Bayerische Staatskanzlei."
Well, maybe half of all EPO staff (or more) is going to attend. It's very plausible.
"A SUEPO demonstration is going to proceed as planned."Support for SUEPO comes from a lot of people out there, including Jeremy Phillips, who recently retired.
"Just spotted," he wrote, "that the @EPOorg has sacked two union officials and downgraded a third" (severely downgraded).
"I'm hugely disappointed with the @EPOorg," he added, "and the pusillanimous manner in which the Administrative Council oversees it" (this is why people must contact their delegates, which shouldn't be too hard).
SUEPO has also just published a "Reply from Prof. Dr. Winfried Bausback, Bavarian Ministry of Justice" (potentially showing high-level support for SUEPO).
"SUEPO Munich received a reply from the Bavarian Ministry of Justice," wrote the site's administrator, "to the letter sent on 7 December 2016, in relation to the demonstration which took place on 10 December 2015. In his reply, he referred to the question posed by German MP Jutta Krellmann dated 8 October, which you could find here."
Only the question is in English, so again we may need a good translation or two from German into English. █
"Deliberation and debate is the way you stir the soul of our democracy."
–Jesse Jackson