03.07.16
Gemini version available ♊︎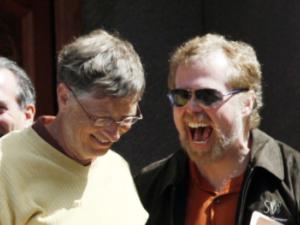 Microsoft's Bill Gates and Nathan Myhrvold. Credit: Reuters
Summary: A timely and imperative remark, reactionary in the sense that it responds to a new article, about the misconception that patent trolls are lone wolves and often small entities rather than conglomerates in disguise
A FEW days ago we stumbled upon an article by Joe Mullin, wherein he calls eDekka "Biggest patent troll of 2014," even though Intellectual Ventures (a Microsoft proxy in some sense) is far bigger and still very active (it has a few thousands of satellites). "Biggest patent troll" by what criterion? Number of lawsuits by one single entity (not a proxy)?
""Biggest patent troll" by what criterion?"The article from Mullin (otherwise a fantastic journalist by the way) says:
In 2014, no company filed more patent lawsuits than eDekka LLC, a Texas-based company with just one asset—US Patent No. 6,266,674. Fully 168 patent lawsuits came to a sudden halt in October, when US District Judge Rodney Gilstrap stopped the litigation campaign in its tracks.

eDekka's patent, which had been used to sue a wide array of online retailers, described nothing more than "the abstract idea of storing and labeling information," Gilstrap found. Those were "routine tasks that could be performed by a human" and didn't meet the standard for getting a patent. Gilstrap ruled the patent invalid.
eDekka was covered here many times before, even as recently as 2.5 months ago.
"Look at the patent syndicates of billionaires who now even pay the media to paint themselves as "charitable" individuals — something that better known trolls cannot afford to do (to Gates, for instance, spendings on the media cost approximately $300,000,000 per year)."IAM, which is literally receiving money from patent trolls (we wrote about this before), recently — in fact as recently as last week — wrote about the world's biggest patent troll (also Microsoft-connected troll) and said that: "Fifth-ranked Searete LLC – well-documented as an Intellectual Ventures affiliate – made most of its assignments to the patent firm's Innovation Science Fund."
Searete is a part of it. Searete (see our Wiki) and Intellectual Ventures are both are connected to Bill Gates (even financially). Bill Gates, a pseudo philanthropist who uses his foundation for tax-exempt investment in patents, has created an ever-growing large network of patent trolls whose activity increases his personal wealth (this network also attacks Microsoft's rivals). Don't get distracted by eDekka and other massively smaller patent trolls. Focus on the big issue. Look at the patent syndicates of billionaires who now even pay the media to paint themselves as "charitable" individuals — something that better known trolls cannot afford to do (to Gates, for instance, spendings on the media alone cost approximately $300,000,000 per year). █
"Intellectual property is the next software."
–Nathan Myhrvold, Microsoft patent troll
Permalink
Send this to a friend