03.17.16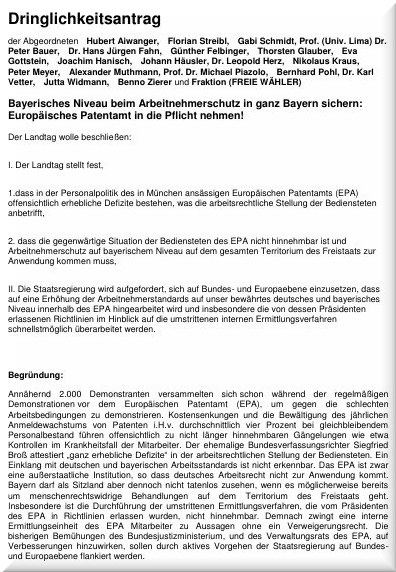 Summary: A Bavarian Parliament motion with high urgency zooms in on abuses at the European Patent Office in Munich
Earlier this month, as regular readers surely know, Bavarian television covered the EPO abuses and only hours ago even British media caught up with it and covered it. To quote The Register's report:
Although the resolution falls short of what some had hoped for, it does mean that unless Battistelli can show significant improvements in his relationship with staff, he will face more serious consequences at the next administrative council meeting in a few months.

The trust gap between management and staff has been growing in recent weeks, with the staff voting to strike in protest at the management's tactics. No fewer than 2,000 EPO staff protested outside the front of the EPO building in Munich as the council was deliberating.

And in a damning indictment, a staff survey this week – in which 40 per cent of EPO staff responded – gave Battistelli a zero per cent confidence rating.

[...]

In one heart-wrenching TV report, the brother of a former patent examiner explained that the pressure put on him was a major factor in his subsequent suicide. The report also claimed that EPO employees are scared to talk publicly about their mistreatment in case they are fired.
The investigative Bavarian report made waves which got the EPO's management rather nervous and eager to take action. Well, no wonder…
Emergency motion in the Bavarian parliament was filed later in the same month. To quote a reader of ours: "There was also an emergency motion in the Bavarian parliament tabled by the Freie Wähler party. ("Free electors"), who have 19 members out of 180 in the legislature. The party has centrist positions.
"The motion calls for the government of Bavaria to take measures for enforcing proper employment standards in the EPO."
This means that it's likely reactionary — a reaction to the Bavarian TV report.
Here is the whole thing as text (English translation would be greatly appreciated and helpful to all):
Dringlichkeitsantrag

der Abgeordneten Hubert Aiwanger, Florian Streibl, Gabi Schmidt, Prof. (Univ. Lima) Dr. Peter Bauer, Dr. Hans Jürgen Fahn, Günther Felbinger, Thorsten Glauber, Eva Gottstein, Joachim Hanisch, Johann Häusler, Dr. Leopold Herz, Nikolaus Kraus, Peter Meyer, Alexander Muthmann, Prof. Dr. Michael Piazolo, Bernhard Pohl, Dr. Karl Vetter, Jutta Widmann, Benno Zierer und Fraktion (FREIE WÄHLER)

Bayerisches Niveau beim Arbeitnehmerschutz in ganz Bayern sichern: Europäisches Patentamt in die Pflicht nehmen!

Der Landtag wolle beschließen:

I. Der Landtag stellt fest,

1.dass in der Personalpolitik des in München ansässigen Europäischen Patentamts (EPA) offensichtlich erhebliche Defizite bestehen, was die arbeitsrechtliche Stellung der Bediensteten anbetrifft,

2. dass die gegenwärtige Situation der Bediensteten des EPA nicht hinnehmbar ist und Arbeitnehmerschutz auf bayerischem Niveau auf dem gesamten Territorium des Freistaats zur Anwendung kommen muss,

II. Die Staatsregierung wird aufgefordert, sich auf Bundes- und Europaebene einzusetzen, dass auf eine Erhöhung der Arbeitnehmerstandards auf unser bewährtes deutsches und bayerisches Niveau innerhalb des EPA hingearbeitet wird und insbesondere die von dessen Präsidenten erlassenen Richtlinien im Hinblick auf die umstrittenen internen Ermittlungsverfahren schnellstmöglich überarbeitet werden.

Begründung:

Annähernd 2.000 Demonstranten versammelten sich schon während der regelmäßigen Demonstrationen vor dem Europäischen Patentamt (EPA), um gegen die schlechten Arbeitsbedingungen zu demonstrieren. Kostensenkungen und die Bewältigung des jährlichen Anmeldewachstums von Patenten i.H.v. durchschnittlich vier Prozent bei gleichbleibendem Personalbestand führen offensichtlich zu nicht länger hinnehmbaren Gängelungen wie etwa Kontrollen im Krankheitsfall der Mitarbeiter. Der ehemalige Bundesverfassungsrichter Siegfried Broß attestiert "ganz erhebliche Defizite" in der arbeitsrechtlichen Stellung der Bediensteten. Ein Einklang mit deutschen und bayerischen Arbeitsstandards ist nicht erkennbar. Das EPA ist zwar eine außerstaatliche Institution, so dass deutsches Arbeitsrecht nicht zur Anwendung kommt. Bayern darf als Sitzland aber dennoch nicht tatenlos zusehen, wenn es möglicherweise bereits um menschenrechtswidrige Behandlungen auf dem Territorium des Freistaats geht. Insbesondere ist die Durchführung der umstrittenen Ermittlungsverfahren, die vom Präsidenten des EPA in Richtlinien erlassen wurden, nicht hinnehmbar. Demnach zwingt eine interne Ermittlungseinheit des EPA Mitarbeiter zu Aussagen ohne ein Verweigerungsrecht. Die bisherigen Bemühungen des Bundesjustizministerium, und des Verwaltungsrats des EPA, auf Verbesserungen hinzuwirken, sollen durch aktives Vorgehen der Staatsregierung auf Bundes-und Europaebene flankiert werden.
There will be lots of additional material coming out tomorrow. █