06.29.16
It's Team Battistelli that creates and fosters a militant/militaristic atmosphere, not the remainder of the staff, which is civil, well-educated, and demonstrably peaceful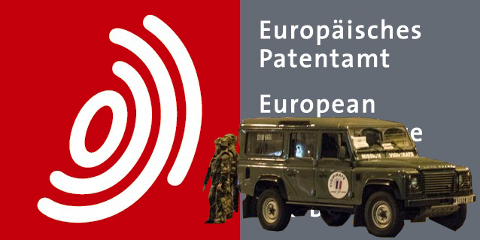 Georg Hegel-inspired methods: Manufacturing a crisis or evoking external crises to offer the "solution" and keep staff scared, divided, isolated, marginalised
Summary: "As if Laurent were a terrorist, the Office has imposed a house arrest and has forbidden him to enter the EPO premises," according to SUEPO, writing about one of its members at The Hague who is "maliciously accused via a fabricated procedure"
THE EPO never ceases to amaze. It's a good thing (for Battistelli at least) that there was a terror attack less than a day before the Administrative Council's meeting because it was so predictable that Battistelli would milk this terror attack today (warning: epo.org link). Quite frankly as usual (recall what he did after the attack in Orlando). Sometimes it's a blog post, sometimes an open letter, and this time a "news" item that just quotes/relays Battistelli, who is very far away from Turkey (unlike Paris where he actually spent a long time). Battistelli fancies himself an omnipotent King and it's supposed to be fine "because terrorism". That's exactly the same behaviour or rationalisation as Erdoğan's (whom we habitually compare Battistelli to).
This brings us to the latest person in Battistelli's firing line (there are several more whose stories we will tell). Some big things happen at the EPO today, so not many people are likely to pay attention to yet more alleged fabrications by Team Battistelli.
SUEPO Central's publication on Laurent Prunier's suspension was disseminated earlier today. In it, SUEPO The Hague highlights the shift from terror in Munich over to The Hague. The reign of terror is one that cannot be escaped as it transcends national borders (not just to Berlin, i.e. not just site/city non-borders), in spite of the wrath of Dutch courts, Dutch politicians, and Dutch media. Here is SUEPO's message:
Laurent Prunier suspended, pending dismissal

Dear SUEPO members, dear colleagues,

Battistelli is not only staring into the abyss1. He has taken a big step forward. After more than a decade of heavy involvement in SUEPO and staff representation, Laurent Prunier (current Secretary of SUEPO TH), has been suspended in the evening of 27/06/2016, pending dismissal. We refer to the article of NRC published on 29 June: "Vakbond wil opheffing immuniteit Battistelli"2.

As if Laurent were a terrorist, the Office has imposed a house arrest and has forbidden him to enter the EPO premises "to protect the victim and witnesses as well as the integrity of the procedure". What a farce – the grotesqueness would be funny if Laurent were not sick after having been tormented for months.

Laurent cannot share with us the details of the accusations, but he says the investigation procedure is demonstrably malicious, and the accusations fabricated.

Also the timing of the suspension is suspect: less than two days before the Administrative Council meeting, and a few days after SUEPO has filed an injunction (kort geding) to complain about the intolerable union harassment SUEPO officials have been facing for too long. We can already hear VP1 proclaiming "purely coincidental" …

Enough is enough. We have instructed our lawyer to work towards the lifting of Battistelli's immunity and of course we will keep you posted.

Please keep supporting us, and Laurent.

Yours,
SUEPO Central

______
1 https://suepo.org/is_battistelli_staring_into_the_abyss/d-43465
2 http://www.nrc.nl/next/2016/06/29/vakbond-wil-opheffing-immuniteit-battistelli-2964865
This matters to every single EPO worker because if Battistelli and his goons can do this to Laurent Prunier, then they can do this to anyone whom the President (or "King") picks because of envy, fear, senseless paranoia or whatever.
As a little bit of background, Laurent Prunier is Secretary of SUEPO The Hague. It's said that he "was already placed abusively on unauthorised absence for the past 6 months although being sick" and "has now been officially suspended [as of] two days ago. Laurent is maliciously accused via a fabricated procedure and he risks dismissal."
Sounds familiar? Well, fabricated procedures wouldn't be news at the EPO as this was already done against a judge who already enjoys (in principle) independence from Battistelli's long arm and short temper. "After the dismissal of two SUEPO officials and the severe degradation of another one in Munich early January," we learned, "Laurent is thus a new target of the Battistelli's regime. Other SUEPO officials in The Hague too are in the line of fire, not to mention all staff who suffer from toxic working conditions."
No wonder there's brain drain, even at the very top. █