10.28.16
Gemini version available ♊︎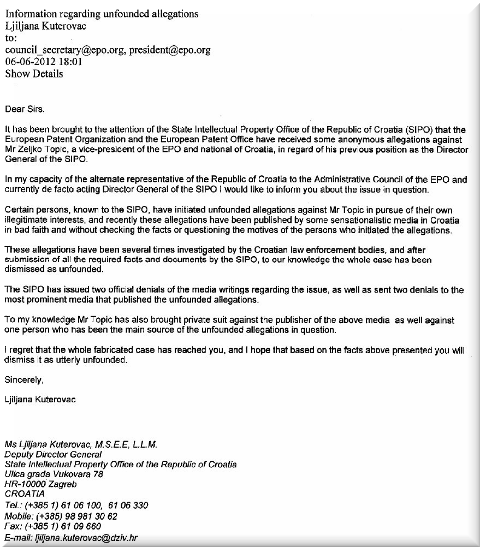 Summary: Leaked E-mail from June 2012 regarding Željko Topić, an EPO Vice-President who reportedly faces many criminal charges in Croatia
THE EPO's management insists on tarnishing whatever is left of its reputation. It refuses to accept that Topić is a liability to the Office and even — reportedly at the request of Battistelli — extends the contract of this 'bulldog' of his.
As we noted here before, Topić allegedly used SIPO's Web site to throw in some face-saving announcement. He also uses old buddies to accomplish something similar, never mind the fact that he has lost his defamation case repeatedly. The judge found merit in very serious allegations against him.
The above E-mail is from the 6th of June 2012 and it might be of interest ahead of today's feature article, which we shall publish later today.
"The E-mail from June 2012 was written by Ljiljana Kuterovac who was at that time the acting Director General of the SIPO following Željko Topić's departure to Munich and it is addressed to the Administrative Council delegates and to the President of the EPO."Recall that the decision to appoint Željko Topić as an EPO Vice-President was taken by the EPO's Administrative Council in March 2012 and he took up his appointment soon afterwards in April 2012.
Around that time rumours were already circulating about Željko Topić's previous track record in Croatia and some members of the Administrative Council were beginning to ask awkward questions.
So it seems that Željko Topić relied on his former protegée at the SIPO to defuse the situation and silence the critics.
The E-mail from June 2012 was written by Ljiljana Kuterovac who was at that time the acting Director General of the SIPO following Željko Topić's departure to Munich and it is addressed to the Administrative Council delegates and to the President of the EPO. █
Permalink
Send this to a friend