01.02.17
Gemini version available ♊︎
How appt [sic]…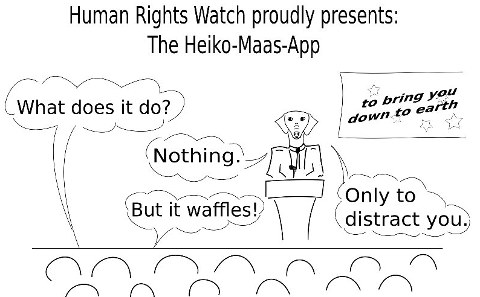 Summary: The utter lack of participation, involvement or even intervention by German authorities serve to confirm that the government of Germany is very much complicit in the EPO's abuses, by refusing to do anything to stop them
January 3rd (tomorrow) marks 365 days since the letter below (due to leap year) and we are hardly surprised that Heiko Maas, a rather controversial German Justice Minister (for various reasons well beyond and outside the realm of patents), is as useless as a brick. He seems to be perfectly fine with serious abuses happening in Germany, perhaps because his political party has some higher agenda or something at stake here.
We previously wrote about serious if not severe dysfunctions in the the EPO's justice system (so-called 'disciplinary procedures'), which are akin to the Stasi (or "gestapo" as a Dutch politician called it, as it's also akin to a "reign of terror" in his own words).
The following is text from Minister of State Prof. Dr. Winfried Bausback, who was mentioned before as he had been in touch with other politicians whom Dr. Elizabeth Hardon decided to approach. In the following letter, Heiko 'don't see, don't speak, don't listen' Maas is mentioned as well (emphasis below). The letter is dated January 4th, but the discussion with Maas predates Christmas by exactly one week. To quote:
Bavarian State Minister of Justice – 80097 Munich

Dr. Elizabeth Hardon
An der Hauptfeuerwache 4
80331 Munich

Your Ref., your communication of
su15109ml – 0.4.2 of 7.12.2015

Please quote in reply
Our Ref., our communication of
D5 – 3620 E – I – 13807/2015

Date
4 January 2016

Demonstration by the Staff Union of the European Patent Office (SUEPO) on 10 December 2015 before the Palace of Justice

Dear Dr. Hardon,

Many thanks for your letter in reference, in which you provided further details with regard to the background to the SUEPO demonstration on 10 December in front of the Munich Palace of Justice. I can readily empathise with the burden being placed on you and your colleagues by the situation at
the European Patent Office which you describe. I must however ask for your understanding inasmuch as I am unable to voice an opinion in these matters, given that the Bavarian State Ministry and the Free State of Bavaria have no jurisdiction in this instance. As you are aware, the European Patent
Office (EPO) is an international organization with its own constitutional legal framework. Germany is only one of 38 contracting states, and is represented in the administrative bodies of the EPO solely by the Federal Republic.

On 8 October 2015 the Federal Government stated, in a reply to the written question submitted by a Bundestag deputy (BT-Drs 18/6301 (new), p. 23 f.), that it viewed a good working atmosphere at the European Patent Office as a very important concern. In order to improve the situation, in particular,
the climate with regard to discussion and negotiation, the Federal Ministry of Justice and Consumer Protection (BMJV) is said to have instigated a revival of the social dialogue in the Administrative Council of the EPO, and the Ministry appears to be actively concerned in improving the situation.

In the context of a discussion with the Federal Minister of Justice and Consumer Protection, Mr. Heiko Maas, on 18 December 2015, I expressly raised the issues concerned. The Federal Minister of Justice has given his assurance that he will also be engaging with the issues which you are currently raising.

Best regards
Prof. Dr. Winfried Bausback, MdL
Where is Maas? He has done absolutely nothing (zilch, nada) about the EPO scandals, which damages not just Germany's reputation on matter such as justice within Germany but in the whole of Europe (as the vast majority of EPO employees are not German). A retired German judge has already compared this kind of attitude towards the EPO to that of the US government in relation to Guantánamo Bay.
For completeness, the letter in German (original) is shown below. █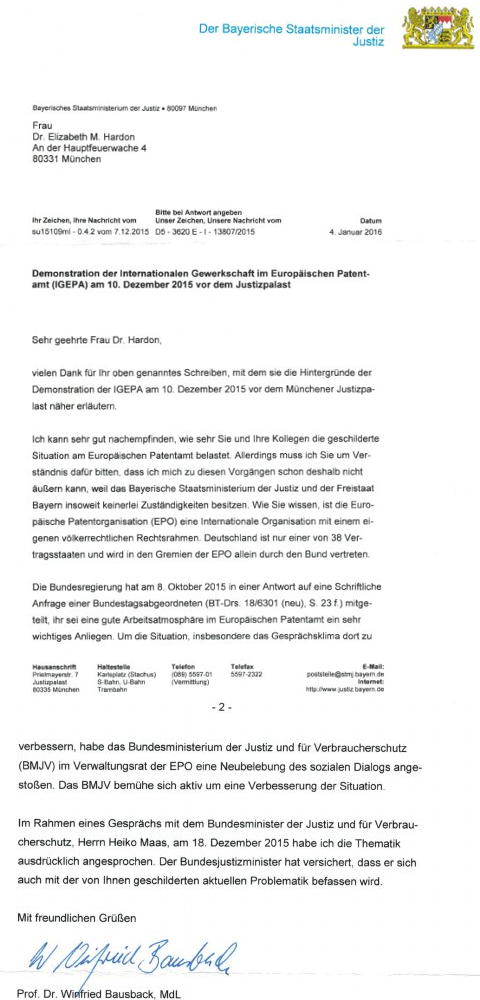 Permalink
Send this to a friend