04.13.17
A company stuck in the past with nothing but a pile of patents (like Nokia)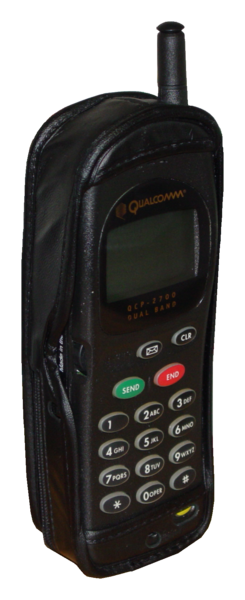 Summary: The days of Qualcomm's cash cow (a bunch of standard essential patents) may be numbered, as US, EU and Korean authorities belatedly look at the company's practices and Qualcomm already caves
Qualcomm's de facto monopoly (in the patents sense), as we've covered here before [1, 2], means that people pay Qualcomm a lot of money even when they buy nothing from Qualcomm. In some sense, Qualcomm does in chipsets what Microsoft does in software. It demands 'protection' money from just about everyone and it also has patent trolls to help punish for 'noncompliance' with unreasonable demands.
Qualcomm Lies
"It demands 'protection' money from just about everyone and it also has patent trolls to help punish for 'noncompliance' with unreasonable demands."Not too long ago Qualcomm came under fire from Apple, even though it had abused many other companies. Florian Müller had a peek at the latest documents and found Qualcomm claiming "credit for enabling Pokémon GO," which is of course nonsense. To quote Müller:
As the number of pages (the original complaint was approx. 100 pages, now the answer and the counterclaims fill 140 pages) shows, this is a huge commercial litigation and threatens to turn into a battle of materiel. Both parties have enlisted multiple major law firms. The first surprise here is that Quinn Emanuel is among the three firms representing Qualcomm, given that Qualcomm's filing (in paragraph 192 of the counterclaims part) accuses Samsung–another company QE is defending against Apple–of sharing (with Apple) "a common interest in diminishing Qualcomm's ability to obtain fair value for its innovations" and trying "to avoid paying fair value for Qualcomm's intellectual property and to impede Qualcomm's licensing program." I wonder how Samsung feels about its own lawyers not distancing themselves from such allegations…
Is Qualcomm trying to suck up to the Japanese and Korean regulators with this "Pokémon GO" fairy tale? As one Android-centric site put it, Qualcomm has "Big Trouble in Little Korea" and an Apple-centric site said that "[i]n a 134-page filing with the U.S. District Court for the Southern District of California, Qualcomm provides a point-by-point rundown of Apple's January lawsuit, denying a total of 389 allegations."
"Is Qualcomm trying to suck up to the Japanese and Korean regulators with this "Pokémon GO" fairy tale?"What we have here are two patent bullies fighting one another and it's clear that only law firms are guaranteed to win, as usual (parasites can't lose).
Qualcomm to Pay BlackBerry
Meanwhile, as emerged in the news last night [1, 2, 3], Qualcomm will need to shell out a lot of money. BlackBerry, which has itself become akin to a patent troll (both directly and indirectly), expects to receive nearly a billion dollars from Qualcomm. "BlackBerry awarded $815 million in arbitration case against Qualcomm," says a headline one reader sent to us about it. Might Qualcomm need to refund even greater amounts of money to other firms?
Qualcomm's Abuses
Florian Müller published another article earlier today, having watched this case rather closely. "Qualcomm does not want European and Korean antitrust proceedings to impact its FTC litigation," says the headline. Like Intel and Microsoft, Qualcomm has come under incredible scrutiny in several continents and the effect can be devastating to a company that depends so much on patents rather than actual products. To quote Müller:
Qualcomm, which would have us believe we couldn't even play Pokémon GO if not for its wireless technologies, is fighting a global, multi-front war against regulators, industry players and consumers (who are piggybacking on the FTC case in Northern California).

On one of those fronts, BlackBerry just won an arbitration award over $815 million. Unfortunately, arbitration is opaque, so the legal basis for this is unclear, other than BlackBerry having claimed to have paid too much in license fees during an unspecified past period. The kind of wrongdoing here is totally unclear, and we also don't know what an appeals court would have decided. Still, the $815 million award, which is final and binding, has made BlackBerry's share price soar by 12%. For the Canadian company, it's a huge amount of money. For Qualcomm, it's also a very significant amount, but the bigger problem is that every independent finding of Qualcomm having overcharged someone makes it harder for Qualcomm to convince the courts of law and the court of public opinion that it's just being bullied by the likes of Apple and Samsung and that all those antitrust enforcers have all just been misled by sore losers in the marketplace and by evil companies denying Qualcomm a fair compensation for its innovations.

This concern is real. A joint case management statement filed yesterday by the FTC and Qualcomm–"joint" in terms of being a single document despite virtually zero convergence on substantive questions–in the Northern District of California shows that Qualcomm is indeed concerned about how the various parallel proceedings could influence each other.
The above already mentions the news about BlackBerry, which is important. Is Qualcomm on the run from regulators?
Unfair and Unreasonable
"Apple's challenge to Qualcomm is already having a positive impact, which is why we said we would support Apple right from the start (in this case alone)."So-called standard essential patents (SEPs) or RAND or FRAND are a subject we've covered here many times before. Last night IP Kat said that "It ha[d] been a busy couple of weeks for standard essential patents (SEPs)… and now we have the European Commission's roadmap on SEPs."
"FRAND is already in DSM," Benjamin Henrion explained, "don´t know what is the status of this directive…"
Well, if SEPs like Qualcomm's lose their legitimacy, the effects would be enormous and also impact software companies. In China, based on what IAM said earlier today, the subject of SEPs and patent trolls that wield them (like Ericsson in Europe) is being brought up and scrutinised. To quote:
We've seen a major patent pool introduce a new royalty rate structure aimed at enticing more developing-market implementers to get involved, the first foreign NPE officially enter China through a joint venture agreement, and Apple directly challenging the licensing terms Qualcomm agreed on with Chinese regulators. And, of course, the Beijing IP Court issued the country's first SEP-based injunction against Sony.
Apple's challenge to Qualcomm is already having a positive impact, which is why we said we would support Apple right from the start (in this case alone). Companies like Qualcomm offer far too little to society but more importantly, they set a dangerous precedent to be exploited by all sorts of other companies and harm productive companies. █