07.02.17
Gemini version available ♊︎
Vacating one's place in a system where reputation is absent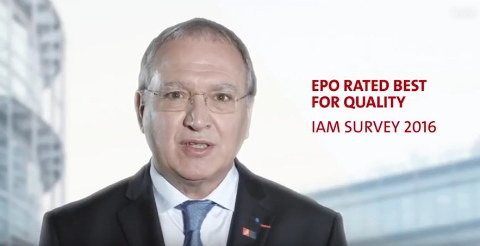 The latest revision of Battistelli's famous lie (reinforced by his friends at IAM)
Summary: The systematic cheapening of patents at the EPO, i.e. the lowering of patent bars by Battistelli with his ludicrous policies, is already causing serious damage to the perceived value of European Patents (EPs)
THE EPO not only emulated the errors of the US patent system when it comes to patent scope. It went beyond it by granting patents even on genome — something which should never have happened. It is laughable and it leads to public protests (not just online but also in the streets).
"It is laughable and it leads to public protests (not just online but also in the streets)."6 weeks ago an article was published that's entitled "Open source science or intellectual property: Should we allow patenting of synbio organisms?" It said that "the open-source counterculture [was] inherited from computer science and engineering. In those fields, researchers typically share their findings in public repositories."
Considering the fact that a lot of genome research was funded by the public (grants), it should not be patentable. There are other reasons for that which we covered here some months back.
Days ago an article was published about the "EPO's amends [to] patentability of plants and animals regulations" and a better headline would say that the EPO effectively revokes a lot of patents on plants and animals (granted in error).
Here is the opening part:
The European Patent Office (EPO) has amended its regulations to exclude plants and animals obtained by an essentially biological breeding process from patentability.

Yesterday, June 29, the EPO's Administrative Council announced the decision, following a proposal from the office.

The proposal took account of European Commission notice from November last year, which discussed certain articles in the EU Directive on biotechnological inventions (98/44/EC).
These patents should never have been granted in the first place, but the mirage of 'production' led to this disgrace which severely damages confidence in the EPO. What other patents might be revoked (or rendered worthless) overnight, months or years after a fortune was spent pursuing them and renewing them?
Bristows, in one of its latest posts at IP Kat, speaks of 'correction' of patents (e.g. editing, expiry dates in this case), but the fundamental notion of a patent means that it cannot be extended, amended, modified etc. once granted (this conventional wisdom is being challenged because of PTAB in the US these days).
Taking note of some utterly stupid patents previously granted by the USPTO, a few days ago the EFF named the following:
This month's stupid patent, like many stupid patents before it, simply claims the idea of using a computer for basic calculations. U.S. Patent No. 6,817,863 (the '863 patent) is titled "Computer program, method, and system for monitoring nutrition content of consumables and for facilitating menu planning." It claims the process of using a computer to track nutrition information like calorie or vitamin intake. It is difficult to think of a more basic and trivial use for a computer.

The '863 patent is owned by a patent troll called Dynamic Nutrition Information, LLC. Dynamic Nutrition filed a lawsuit this month in the Eastern District of Texas accusing Australian company Fatsecret of infringing the '863 patent. Dynamic Nutrition had filed four other lawsuits. Consistent with a pattern of nuisance litigation, each of those earlier suits settled very quickly.
This is just a software patent, which in light of Alice is obviously worthless; but if used against a poor person or firm, legal challenge would be more expensive than settlement ('protection' money).
Bad patents should never ever be granted in the first place. They cause enormous damage and mostly harm innocent people. The EPO, at present, is building up a bubble that can unleash great chaos across the continent and beyond. The Liar in Chief, Battistelli, does not seem to care. █
Permalink
Send this to a friend