08.09.17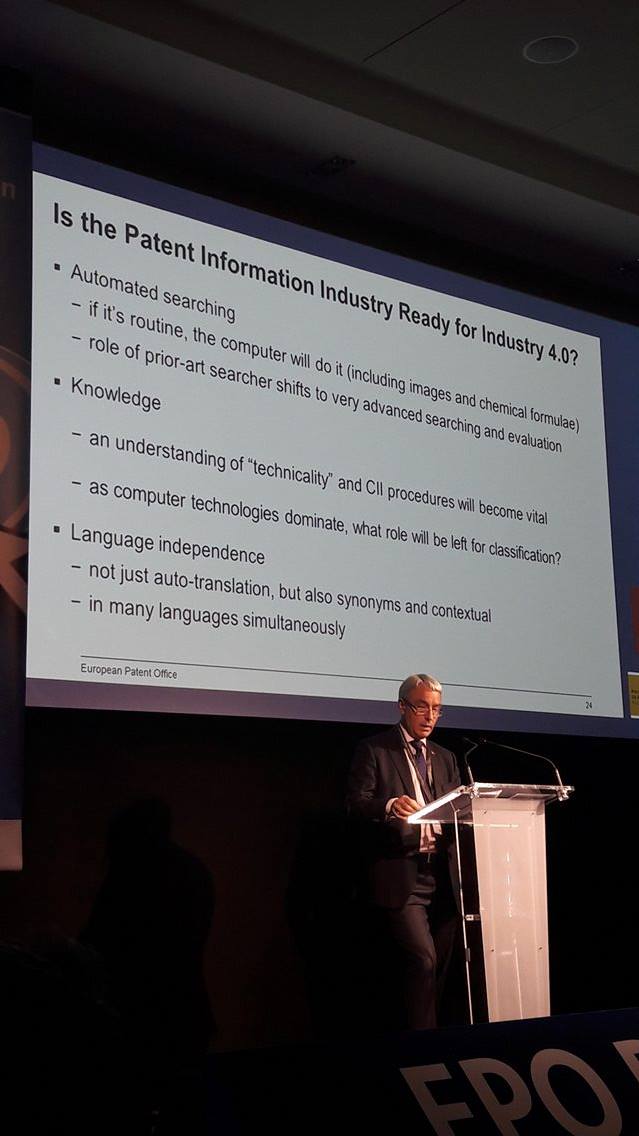 This EPO presentation spoke of software patents ("CII"). Photo credit: EPO Patent Information Conference 2016 (Grant Philpott)
Summary: Software patents, which were never meant to be granted by the EPO, are nowadays being granted quite leniently and easily (whereas other patent offices growingly reject these, deeming them too abstract and not beneficial)
THE EPO does not seem to mind the law (or any of the laws). It exists in a vacuum and it grants software patents in Europe in defiance of directives, the public interest, and the EPC.
Earlier today Graham McGlashan from Marks & Clerk said that a "computer program itself can potentially be patented at the European Patent Office" because the EPO has gone rogue and the subject isn't even up for debate anymore; the EPO promotes these patents in public events and by doing so it metaphorically spits at the Parliament, at the European public, and on the EPC.
Here is the relevant paragraph:
The European Patent Office will potentially allow a patent if the claimed subject matter is novel and inventive and has a technical character – even if the invention is computer implemented. A computer program itself can potentially be patented at the European Patent Office if it is capable of bringing about, when running on a computer, a further technical effect going beyond the "normal" physical interactions between the program (software) and the computer (hardware) on which it is run.
This was published by people who put misleading puff pieces in British media and promote software patents, the UPC etc.
The above is of course the old mumbo-jumbo where general-purpose computers on which programs run are used to attribute some magical physical properties to code. It's a clever trick, but it's all just a sham. Yet it helps bypass examiners.
Several months ago Marks & Clerk said in a public event that it had become easier to patent software at the EPO than at the USPTO. How revealing a statement!
Looking elsewhere in the news today, IAM published another marketing piece (this one for Bereskin & Parr LLP) with nothing in it about patent scope as CIPO (Canada's patent office) is having a consultation and there's no sign of growing tolerance towards software patents. Innofy's Katherine Rock wrote about software patents in Australia, taking stock of quite a few recent cases and concluding that "Australian Patent Office Says No" (to software patents).
From the concluding part:
On the face of it, the decision issued in July by the Australian Patent Office may be discouraging as the apparent rejections relate to a broad range of fields of innovation – from collection and analysis of data, targeting advertising, statistical optimisation for assay analysis, and insurance policy management.

However, it does appear that the Patent Office is operating on a case by case basis, and in addition looking to authorities which ostensibly require a demonstrable technical effect (see, eg, Aerotel), a concrete, physical effect (see, eg, Grant), and/or distinctions from a generic computer system(s). Therefore, we would advise that when seeking to apply for patent protection in Australia, you consider these authorities and seek a professional opinion – so feel free to contact us with any questions.

Notwithstanding the above, given the contention around the issue of patent eligibility of software, and the fact that the interpretation of the Patents Act may be subject to change as more cases are brought before the courts, we could well see a relaxing (or tightening) of these requirements in years to come.
Is it harder to get software patents in Australia than it is in Europe? Remember that in the US even if one manages to get a software patent, this patent is very unlikely to be upheld in courts. We have heard that the same is becoming true in Japan (the only other stronghold of software patents*). These patents just lack potency and would be worthless if asserted, which is why patent trolls prefer going after small firms which would settle out of court.
Earlier today we spotted this announcement about purchase [sic] (reassignment) of patents that are basically on software but are painted as "mobile" (to bypass abstractness tests). Here are the patents:
USPTO 8,369,828 "Mobile-to-Mobile Payment System and Method";
USPTO 8,073,895 & 8,572,166 "System and Method for Delivering Web Content to a Mobile Device";
USPTO 8,315,184 "Computer to Mobile Two-Way Chat System and Method"
This seems like a waste of time and money. Maybe they just didn't get the 'memo' about software patents in the US.
So how did the EPO become a laughing stock for low patent quality? (or broad scope)
Part of the problem, we suspect, is Battistelli's attack on the Boards of Appeal of the European Patent Office (BoA), which exist to help guard — independently — the integrity and quality of the EPO. "In Decision T 488/16," we learned today, BoA "have revoked EP 1 169 038…"
Here are the details:
In Decision T 488/16, the Boards of Appeal of the European Patent Office (BoA) have revoked EP 1 169 038, which protected the blockbuster protein tyrosine kinase (PTK) inhibitor dasatinib (Sprycel®). The only request on file — a single claim directed to dasatinib per se or a salt thereof — was found to lack inventive step in view of the absence of evidence in the application as filed (and the common general knowledge) which rendered the activity of dasatinib in inhibiting PTK "plausible". A general statement in the application as filed that "Compounds described in the following Examples have been tested in one or more of these assays, and have shown activity" was not by itself considered enough to render it credible to the skilled person that the described compounds were PTK inhibitors. In the absence of a plausible disclosure of activity against PTK in the specification as filed, the objective technical problem was defined by the Board of Appeal as merely "the provision of a further chemical compound". The extensive clinical data which became available after the filing date of the patent evidencing biological activity was not taken into account when determining inventive step.

The Boards of Appeal of the European Patent Office have for many years imposed a requirement that claims for large molecules (e.g., proteins) must be supported by a plausible disclosure of biological activity in the application as filed (see, for example, T 1329/04). A similar requirement for a plausible disclosure of activity in the original specification has also been required to support medical use claims (see, for example, T 0609/02). However, this Decision indicates that the Boards are willing to apply the same strict standards when assessing claims for small molecule drugs per se.
Based on recent reports, the BoA may already be 'in transit', having been exiled by Battistelli with help from Kongstad (who will be leaving the EPO next month). We are very worried that the EPO without a strong and independent BoA will take the European patent regime into total oblivion. █
_____
* Japan has long been known as the 'twin' of the US when it comes to software patents, with Korea highly reluctant to follow suit and only China relaxing the rules as it opens the floodgates to just about any patent (not just on software).