10.26.17
Gemini version available ♊︎
He is alleged to have used political connections to install Campinos in a position of power and also get himself appointed as President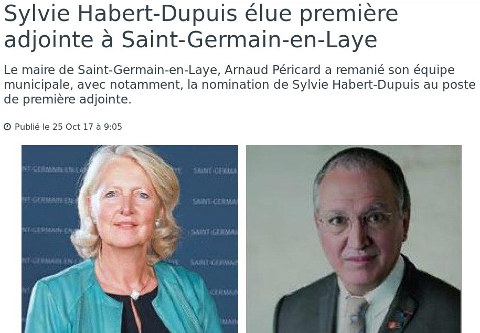 Summary: Benoît Battistelli turns out to still be involved in Saint-Germain-en-Laye politics
THE EPO long ago departed from the Rule of Law.
As we pointed out over a year and a half ago, Battistelli should not be doing politics. It is not allowed for international civil servants, as per ILOAT, which said that "…an international civil servant, though entitled to hold his own political views, must stand aloof from demonstrations of adherence to a political party. Integrity, loyalty to the international civil service, independence and impartiality are the standards required of an international civil servant and they require him to keep clear of involvement in national party politics."
On Wednesday the French media posted this article with a mugshot of Battistelli. A reader has sent us a translation of the (only) part talking about Benoît Battistelli:
Douze adjoints à Saint-Germain-en-Laye

Le 6e adjoint a également été élu : Benoît Battistelli, jusqu'ici conseiller municipal chargé du théâtre, prend le poste d'adjoint à la Culture.

« Benoît Battistelli va retrouver une délégation qu'il connaît bien et l'équipe que nous formions va se reformer sous un autre format », a déclaré le maire, qui était lui-même adjoint à la Culture avant de devenir maire de Saint-Germain.
In English:
Twelve deputy mayors at Saint-Germain-en-Laye

The 6th deputy mayor has been elected as well: Benoît Battistelli, up to now municipal councillor for theater, takes the post of the deputy mayor for culture.

« Benoît Battistelli will meet a delegation he knows well and the team we will form will reshape in a different format », declared the mayor, who himself had been deputy mayor for culture before he became the mayor of Saint-Germain.
Nicolas Sarkozy and the Bygmalion affair aside, Battistelli is still associated with that party and does, in his capacity as a politician, get involved in local politics. But it's not like the Council or Dr. Ernst would dare oust him for it. █
Permalink
Send this to a friend