11.30.17
Gemini version available ♊︎
Treating the EPC like he treated the Supreme Court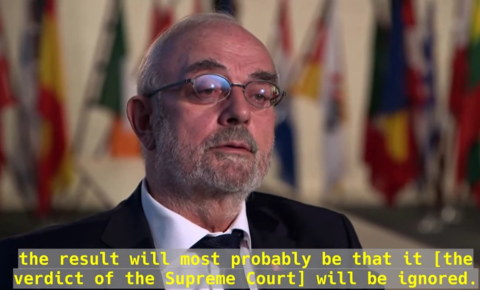 Summary: Willy Minnoye, a former EPO Vice-President (DG 1), left a troubling legacy of lots of low-quality patents which generally damage the perception of European Patents being legitimate and difficult to successfully challenge; moreover, phantoms of the European Patent Convention (EPC), which is routinely being violated by the President of the EPO, come back to haunt the patent 'industry' (the subject came up last week)
MR. Minnoye retired from the EPO earlier this year, but the damage he had done isn't over. As one comment put it a short while ago, it "remains to be seen if the new Chairman of the AC [Dr. Ernst] will be in a position to resist a move from the EPO," alluding to issues that recently resurfaced and the EPO tries hard to distract from. To quote:
Another reason why the overall position of the EPO has anything but strengthened by the tenant of the 10th floor is the recent proposal of VP Operations at the EPI Council in Warsaw to introduce deferred examination!

If deferred examination is now seen as a solution alleged problems at the EPO, it means that the present president will go from early certainty to long term uncertainty. What a move for the better!!

The predecessor of Mr Minnoye had taken measures to reduce the backlog of old files. And it worked fine, but efforts were needed. When taking over, his successor, Mr Minnoye, VP1 until June 2017, has ignored those measures, and merely pushed for quick searches and quick grants, with the result that every recent file was de facto dealt with under PACE. I refer to Mr Bausch's earlier comments about this topic on this blog.

Deferred examination was foreseen in Art 95EPC 1973, and has been deleted in EPC 2000. It was thus clearly the will of the legislator not to allow deferred examination. There is thus no legal basis for such a move.

There again, trying to introduce such a measure shortly before a successor takes office, show the contempt of the present incumbent towards its successor.

It remains to be seen if the new Chairman of the AC will be in a position to resist a move from the EPO to introduce such an odd measure.
Yes, those are all legitimate points. Watch the response/correction to the above (from 'Enough is enough"):
https://www.epo.org/law-practice/legal-texts/html/epc/1973/e/ar95.html

Enough is enough,

http://www.aicipi.it/docs/deferred_examination.pdf

states that the reason to delete Art 95 had been that it was too restrictive in allowing deferred examination. Deleting it meant that deferred examination was not limited to a temporary measure by the EPO to manage a short term problem.
It does not surprise us that the EPO now floats in a post-EPC world, basically unhinged from any legal document (which is being actively enforced/adhered to). This is crazy! Appeals now lack independence from the Office (judges complain about Battistelli's overreach) and what about oppositions? They too must be feeling pressured by the 'production' targets. Yesterday a firm circulated this press release which said:
Forward Pharma A/S (NASDAQ:FWP) ("Forward" or the "Company") today announced the filing of further written submissions in the European Opposition Proceeding for the EP2801355 patent ("the '355 patent") with the Opposition Division of the European Patent Office ("EPO").

"We continue to vigorously defend our intellectual property and have filed strong argumentation to uphold our issued '355 patent," said Dr. Claus Bo Svendsen, CEO of Forward. He further added, "both the '355 opposition and the U.S. appeal are progressing as planned and we expect decisions in both Europe and United States in 2018."
We sometimes feel like the harm to the EPO's reputation is so profound that the EPO may never recover. Considering Ernst's rejections of the stakeholders' assertions regarding patent quality, none of this is going to change. The next President, who is relatively young, will just be a 'softer' version of Battistelli. █
Permalink
Send this to a friend