01.28.18
Bristows and IAM: working together to help patent trolls in Europe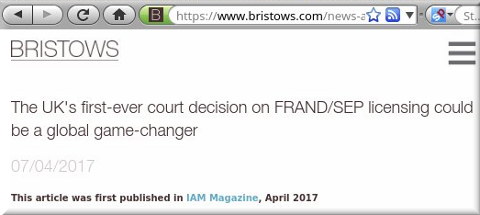 Summary: The European Commission — rather than show strength in the face of patent parasites — shows considerable weakness by allowing controversial mergers/takeovers and issuing token fines
THE European Commission has succumbed and surrendered to pressure fom Microsoft front groups again. As this article put it the other day, obligatory patents one can't work around are becoming more institutionalised:
In November The European Commission issued a communication setting out its vision on standard essential patents (SEPs) and outlining its expectations from stakeholders involved in the declaration, exploitation and enforcement of SEPs. Stakeholders include SEP holders, SEP implementers, standard developing organisations (SDOs) and national courts of the member states.

The communication draws on a number of points arising from various judicial decisions, such as the U.K. court's decision in Unwired Planet v. Huawei on what constitutes fair, reasonable and non-discriminatory (FRAND) licensing terms and the Court of Justice of the European Union's (CJEU) decision in Huawei v. ZTE. The communication also provides principles of general applicability and sets out specific recommendations and guidance.
This also indirectly relates to companies such as Qualcomm, which was brought up the other day in the context of its battles with Apple:
The high-stakes FRAND licensing dispute between Apple and Qualcomm took another turn last week when the chipmaker filed a subpoena against Philips Electronics North America demanding that the Dutch company produce information on its licensing practices deemed relevant to the litigation that is currently gripping the patent world.

According to the subpoena, which was filed in Massachusetts district court, Philips does not dispute that the documents are relevant but has so far declined to make them available because of concerns that the protective order put in place by district court in Southern California, where Apple filed its suit against Qualcomm, does not have adequate confidentiality provisions. Philips has demanded that both companies and any of their counsel who have access to the information should be barred from acting adversely to the Dutch company — such as in a litigation case against it — for two years following the conclusion of Apple v Qualcomm.
This was written around the same time that the European Commission imposed a $1.23bn fine on Qualcomm — a move which Qualcomm critics actually described as a 'win' for Qualcomm for the following reasons:
In tennis, there are four Grand Slam tournaments. In antitrust enforcement, there's no official equivalent, but I would argue that a company being held in violation of competition rules by the United States, the European Union and at least two major Asian jurisdictions has a legitimate claim to the crown. Last year, Qualcomm got sued by the Federal Trade Commission of the United States; just a month earlier it had been fined by the Korea Fair Trade Commission (KFTC); in October, the Taiwan Fair Trade Commission imposed a record fine of more than $700 million; and it had been fined in China a couple of years before. But one key jurisdiction was missing from this list (apart from reservations concerning Qualcomm's proposed acquisition of NXP): the European Union.
Most of the press coverage about this (e.g. [1, 2, 3]) framed it as a big loss for Qualcomm, but former IAM staff — alluding to this new $2 billion deal — said, "[t]hat should pay off the EU antitrust fine with some left over" (fine was too low).
The CCIA, writing about the above, is still tackling the FRAND/SEP scam (patent tax you cannot avoid/work around). To quote:
First, the EU antitrust authorities fined Qualcomm $1.2 billion over conduct that involved locking Apple into an exclusive supplier arrangement in order to harm competing baseband chipset makers. The EU investigation isn't the only place Qualcomm's anti-competitive conduct is being challenged; they've also been fined by the Korean FTC and the US FTC is currently pursuing a case against Qualcomm. Apple has also filed a lawsuit against Qualcomm. As Patent Progress has previously discussed, Qualcomm's conduct harms competition and thereby harms consumers. Qualcomm, rather than changing course, has filed additional lawsuits aimed at using their SEP portfolio to harm companies that challenge their anti-competitive conduct.
The trolls and the patent microcosm, with firms like Bristows, have lobbied hard for this injustice, even in the UK. Bristows and IAM work together on this lobbying effort.
Even IP Kat is pushing this agenda/scam (if not Bristows, then Eibhlin Vardy). As usual, the same people who push/lobby for UPC in Europe (for trolls) and for software patents also adore patent thickets. What we're dealing with here is rather troubling for Free/Open Source software as these thickets typically overlap software as well. █