02.25.18
Gemini version available ♊︎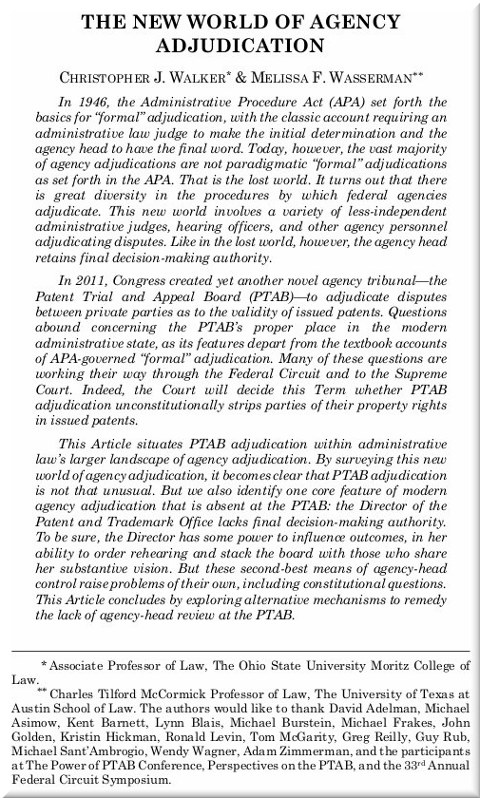 Summary: Despite endless attempts to undermine PTAB, its work carries on, invalidation of abstract patents continues unabated, and academics who are not patent maximalists (or in bed with the patent 'industry') offer constructive advice
The Patent Trial & Appeal Board (PTAB) of the United States Patent and Trademark Office (USPTO) continues to improve patent quality. To say that PTAB has had an impact would an understatement. The EPO is kicking to the curb its equivalent of PTAB, whereas in the US the role of PTAB grows over time (all-time record last year).
"As one might expect, patent maximalists aren't happy about it, to say the least."Over the past week we've witnessed many new examples where PTAB and patent examiners squashed applications using Section 101 (here are three new examples with links to the corresponding decisions [1, 2, 3]).
As one might expect, patent maximalists aren't happy about it, to say the least. Recently, when a rejection was affirmed by PTAB citing laws of nature Patently-O decided to make a big deal out of it, writing not one but several posts about it [1, 2]. To quote:
In its original decision, the PTAB affirmed an examiner rejection – finding the claim ineligible as directed toward a natural phenomenon. However, the patentee requested a rehearing – arguing that the PTAB had failed to properly identify the natural phenomenon being claimed. On reharing though, the PTAB reaffirmed the decision of no patentable subject matter.

In its analysis, the Board first noted that the claims are not directed toward any transformation of the isolated DNA, but rather simply detecting its parts. We know from prior cases that isolated DNA remains a product of nature (Myriad) and that detecting DNA sequence is also a phenomenon of nature (Ariosa).

[...]

It will be interesting to see whether the patentee pushes this case to a District Court or the Federal Circuit for review. Although those options are fun, the more likely outcome is that the patentee will narrow the claims and try again. Mark Nuell at Roberts Mlotkowski argued the case for the applicant.
Also see this article from 6 days ago, titled "Are These INOMax Therapeutic Method Claims Directed To A Natural Phenomenon?"
Natural phenomenon patents were declared not valid owing to 35 USC § 101. This makes perfect sense. To quote:
In Mallinckrodt Hospital Prods. IP Ltd. v. Praxair Distrib., Inc., Judge Sleet of the U.S. District Court for the District of Delaware invalidated personalized method of treatment claims under 35 USC § 101 as being directed to a natural phenomenon. If the Federal Circuit affirms the decision, will it leave room to draw a line that spares other methods of treatment?

[...]

Conducting step 2 of the Mayo/Alice framework, the district court determined that all steps either were routine and conventional (steps (a), (b) and (d)) or did not transform the claim into patent-eligible subject matter (step (c).

[...]

Although the district court referred to the Federal Circuit decision in Cleveland Clinic, the claims invalidated in that case were diagnostic claims, not therapeutic method claims. While I would like to predict that the Federal Circuit would not invalidate a method of treatment claim under § 101, Judge Sleet's analysis highlights the slippery slope presented by the "natural phenomenon" paradigm. The judge characterized the claimed invention as "a patient populations' natural physiological response to 20 ppm of inhaled nitric oxide treatment."—couldn't the same be said about any therapeutic method of treatment?
Attention is now shifting to attempts to discredit the courts and PTAB. The anti-PTABers want the applicant to appeal (of course!) this decision. The anti-PTABers maintain their sick illusion that PTAB is not bound by law and is some out-of-control entity (simply because it keeps patent quality high). There's a whole case about it in the Supreme Court (to be decided within months). It's known as Oil States and blogs like Watchtroll and Patently-O keep trying to meddle in it (it's obvious in whose favour).
"It's known as Oil States and blogs like Watchtroll and Patently-O keep trying to meddle in it (it's obvious in whose favour)."A short while ago, Christopher J. Walker and Melissa F. Wasserman (from Ohio State University and University of Texas at Austin) published this new paper that talks about Oil States. It's 55 pages long and considering recent papers from Wasserman and a colleague (explaining why examiners over-grant), it might be worth a read. She said that this paper "situates PTAB in the modern agency adjudication landscape and explores one critical difference: the lack of agency head review."
From the paper's general tone we conclude that they offer constructive advice rather than ridicule of judges (like Patently-O does). They are "exploring alternative mechanisms to remedy the lack of agency-head review at the PTAB."
Here is the abstract:
In 1946, the Administrative Procedure Act (APA) set forth the basics for "formal" adjudication, with the classic account requiring an administrative law judge to make the initial determination and the agency head to have the final word. Today, however, the vast majority of agency adjudications are not paradigmatic "formal" adjudications as set forth in the APA. That is the lost world. It turns out that there is great diversity in the procedures by which federal agencies adjudicate. This new world involves a variety of less-independent administrative judges, hearing officers, and other agency personnel adjudicating disputes. Like in the lost world, however, the agency head retains final decision-making authority.

In 2011, Congress created yet another novel agency tribunal—the Patent Trial and Appeal Board (PTAB)—to adjudicate disputes between private parties as to the validity of issued patents. Questions abound concerning the PTAB's proper place in the modern administrative state, as its features depart from the textbook accounts of APA-governed "formal" adjudication. Many of these questions are working their way through the Federal Circuit and to the Supreme Court. Indeed, the Court will decide this Term whether PTAB adjudication unconstitutionally strips parties of their property rights in issued patents.

This Article situates PTAB adjudication within administrative law's larger landscape of agency adjudication. By surveying this new world of agency adjudication, it becomes clear that PTAB adjudication is not that unusual. But we also identify one core feature of modern agency adjudication that is absent at the PTAB: the Director of the Patent and Trademark Office lacks final decision-making authority. To be sure, the Director has some power to influence outcomes, in her ability to order rehearing and stack the board with those who share her substantive vision. But these second-best means of agency-head control raise problems of their own, including constitutional questions. This Article concludes by exploring alternative mechanisms to remedy the lack of agency-head review at the PTAB.
We don't expect the corporate/mainstream media to cover this because such media barely understands or cares to educate the public about patents. Will the Justices read it though? █
Permalink
Send this to a friend