07.22.18
Gemini version available ♊︎
Related: The 'Blockchaining' of Software Patents (to Dodge the Rules/Guidelines) Now Coming to Europe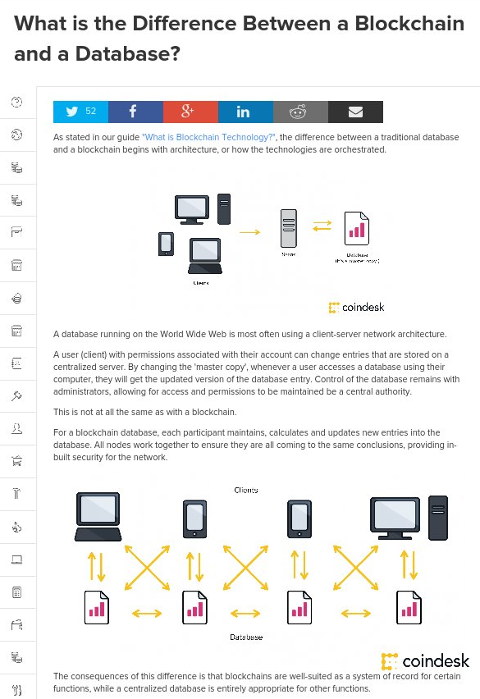 Reference: What is the Difference Between a Blockchain and a Database?
Summary: A look at the status quo of software patents and some of the past week's reports, which still disguise such patents as "financial"
Software patents in India aren't allowed (not "per se" anyway). In the EPO it's "as such" and in the USPTO there are now exclusions for "abstract" ideas, which many interpret as inclusive of computer algorithms.
As we reported last week, Australia had gone down the same route, as did New Zealand. South Africa also, so the English-speaking world is overwhelmingly against software patents now. The main exception to that global trend is China.
A few days ago a patent law firm from India (one that we mentioned here before) noted that:
A software by itself or computer program per se is not considered as an invention as per Section 3(k) of the Patents Act, 1970. Section 3(k) stipulates that a mathematical or business method or a computer programe per se or algorithm are not invention within the meaning of this Act.
None of that has changed. Over the years we've been keeping track of many efforts to change that. But India stood firm in the face of lobbyists.
"Cryptocurrency", "AI", "cloud" and other hype has meanwhile been exploited in the US and Europe to bypass restrictions and patent software. We've written many articles about that and here's a new example:
Ernst & Young LLP (EY) announced on Thursday it has acquired technology assets and related patents from Elevated Consciousness, Inc., a U.S. startup focused on developing unique solutions for the crypto-asset ecosystem. EY reported that the acquisition is part of its strategy to expand blockchain-related capabilities and services worldwide.
Well, such patents are bunk, even ifthey 'dress them up' as "blockchain" or "cryptocurrency". Those are software patents. Here is another new example, this one about Walmart:
Is blockchain technology the answer to fighting porch pirates and ensuring safe delivery of items from online retailers to customers' homes? Walmart seems to be at least exploring the possibility, according to a patent application that the company recently filed.

The application , dated July 5, describes a system of "locker docking stations" that could be "located at a user's home, at public locations such as transportation hubs, public venues, or the like, or other desired locations." The stations would coordinate "directly with one or more delivery systems" to organize the delivery of items.
This isn't the first time we see Walmart dabbling in it; if tested in US courts, however, such patents would likely be rendered invalid under Section 101.
News has been relatively slow this past week (normal for summertime), but we carry on watching trends and milestones in the fight against software patents. █
Permalink
Send this to a friend