09.23.18
Steve Jobs gave today's richest person (whose firm's valuation is at $1 trillion, just like Apple) $1 million for a bogus patent on '1-click' shopping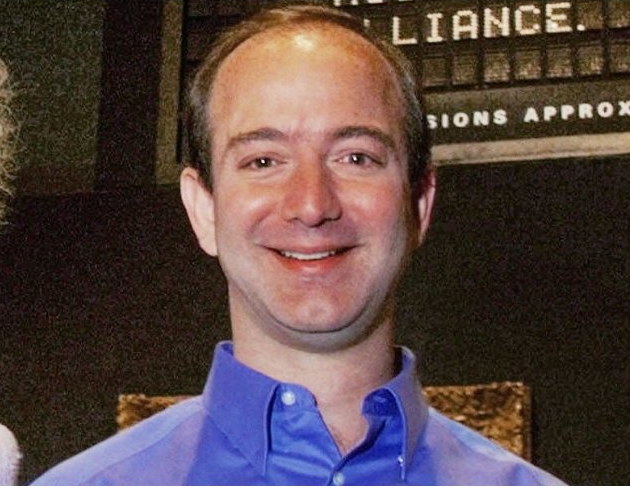 Photo credit: AP
Summary: Apple's resistance to Qualcomm's patent aggression was preceded by very heavy ("thermonuclear" by Steve Jobs' description/words) patent wars against Android and even legitimisation of clearly bogus software patents from Amazon
HEN Qualcomm leveraged its questionable USPTO-granted patents against Apple (Qualcomm is getting desperate and trying the same in Europe now) it didn't foresee the full impact. As IDG makes clear and San Diego Union-Tribune does too, Qualcomm assumed it would get an injunction; instead it drove away its biggest clients, which effectively 'ban' (or boycott) Qualcomm. That's just the cost of being a patent bully — a fact that Qualcomm underestimated. Qualcomm now buys back its own shares at an incredible rate (to avoid/save the stock from completely collapsing like its attempted — albeit failed — takeover bid).
Qualcomm was also mentioned on Sunday by Watchtroll. It's about a case from 10 days ago:
The United States Court of Appeals for the Federal Circuit recently issued a ruling discussing the differences between obviousness determinations of apparatus and method claims. According to the Federal Circuit, an apparatus that is "capable of" performing certain functions may be anticipated by or made obvious by the prior art, whereas, a method claim requires a person of ordinary skill to be motivated to operate the apparatus in a manner that would satisfy a limitation. See ParkerVision Inc. v. Qualcomm, Inc., Nos. 17-2012, 2013, 2014, 2074 (Fed. Cir. Sept. 13, 2018) (Before O'Malley, Reyna, and Taranto, Circuit Judges) (Opinion for the court, O'Malley, Circuit Judge).
Qualcomm gradually finds out, for it has started to attack with patents, that many of its patents are bogus. They should never have been granted in the first place. We certainly hope that Apple will challenge all of these patents; failing to do so may mean that Qualcomm would later leverage these against Android/Linux OEMs.
Days ago we also saw creepy new Amazon patents being reported on [1, 2]. These seemed rather shallow, not just creepy, and even the patent microcosm joked about/ridiculed Amazon's patents ("Amazon one-click patent is no doubt DRT under rationale of SCOTUS case Alice Corp. v. CLS Bank."), citing this new report titled "Steve Jobs licensed Amazon's one-click patent for $1 million in one phone call" (about something which happened a long time ago, almost two decades ago). To quote:
In 1999, Amazon—then merely "Earth's biggest bookstore" rather than a corporate beast that shall soon devour everything in its path—introduced and patented one-click payments. This was in the early days of e-commerce when people were fearful of sending their credit-card details online. One-click processing allowed the startup to keep customers' billing details on file so that they could make instant purchases.

That feature quickly came to Apple in 2000 in one of the earliest versions of its online store. "Licensing Amazon.com's 1-Click patent and trademark will allow us to offer our customers an even easier and faster online buying experience," Steve Jobs said at the time.

[...]

When Apple licensed Amazon's patent in September 2000, Apple had a market cap of $8.4 billion and Amazon had one of $13.7 billion. Recently, Apple became the first US company to reach $1 trillion—followed soon after by Amazon.
So Apple's Steve 'patent blackmail' Jobs (he used patents against GNU/Linux as well) legitimised bogus software patents. Instead of challenging them he gave them perceived legitimacy. What a 'genius'! █