01.19.20
Journalists and corporate pressure groups are not the same thing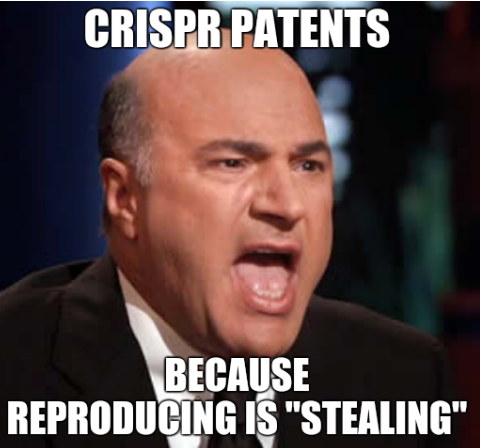 The Shark Tank patent meme
Summary: The narrative surrounding last week's decision against CRISPR patents may have been virtually monopolised by the litigation think tanks and law firms; it certainly feels like no journalism is left to rebut them, fact-check, and introspect
THE European Patent Office (EPO) has spent more than half a decade lowering patent quality. Ask EPO examiners. They'll say so off the record (for fear of retribution they won't say so openly and publicly).
It didn't start with Battistelli, but it became far more profound under Battistelli and it continues to get worse with António Campinos, who intervenes in legal cases (more recently in support of software patents in Europe).
In the U.S. Patent and Trademark Office (USPTO) and even more so in American courtrooms we've seen Alice and Mayo routinely used — via 35 U.S.C. § 101 — to squash patents on naturally-repeating/recurring phenomena and maths. That's just common sense, isn't it?
"Last year the opposition/s folks at the EPO came to the conclusion that CRISPR patents are impermissible and days ago the EPO judges doubled down on that decision."Here in Europe it's possible that later this year EPO judges will reject a lot of software patents by deciding on a 'simulation' patent; it won't be a European 'Alice' because the level of EPO tribunals is nowhere near that of SCOTUS in the US. But that can be a start…
Last year the opposition/s folks at the EPO came to the conclusion that CRISPR patents are impermissible and days ago the EPO judges doubled down on that decision. That's a pretty big deal with wide-ranging ramifications. Having surveyed all the EPO-CRISPR news I was able to find, it seems clear to me that no journalism exists anymore in the area of patents. It's all just pressure groups and press releases of large corporations. It's grotesque; prove me wrong/show otherwise…
Before this decision, roughly a week beforehand, Jamie Atkins and Claire Weston (Kilburn & Strode LLP) published "CRISPR priority appeal – What you need to know ahead of the hearing". This links to their site (of course) and says: "Arguably the highest profile appeal at the EPO in recent years (T 0844/18) will be heard before the Board of Appeal in Munich on 13-17 January 2020…"
One can guess whose side Kilburn & Strode LLP takes; they're a litigation giant, so the more patents, the merrier (to them anyway).
Back in December we saw some shameless self-promotion by Sterne, Kessler, Goldstein & Fox P.L.L.C., under the giveaway headline: "Prosecuting Bioinformatics Patent Applications in Europe" (the only "bio" they care about it "bio-litigation").
Yesterday's IAM blog post said: "This week, all eyes are on the EPO Boards of Appeal's oral proceedings in T0844/18, the Broad Institute's appeal against the revocation of its key patent on CRISPR-Cas9."
Life Sciences Intellectual Property Review, a site whose sole purpose seems to be advocacy of such patents, wrote a lot about it throughout the week [1, 2, 3].
Except a couple of blog posts, which were cited here a day ago, I've found nothing else but this mainstream media piece behind a paywall. It said: "The saga over who owns the valuable patents that cover CRISPR/Cas9 gene editing took a new turn this week with a court decision that goes against the Broad Institute of Harvard and MIT and two local startups."
There are paid press releases, such as this one: (Yahoo, Business Wire)
ERS Genomics Limited, which was formed to provide broad access to the foundational CRISPR/Cas9 intellectual property held by Dr. Emmanuelle Charpentier, announced that yesterday the European Patent Office's (EPO) Technical Board of Appeal (Board) upheld the earlier EPO Opposition Division ruling that the Broad Institute patent EP2771468 is not formally entitled to a number of its asserted priority dates and all its claims are therefore not novel and fully revoked.

EP2771468 is viewed as the Broad Institute's foundational CRISPR-Cas9 patent in Europe. In January of 2018 the Opposition Division found that all claims of the Broad Institute's patent were invalid because the Broad Institute was not entitled to its two earliest priority dates and thus the claims lacked novelty in light of prior art. The Broad Institute appealed the Opposition Division's decision, which the Board affirmed yesterday. Thus, all claims of the Broad Institute's patent remain fully revoked with no option left to overturn this decision.
So there's panic among patent zealots looking to 'own' all lives; they panic because even EPO judges explain that patents on life are fake, bogus, invalid patents.
GenomeWeb, a patent maximalism site focused on that domain (their track record suggests so always), said this:
The European Patent Office (EPO) Board of Appeal has upheld the revocation of a Broad Institute CRISPR patent in Europe.
The Science Board wrote:
An important patent on CRISPR technology held by the Broad Institute has been revoked by the European Patent Office (EPO).

On January 16, the EPO's Technical Board of Appeal upheld a previous ruling in 2018 that the Broad Institute's EP2771468 patent was not novel and therefore should be revoked. EP2771468 is seen as the institute's foundational CRISPR-Cas9 patent in Europe, noted a release from ERS Genomics.

The Broad Institute had appealed the earlier decision, saying the issue related to the "current interpretation of rules that dictate what happens when the names of inventors differ across international applications. This interpretation affects many other European patents that rely on U.S. provisional patent applications, and is inconsistent with treaties designed to harmonize the international patent process, including that of the United States and Europe," according to background information about the patent.
Notice how nobody bothers explaining why such patents are so troubling and problematic. These monopolists are shedding a tear this weekend because there were planning to turn organisms into 'private property' and it's not quite working as they hoped.
How long will it take for a real article to explain all this? We'll watch closely… █
Permalink Comments off
Send this to a friend