10.18.20
Earlier this month: 'Telemetry' (Surveillance) Ought Not be Tolerated in the Free Software Community
Summary: If Free software ceases to respect personal privacy (full control over one's computing), does it still protect users' freedom? That's a question or an aspect not dealt with by the Four Freedoms — and one that's worth entertaining as so-called 'surveillance capitalism' grows (data as currency, people as 'products' to be sold)
"TELEMETRY" or "data science" is what Mozilla likes to call it; in KDE it's turned off by default (for now), but they still call it "telemetry" while insisting that it's about helping the users. Microsoft puts "telemetry" even in a hand calculator and a text editor/IDE. Where does this end?
"We might soon start putting together (making/taking stock of) a list of Free software that spies on users."Over the weekend I've privately discussed troubling aspects I've stumbled upon lately, such as GNOME Maps somehow knowing where I live, based on a laptop with an IP address alone. Is this software freedom? Maybe in the licensing sense; but is this freedom?
There's a couple of different classes of surveillance; identifying and distinguishing these is essential because one is inadvertent, such as Free software 'leaking' some private information to other parties (like data providers, computing service/host, parent company) and the other may be direct, namely the developer of some Free software amassing collected data, if not to sell it then to abuse it some other way (or risk data breach, in which case it's another inadvertent leak). At Microsoft it's no accident: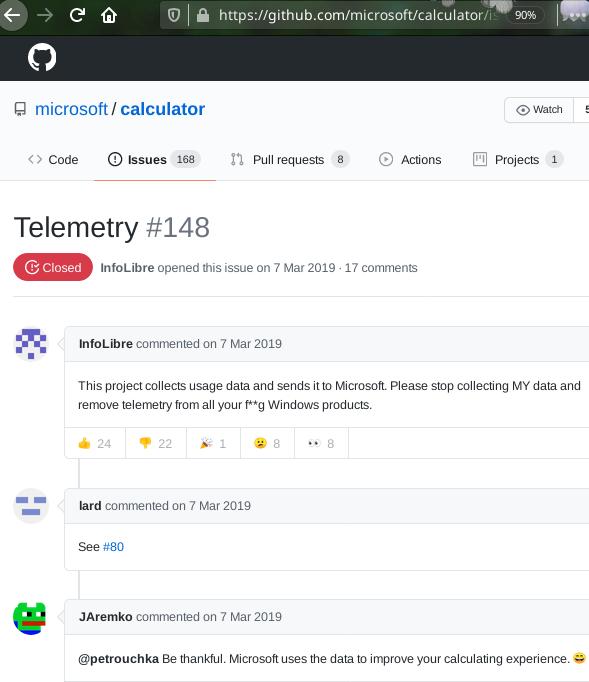 In a perfect world, Free software would never collect data about its users. There are many reasons why it ought not be done, even if the developers claim that it helps better develop the software, based on some statistics. They love to claim that it's all anonymised, but the pitfalls associated with anonymisation were covered here a great deal when we wrote about Startpage.
We might soon start putting together (making/taking stock of) a list of Free software that spies on users. Please, dear readers, report known examples to us. If we make a sort of 'shame list' (just a factual list), which is both public as regularly accessed, this can at least discourage and undo the worrisome practice. WordPress still does this quite a lot, Kate used to do this (they claim to have stopped), Mozilla does plenty of it (and the associated code is developed on Microsoft servers)… what else? █
Permalink
Send this to a friend