07.06.21
Gemini version available ♊︎
Summary: Linux is nowadays controlled by vicious monopolies trying to sell proprietary operating systems and proprietary Clown Computing (such as GitHub or Azure); for those who value freedom there's still GNU, which is generally bigger than Linux
THE latest batch of Daily Links contained some of these links (more links will be added to this page as they arrive) about the Linux Foundation pushing Windows and other Microsoft proprietary software over at GitHub. It's no laughing matter and it's not too shocking either, especially given the recent track record of this so-called 'Linux' Foundation. We've already urged readers to contact Linus Torvalds about this (he does read his E-mail, even if he rarely replies), politely expressing their concerns about the demise of Linux as a brand. It's a brand that he still fully controls, at least on paper.
"The shallow PR cannot compensate or fully make up for all the EPO's crimes."For nearly 8 years we've covered EPO corruption, showing how Benoît Battistelli exploited the good name of the institution to basically milk it to death. As the EPO turns about half a century old António Campinos continues to milk it, again capitalising on the name or the brand recognition. But judging by the decrease in patent applications (tucked away in the EPO report), applicants are catching up and waking up. They can see European software patents perishing in European courts; they can finally accept the demise and likely death of the UPC. Nothing good is coming out of the EPO anymore. The shallow PR cannot compensate or fully make up for all the EPO's crimes.
Going back to Linux, later this year it'll turn 30. Actually, as a Free software project it'll turn 29. As for GNU, it's turning 38 this year (or 37 if one counts development, not just the announcement).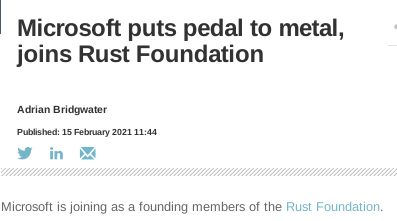 If readers feel a tad baffled by all those Stallman videos we've been posting here lately, make no mistake; we think it's imperative that we go back to the roots of the operating system and the movement. Nowadays, judging by the latest news about Rust, Linux increasingly means monopolies, not freedom. In fact, it doesn't seem like Torvalds is even in charge of his project anymore. He's there like a phantom, maybe he even believes he's in charge, but behind his back decisions are being made in defiance of his personal preferences. In 2018 they showed him who's the real boss by sending him to therapists (like he's demented or defective or something).
For those of us who pursue software freedom rather than the triumph of some brand (if it was all just a "branding war", why not just buy Apple?) GNU is the way to go. Copyleft is the way to go. Sharing, protecting users (see Audacity fightback) and all those meaningful values (not mere brands) should be our primary focus. Join the pursuit of what matters; and that ain't branding… █
Permalink
Send this to a friend