07.11.21
Gemini version available ♊︎
Video download link | md5sum 8f313182c2f5fa2c79211841888848ca
Summary: Some explanation of the slower pace of publication (more noticeable lately) and some of the work done behind the scenes to enhance the impact/reach/accessibility of Techrights
THE past few days have been fruitful and productive despite of some issues with the keyboard and a major headache. Last week we got some good news from the EPO (Benoît Battistelli's legacy up in flames and António Campinos to face legal battles from the union).
On Friday Dr. Stjerna issued the following statement, taking note of political aspects and possible infiltration/entryism/corruption: "Today's decision of the BVerfG does not come as a surprise. Already the first UPCA decision shows that its considerations are primarily politically dominated and that legal issues play at best a subordinate role. This is a necessary consequence of the close ties between the BVerfG judges and party politics. I had already pointed this out in 2018 in an article on the first UPCA constitutional complaint proceedings and raised the question how independent the examination by judges, who are appointed under political considerations, would be in this legislative project which was politically highly desired across party lines and passed with positive knowledge of all constitutional issues. With its decision, the BVerfG has once again made its contribution to the implementation of a legally questionable political agenda, and citizens' trust in its function as "the guardian of the constitution" is likely to continue to dwindle.
"After the decision, also the main proceedings on the UPCA are now likely to be unsuccessful. The conclusion of the German UPCA ratification, which can now be expected shortly, will cause a binding effect under international law which cannot easily be removed. This also limits the possibilities of further legal action against the Agreement itself."
We'll come back to this at a later date. So far we're still studying all the media coverage about it and we gradually add that to Daily Links. A lot of the 'media' (mostly litigation firms) got it wrong or interjected mere hopes as a "reality"… (i.e. the usual from Team UPC)
As noted in the video, we work on making gemini:// update from the wiki, documenting important issues such as Free software, European software patents and so on. In addition, we've completed a migration to our self-hosted IRC network, which is what we use instead of blog comments. The video explains why it's a lot more constructive as a form of communication and coordination. We're very happy with IRC and now that we also control the network we enjoy greater independence.
"This coming week should be vastly more productive in the publication sense."I am still slow at typing, not because of the headache but because of the new keyboard I'm getting accustomed to. Shame on HP for producing such shoddy keyboards and then trying to censor critics.
This coming week should be vastly more productive in the publication sense. There are many important topics we're eager to cover and delighted to study. As for UPC, it's a decade-long ongoing saga; nothing that happened last week is unlike things we saw in the past (like the UK ratifying and later de-ratifying). Just remember to be more than sceptical (barrel of salt required) when reading publications in the pockets of the patent litigation industry. They're selling or lobbying rather than informing. They also try to provoke critics and demonise them (as if they're Russian stooges or overzealous nationalists).
Tonight we have an important football match to watch (only from home of course) and after that we'll try to produce about a dozen blog posts per day. We're less than 100 blog posts shy of a total of 31,000. █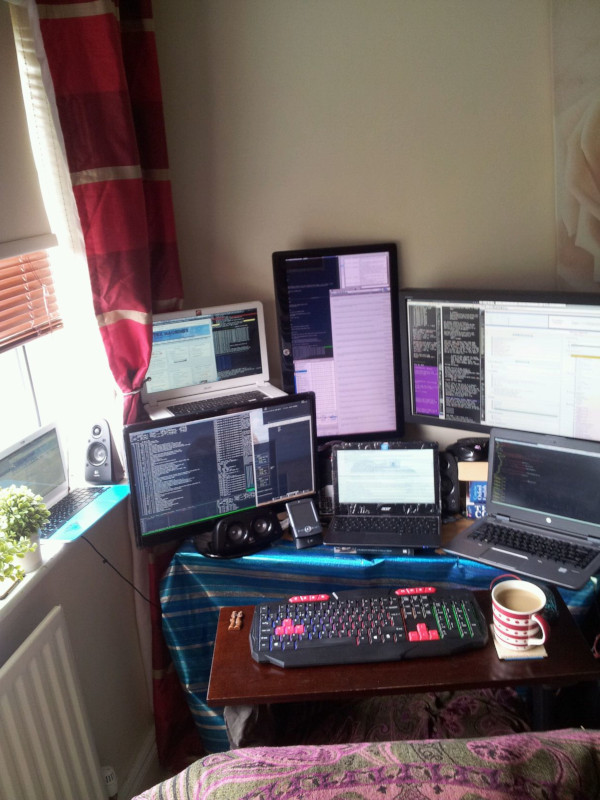 The 'battleroom', July 2021 'edition'
Permalink
Send this to a friend