08.10.21
Summary: Time for everybody to move to irc.techrights.org, the only official IRC network for Techrights
Techrights it no longer officially in Freenode because there's no Freenode anymore. It's already in the process of propping up a fake nation to help personal objectives of Andrew Lee. We have acordingly updated our IRC channels page. We are not in Libera Chat (we never were) and we are not in Freenode (whatever it is), either. This is the latest:

dig +short CNAME chat.freenode.net
irc.joseon.kr.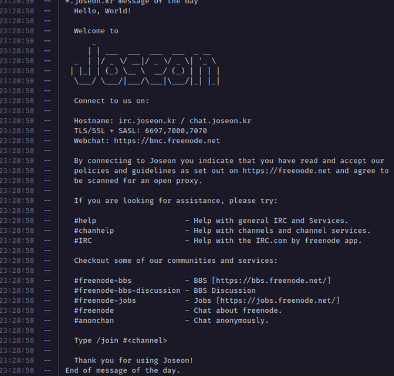 While the bridge remains in place (for 'Freenode'), it is no longer an official channel and it should be treated as such. It is not our responsibility and it is controlled by people who cannot be trusted.
The official channel is #techrights at irc.techrights.org, port 6667 (there are other channels such as #techbytes #techpol #boycottnovell and #boycottnovell-social). █