09.08.21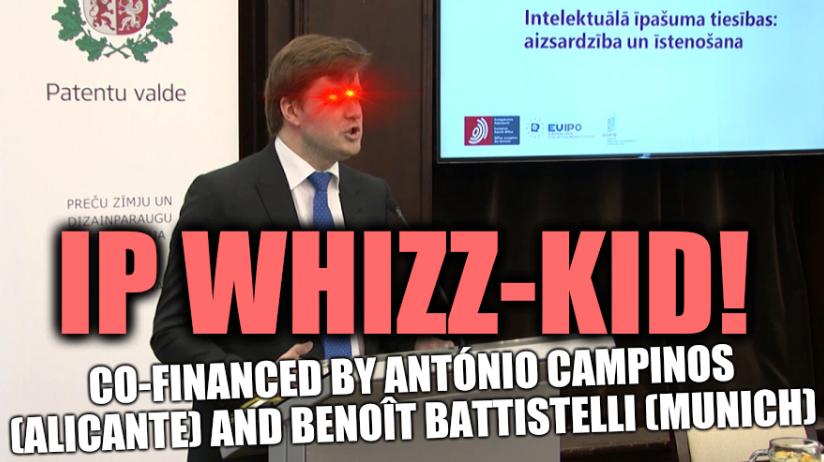 Summary: Teaser ahead of today's main article, which will be published — as promised yesterday — at 6AM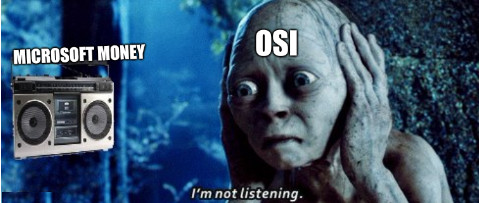 Things have not been rosy since OSI started taking Microsoft money (Simon Phipps, for example, stopped condemning Microsoft for its patent blackmail)
Summary: There are positives in today's announcement about new OSI leadership (or full-time member of staff), but time will tell if promise turns into concrete results
The new chief/leader at the OSI (some press release/media/coverage we've found so far is rather shallow, as were congratulatory "tweets") deserves the benefit of the doubt. He didn't sign the defamation letter against RMS and over the years he was mostly decent. I've followed him for many years and I've seen no reason to question his integrity or his sincerity. His contacts/connections are also decent people. Can the OSI still be redeemed? We certainly hope so, having witnessed an influx of proprietary software interests in the Board and the management.
The OSI clearly needs to change; but not in the direction/trajectory it has been changing in recent years. Go back to your roots/goals (they amended their mission statement very recently and announced that earlier this week).
For those who rush to judge the OSI, be patient; we've not seen any evidence yet of the new chief doing something bad. It's unfair to judge proactively. One reader of ours wrote to say "OSI staff driven -> dependent" (on sponsors), but that's the sort of challenge they need to tackle. They sort of sold out in recent years as they became more than 95% dependent on corporate cash, not individual supporters, as per their IRS filings.
The salary of the new chief thus depends on the corporate sponsors (same problem in the Linux Foundation), which will be harder to challenge/criticise without risk of retaliation. But it needs to be done every now and then.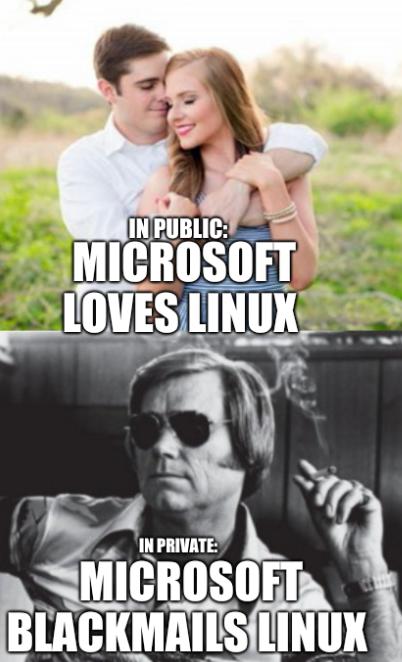 To be very clear, Stefano is historically not on Microsoft's side. Here is what he wrote last year compared to 14 years ago (responding to the FSFE). Stefano was the Italian Chancellor of the FSFE back when the FSFE wasn't a front group for monopolies like Google with Microsoft cash on its lap. FSFE might be beyond redemption. Can Stefano correct/undo the OSI's mistakes?
As a matter of priority, let's hope that the OSI's boosting of GitHub will come to an end. Let's hope Stefano will realise that devoting more than half of the OSI's budget to proprietary software (ClearlyDefined budget, according to Josh Simmons) is a mistake. He needs to question this misuse of funds and then change the OSI's direction. We certainly hope he's not falling for any of that "Microsoft loves Linux" nonsense (lie). Just to be very clear, Microsoft's patent blackmail carries on, but it is better disguised (secret deals, Azure "IP" "advantage" etc.) and journalism is pretty much dead by now, so any actual facts get drowned in an ocean of PR (like "Microsoft loves Linux"). Microsoft isn't reviled in the Free software world because of "hatred" or due to envy; it's reviled in many circles for its deeply criminal behaviour, which has not changed. It includes entryism and the OSI must recognise this. The sooner, the better. █
From a control room inside the police headquarters in Venice, Big Brother is watching you.

To combat tourist overcrowding, officials are tracking every person who sets foot in the lagoon city.

Using 468 CCTV cameras, optical sensors and a mobile phone-tracing system, they can tell residents from visitors, Italians from foreigners, where people are coming from, where they are heading and how fast they are moving.

Hardware

Health/Nutrition

Vietnam jailed a man on Monday for five years for breaking strict COVID-19 quarantine rules and spreading the virus to others, state media reported.

Le Van Tri, 28, was convicted of "spreading dangerous infectious diseases" at a one-day trial at the People's Court of the southern province of Ca Mau, the state-run Vietnam News Agency (VNA) reported.

Integrity/Availability

Proprietary

TrueConf, an award-winning video conferencing developer, announces the official release of TrueConf Server for Linux. This all-in-one UC platform will enable organizations with Linux-based infrastructure to deploy highly secure video conferencing networks using the ecosystem of TrueConf software and hardware solutions.

The Linux version of TrueConf Server ensures the same security, quality, and feature set as its counterpart for Windows. With this cross-platform software solution, users can run unlimited UltraHD events with up to 1,000 participants at a time, from any location and device.

Pseudo-Open Source

Openwashing

Facebook last week formally announced CacheLib as their new open-source caching engine designed for web scale services and to make for effective non-volatile memory caching to offset the increasing costs of DRAM.

Power E1080 server as their first in a new family of servers based on the IBM POWER10 processor. Sadly though not all of the POWER10 firmware is open-source.

While POWER9 was big for open-source fans with the formation of the OpenPOWER Foundation and Raptor Computing Systems designing POWER9-based systems that are fully open-source down to schematics and the motherboard firmware, the same can't be currently said about POWER10.

Raptor Computing Systems previously hinted that it might not be all rosy for POWER10 when it comes to open-source and at least for the initial rollout, it does appear to be that way.

Security

Civil Rights/Policing

The United States on Sunday strongly condemned what it said was Russia's detention at the weekend of the deputy leader of the main representative body of Crimean Tatars and at least 45 other members of the ethnic group.

A State Department statement said Nariman Dzhelyalov, deputy chairman of the Crimean Tatars' Mejlis, was detained on Saturday by Russian occupation authorities in Crimea. It said at least 45 other Crimean Tatars had also been detained.

With his reelection prospects dimming, Bolsonaro's supporters are ramping up their version of the pro-Trump rally that led to the Capitol riot.
Summary: A gentle introduction to what network we use and how to use it (we're including a full manual)
As we've just noted, Techrights uses a self-hosted IRC network, managed only by us (and for us). We already thought about implementing it last year; the chaos at Freenode sealed the deal.
irc.techrights.org (a self-hosted IRC network) is now our only official network. No Freenode. It needs no explaining, we suppose, given what happened to Freenode (it's not even called Freenode anymore). For those are are new to IRC, a full IRC manual can be found here. But there are some network-specific 'cheatsheets', and it's worth reproducing them here, based on the message of the day (MOTD). The network recently turned 3 months in agr (compared to 13.5 years that we had been on Freenode). This is the self-hosted IRC network of Techrights, which prioritises free speech and privacy. We cloak IP addresses. Key channels in this network are: #techrights #techpol #techbytes #tuxmachines #boycottnovell and #boycottnovell-social
"We don't have a Code of Conduct; we trust people to be civil and the debates to be constructive."There are, at the moment, 17 channels in total and users should feel free to add new channels (but kindly refrain from unnecessary duplication). Days ago we had 62 simultaneous users online.
We don't have a Code of Conduct; we trust people to be civil and the debates to be constructive. People should try to keep on topic to reduce prospects of unnecessary conflict. For non-tech topics we typically use (for over a decade now) the channel #boycottnovell-social and for purely tech (GNU/Linux and Free software) we use the channel #tuxmachines (yes, for a different but connected site). █
Video download link | md5sum 13182be343e4cd9effd58ab8145ee
Summary: There are censorship-type attacks against proponents of Free software, but you probably didn't hear about them; we need to self-host a lot more than the media tells us (it loves promoting clown computing, i.e. outsourcing)
HAVING an "online presence" isn't as easy as people are led to think, especially when that presence manifests itself in publication of suppressed information, including leaks-based investigations. Journalism needs to be more of the latter, not mere repetition of press releases issued by companies.
We recently became aware of some Free software sites being subjected to de-platforming, resulting in urgent migrations to hosts willing to stand up for their clients.
"We recently became aware of some Free software sites being subjected to de-platforming, resulting in urgent migrations to hosts willing to stand up for their clients."As I explain above, right from the get-go we decided to self-host all our videos. At one point we considered uploading copies to LBRY, but there was a lot of concerning stuff about that platform, which nowadays has its share of critics too. So instead we put all the videos only here and there's an index in Gemini with occasional copies in IPFS. The advantage is, they're hard to 'moderate'; nobody can 'report' them.
In the distant past we did numerous videos and articles that explain the process and progress. We still show the latest improvements (as we implement them) and provide some technical examples; the code is in self-hosted Git and some time in the future (after OS upgrades) we plan to publish it all under AGPLv3.
"The bottom line is, if it is feasible, consider self-hosting everything."The video above uses as a cautionary tale the story of "The Linux Experiment". Earlier this week Alphabet/Google/YouTube banned the channel without prior warning or explanation. There have been 4 videos about it in high-profile channels (maybe more will be added later) and, having just checked again, it's reinstated and online… for now. Some might say that it proves justice has prevailed, but "the message" was received from Google and the damage is already done; trust isn't there anymore. Google spies on people and pushes ads to them; somehow Google feels like it's OK to ban people who do just the latter, and not as aggressively as Google does.
The bottom line is, if it is feasible, consider self-hosting everything. To say or to show controversial things it will become very much necessary because many ways exist to de-platform voices, both directly and indirectly (SLAPP and DMCA are among the legal weapons, which can be directed at any level, not just the author/publisher).
The same is true when it comes to free speech online. We try to reduce reliance on third parties and therefore we try to have all meaningful communications in our own network. Here's how to follow all our IRC channels from the command line [1, 2] (as I show towards the end of the above video).
"The problem isn't limited to Google or "GAFAM"; the Web hosts too are a risk factor. Sometimes the ISPs."Trust nobody to value your speech as much as you yourself value your speech. Google may be using GNU/Linux for almost everything, including ChromeOS, but that does not mean that Google supports GNU/Linux developers and their communities. The little money they offer (usually to underskilled people whose contributions are also time-limited, never mind the low compensation level) can be seen as a form of "hush money", which helps silence Google critics and sceptics. The critics are painted as intolerant (classist, racist, sexist etc. because of the nature of grants). Maybe Google is also upset that people turn Chromebooks into 'proper' GNU/Linux machines that give Google no data at all (they cannot subjugate the people who bought such laptops, which may be partly subsidised).
The problem isn't limited to Google or "GAFAM"; the Web hosts too are a risk factor. Sometimes the ISPs. The Web has become far too centralised, so we need to promote things like Gemini, self-hosted of course with self-signed certificates (don't centralise the trust, either).
At the time of writing, or as of this moment, since midnight today we've served over 40,000 pages over gemini://, so it is not some minuscule niche that everyone can ignore. Well, these latest statistics from Mr. Bortzmeyer say there are now 1,614 known capsules (it grows by about 100 every month or two).
"More importantly, choose carefully where to host videos, communications (including E-mail and IRC), not just blogs and domains."Using datacentres for E-mail and for Web hosting comes with a risk attached, as these latest two articles [1, 2] (yes, it's about GoDaddy!) help show. Only days after ProtonMail turning in an environmentalist (whom they kept logs on) instead of polluters that many people campaign against and blow the whistle on. And speaking of whistleblowers, they're being spun as a threat of violence, either when they speak about a drone assassinations program or now, as in this case, some site that opposes abortion, only to be deplatformed by GoDaddy, whose founder/chief infamously cheered for the Iraq invasion. Don't allow partisan politics to turn you into a cheerleader of online censorship. It is seductive. Painting censorship as "morals"…
Tread carefully if you wish to speak freely. More importantly, choose carefully where to host videos, communications (including E-mail and IRC), not just blogs and domains. Today's Internet does not exist to promote free speech but to (mostly) police it. It controls society, sometimes by equating certain speech with physical violence. █
---
IPFS Mirrors
CID
Description
Object type
QmSGztexdW8syw6qs1ZxxW4Gew917DWL5y6ZfbVmcm8eTx
IRC log for #boycottnovell
(full IRC log as HTML)
QmPkPpGnYCR8AJEpcTcYiSudj8KNpvV2QYNa1mZvRhp3ZX
IRC log for #boycottnovell
(full IRC log as plain/ASCII text)
QmbksYPdkP7zbtypqoMjRukQsbJWxFb5Zwi3V1V5MaPXLt
IRC log for #boycottnovell-social
(full IRC log as HTML)
QmTNZaddAJ3MqZZ8vCqR5i57wHhejAbAu6E5vRep1hs3d3
IRC log for #boycottnovell-social
(full IRC log as plain/ASCII text)
QmQLAdM3S9oBEgpMTxXwRWyMNt7SRypuyrGa6JcGw1oD6H
IRC log for #techbytes
(full IRC log as HTML)
QmbfE5WrWGQeptWyE7duXUK5YnBrTNdeJSuErAhuMq75hZ
IRC log for #techbytes
(full IRC log as plain/ASCII text)
QmRYjYcpkWmByoq6gakYaMQ1Ve27VYDz7YJ2wtY9E2gu3X
IRC log for #techrights
(full IRC log as HTML)
QmShwy4PpT3cFXoniiBWinyM1NfQonqbacmhBKc7VeuXnU
IRC log for #techrights
(full IRC log as plain/ASCII text)

Bulletin for Yesterday
Local copy | CID (IPFS): QmQArT4hGt9DGbzeQe46houAtDEoRgo6yuyQNTYhu4fUWa

Video download link | md5sum 76044087fb31184c7f19d62ad8b6440b
Summary: A video about part 17 of the ongoing series
TODAY we took a first look at Latvia's patent office. We'll take a deeper look tomorrow. In retrospect, all this matters because past scandals bear a great impact on the present.
"A lot more about Latvia will be published tomorrow at around 6AM GMT."The video above focuses on the background to all this, the perception that heads of patent offices are effectively above the law (at worst they receive a slap on the wrist), and how nations like Latvia can disproportionately influence outcomes at the EPO, even if the decisions or judgements are made by barely qualified people (no experience in patent law and no science background) who are quite new/fresh on the job.
A lot more about Latvia will be published tomorrow at around 6AM GMT. █