02.27.22
Proprietary software helps dictators
Summary: Microsoft's history in Putin's Russia is becoming a massive liability to the brand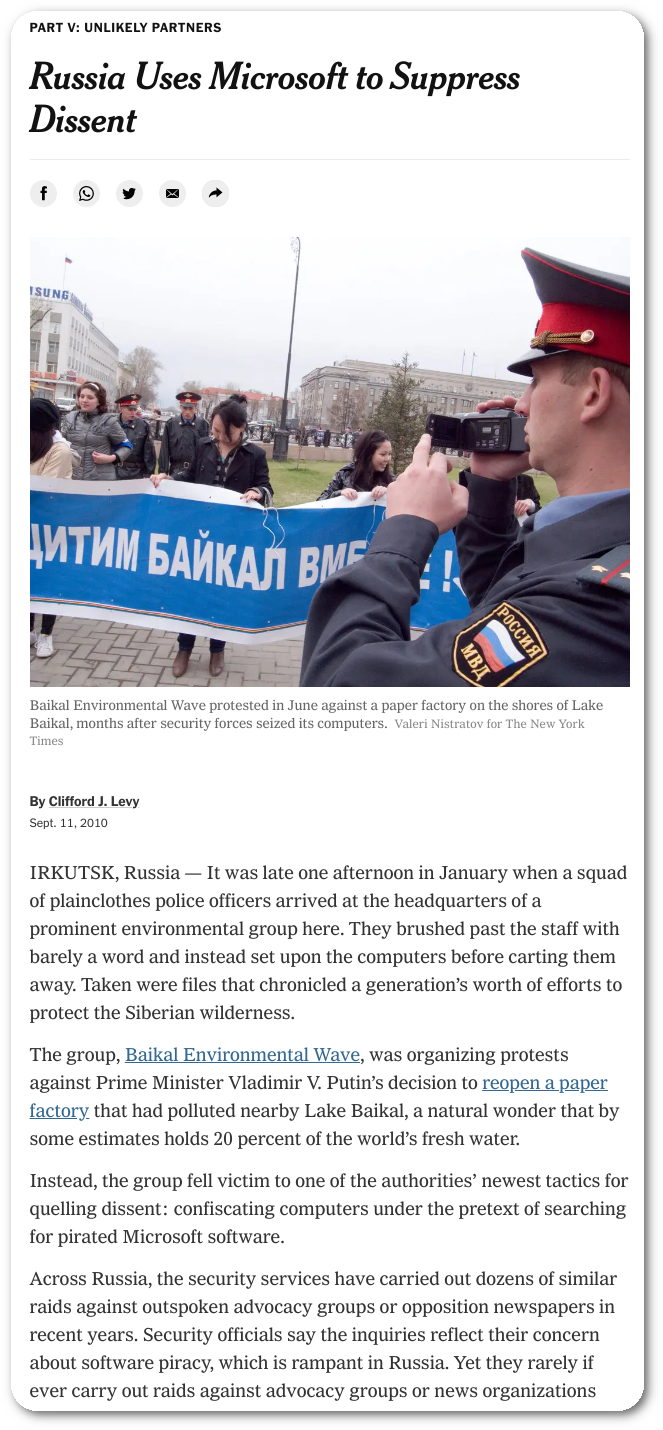 Related: The United States Government Should Quit Bailing Out Microsoft at Taxpayers' Expense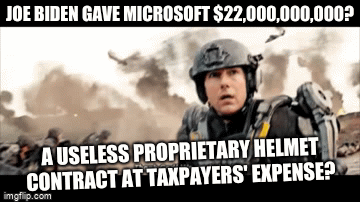 Summary: Microsoft uses militarism to receive bailouts and it hopes to make the military dependent on Microsoft (so that it becomes "too big to jail/fail"); but recent events have shown that from a military perspective Microsoft software and other proprietary software are an unacceptable risk
The one angle that interests us most (not because other things aren't important) is how infrastructure can be turned off, cracked, undermined, or kept online only to target users (e.g. marking them for arrest/assassination). Centralisation contributes to this. For instance, you can "mute" millions of people in one fell swoop by blocking Twitter and/or Facebook.
"Had more nations grasped the risk of proprietary software, social control media (disinformation), and clown computing (outsourcing to foreign nations), Free software would be more widely adopted."Our hope is that there will be peace, humanity will prevail, but also that more people will take note of this past week's events, perhaps using them as a lesson on the importance of Software Freedom.
We don't mean to sound blunt, insensitive and uncaring. We very much care for all human life, yet we try to highlight aspects of Free software by showing what happens at times of war. Had more nations grasped the risk of proprietary software, social control media (disinformation), and clown computing (outsourcing to foreign nations), Free software would be more widely adopted.
So be that as it may, this is likely to be a recurring theme in our imminent coverage. █
Welcome to this week's Linux Weekly Roundup.

We had a wonderful week in the world of Linux releases, with Ubuntu 20.04.4, LMDE 5 Beta, and Manjaro 21.2.4.

I am back at my workstation, so expect more Linux distro reviews in the future.

Audiocasts/Shows

Some people want to call ChromeOS a linux distro but to decide if it's a distro we first need to decide on what the term linux distro means in the first place.

2021 is now in the past, but there's some very interesting details in the year-end vulnerability report produced by RBS. These details give us a look at some of the trends that will impact 2022 and beyond. In this episode, Joao and Jay discuss the report and some of its findings.

Kernel Space

A number of accumulated bug reports had collected since the last lrzip release and since I regularly use lrzip I want to make sure it stays bug free as far as I am aware, even if I'm not planning any new features for it. As some of the changes are potentially security fixes, I urge any user to update.

Applications

Instructionals/Technical

Games

Desktop Environments/WMs

GNOME Desktop/GTK

On Ubuntu you do need to disable the DING extension for the drag feature to work, but once you have you can click, hold and then pull the desktop in any direction to 'deform' it in to the rotating 3D cube switcher:

If you don't fancy disabling DING you can also click and drag from any empty part of the top bar. You can also tap super to enter the switcher and drag from any non-interactive bit of the overview…

IBM/Red Hat/Fedora

The EPEL Steering Committee is implementing monthly office hours for the EPEL project. These will be held on the first Wednesday of each month at 1700 UTC. The first session will be on 2022-03-02. The openSUSE Heroes team has agreed to let us host the meeting on their Jitsi Meet Instance.

Canonical/Ubuntu Family

Artists, photographers, and digital designers have until March 12th to submit up to 5 pieces of original work for potential inclusion in the Xubuntu 22.04 LTS release in April.

The Xubuntu team plan to pick 6 winners from those submitted (which means there's more chance of being picked than in regular Ubuntu's wallpaper contest which is only going to select 2 winners).

The usual sort of rules apply: no brand names or trademarks; nothing saucy, salacious, or subversive; nothing political, religious, or nationalistic; and, perhaps most importantly of all, no artwork that isn't entirely original (or derived from something that has a permissive license)!

Among the highlights out of the show: the new/old Astro Slide from Planet Computers.

We had hands-on time with the prototype you see above, which is now running Ubuntu with a physical keyboard. There's also an option to buy one with Android 11, or dual-boot with Linux as well. Price? $975. Sales start in a "few weeks."

Mobile Systems/Mobile Applications

KeePass is considered the most popular open-source password manager, and not just among end-users, but also among developers who ported it to all known platforms.

KeePass helps users to manage their passwords securely and privately, without having to worry about many technical details.

It supports several encryption standards, AES and Twofish. It also encrypts the entire database.

Web Browsers

Mozilla

After some behind-the-scenes discussions with Michael Kohler on what I could contribute at this year's FOSDEM, I ended up doing a presentation about my personal Suggestions for a Stronger Mozilla Community (video is available on the linked page). While figuring out the points I wanted to talk about and assembling my slides for that talk, I realized that one of the largest issues I'm seeing is that the Mozilla community nowadays feels very disconnected to me, like several islands, within each there is good stuff being done, but most people not knowing much about what's happening elsewhere. That has been helped a lot by a lot of interesting projects being split off Mozilla into separate projects in recent years (see e.g. Coqui, WebThings, and others) – which is often taking them off the radar of many people even though I still consider them as being part of this wider community around the Mozilla Manifesto and the Open Web.

FSFE

To honor the defiance of these Ukrainian victims, we created a new sticker in the Ukrainian national colours and we are publishing examples of fascism in the FSFE…
Hardware

Digital Restrictions (DRM)

When a piece of hardware goes unsupported by a company, it can be frustrating. Bugs may no longer get fixed, or in the worst cases, perfectly good hardware can stop working entirely as software licences time out. Sadly, for a group reliant on retinal implants from company Second Sight, the company has since stopped producing and supporting the devices that give them a crude form of bionic sight.

The devices themselves consist of electrodes implanted into the retina, which can send signals to the nervous system which appear as spots of light to the user. A camera feed is used to capture images which are then translated into signals sent to the retinal electrodes. The results are low-resolution to say the least, and the vision supplied is crude, but it gives users that are blind a rudimentary sense that they never had before. It's very much a visual equivalent to the cochlear implant technology.

[...]

It's a sobering tale of what can happen when a tech company goes out of business. It's a story that bears thinking about for anyone taking on a medical device from a new, untested company. Video after the break.

Monopolies

Patents

The EPO have announced their upcoming amendments of the Guidelines for Examination which will enter into force on 1 March 2022. A number of notable amendments to the Guidelines are scheduled; we will follow with more detailed discussions regarding the changes to Description Amendments and Electronic Signatures of Assignments, whereas here we will look at some of the other significant updates with regard to Priority, the Designation of Inventor, the Claims Fee, Extension of Periods under Rule 134(1), Double Patenting, Selection Inventions, Unity, and Oral Proceedings.

Software Patents

Artificial intelligence (AI) stands as a powerful tool undergoing rapid progression and adoption at the forefront of research and development. The continued growth in the importance of AI raises several questions for patent systems across the world. In particular, the issue of inventorship continues to unfold controversy, as the 'inventor' status is tested by patent offices worldwide.
Video download link | md5sum 8fce0e9e690cdc94b2801d21f8aef156
Technology and Net at Times of War
Creative Commons Attribution-No Derivative Works 4.0
Summary: Too much consolidation and centralisation have taken their toll on countries' ability to operate and communicate; technology has, in effect, been profoundly weaponised
IN our Daily Links of earlier today (just minutes ago) we included a lot of stuff about the technical aspects of the invasion in Ukraine (not political aspects), continuing our thoughts about the need to think in advance about one's choice of technology and the topology of infrastructure (clown computing was always a bad idea). As it turns out, the US controls a lot of the important communication channels globally and that extends to banking among other things, as noted in the video above. █
Video download link | md5sum 55cf89b366e25460f7932d57f74c917a
Threats to Spirit of Gemini
Creative Commons Attribution-No Derivative Works 4.0
Summary: FUD, harassment/trolling and infiltration tactics may sooner or later be leveraged to discourage Gemini's growth (The Register dished out some FUD last month, obviously with an "ethical" angle, concern-trolling with pseudo-ethics), but this is what always happens when popular movements gain ground and catch momentum/inertia (like proprietary software companies calling themselves "Linux Foundation" while trying to take over the whole thing, GNU included)
THE mental fatigue associated with dissent (usually against bloat and complexity; sometimes the opposite) is what led Amfora to a removal of a feature and maybe had Gemini Protocol's originator on hiatus for a year. Similar things happened in Diaspora. People are very passionate and that's understandable; at one point moderation (censorship) was added to the mailing list to reduce abusive messaging/trolling/noise (some of it came from Microsoft).
We've already taken note of downtime in the main site and capsule for Gemini (for at least a day until yesterday), leading to some confidence issues. That has thankfully been resolved since (unlike the mailing list), but right now the developer of Lagrange says people are "Fearing for Gemini" and writing to him, expressing concern not about the future of the specifications but their expansion or de facto extensions.
About a year ago we wrote a list of FUD tactics that can be leveraged or would be used against Gemini if it grew a lot bigger. This is one of them (see "Microsoft Staff Trying to Subvert the Freedom of Gemini (Without Disclosure of the Paymaster)") and it's likely a sign of growth. Let's not allow the disruptors to put us down and lower morale. In the words of Lagrange's developer: "Could a tech giant swoop in and stake Gemini for themselves? Out of the big players, I think Microsoft today is the most dangerous in this regard. They seem to be on a quest to own the hearts and minds of developers and technology-minded people…"
He later explains in a reasonable fashion why that's unlikely to happen, but in theory it is not impossible that a Microsoft takeover/infiltration would be intended to just destroy the project. As former or present Nokia employee, he too should know that. █
"I've killed at least two Mac conferences. [...] by injecting Microsoft content into the conference, the conference got shut down. The guy who ran it said, why am I doing this?"
Also available via the Gemini protocol at:
Over HTTP:
---
IPFS Mirrors
CID
Description
Object type
QmNd2JMuuGuiso3jUJbnYp1s1SiWG2N8tD2rFm53xpc4EY
IRC log for #boycottnovell
(full IRC log as HTML)
QmRNnYDWMqLv69qdM1yD1unfFZ1YnCvmNaSMfeSKseNGsH
IRC log for #boycottnovell
(full IRC log as plain/ASCII text)
QmNjF5da54pThQHhS2oqk8Uky3v5hNfyxTbBqvVqBc9dfD
IRC log for #boycottnovell-social
(full IRC log as HTML)
Qme3nCaR5L93sGN8haNRru8fw1u46H7ifjp63CiNU7jFa2
IRC log for #boycottnovell-social
(full IRC log as plain/ASCII text)
QmSjKD3aHmWVFPrnTkRjA5hGjVatDwPqrXPxZKwNxGA8Ku
IRC log for #techbytes
(full IRC log as HTML)
QmS3q59fnHnaPH3m6RdH3tyim2v6K3RWEHuWkkQXX3KqS4
IRC log for #techbytes
(full IRC log as plain/ASCII text)
QmeoM7eEp6oGhpMrQhGP4H1j1EQo55QHssXnP7ujotCctd
IRC log for #techrights
(full IRC log as HTML)
QmXA3hZpANRfZSLfQDoJvFFRJhfmjgUBqGS156xPZydJWx
IRC log for #techrights
(full IRC log as plain/ASCII text)

Bulletin for Yesterday
Local copy | CID (IPFS): QmUWSqFs7G64P11sRgFghydAWm5vaGowUWhjb5bQ6WVLjv