06.10.22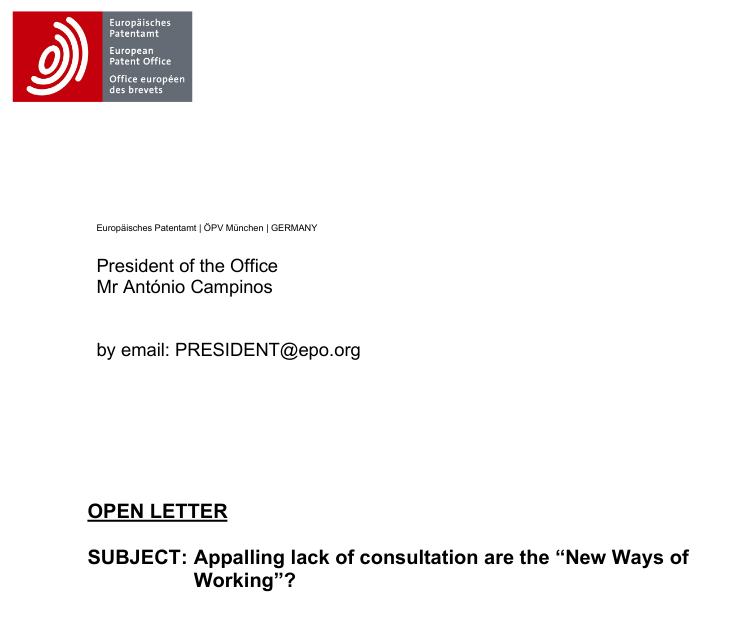 Summary: Europe's second-largest and very opaque institution, which routinely breaks the law, isn't listening to concerned, moral voices from within the institution
Insiders know it. Outsiders know it. The latter try to never mention it anymore, fearing it would "devalue" their so-called 'assets'…
Well, "the fucking president" (his own words) António Campinos feels like he's a monarch. He's not even sure which country he's from; he's cherry-picking.
"Many members of staff received the letter and in the interest of transparency we're reproducing it…"Published by the Local Staff Committee Munich (LSCMN) a few days ago was the following open letter to the 'European Psycho' who cannot contain his temper and refuses to obey the law.
The staff was accordingly notified on Friday, in a message that said:
Appalling lack of consultation are the "New Ways of Working"?

Dear colleagues,

The New Ways of Working "Pilot" started on the first of June for a period of two years. The implementation is on-going and we note that fundamental changes to come were not submitted to statutory consultation.

The project "Bringing Teams Together" foresees a new management of office space allegedly "to ensure that teams cluster in our buildings when working onsite". It will cause all staff to change office in a global reorganization plan.

This project introduces the deepest change in working conditions ever in the history of the EPO here in Munich, and it definitely requires a sound legal basis and a formal decision with an identifiable signatory. We are appalled by the sheer absence of any consultation and that the final details were revealed behind the back of staff representation.

In addition to that, the administration took advantage of the pandemic to disband the canteen committee. The reopening of the canteens in Munich is long overdue and keeps on being postponed. The New Normal Planning Tool is not properly configured by default. The construction of an outdoor terrace for the canteen of the Isar started a few days ago. All these topics were also not submitted to statutory consultation.

In this open letter, we urge the President to fix the issue without delay.
Many members of staff received the letter and in the interest of transparency we're reproducing it as follows:
Date: 08.06.2022
sc22014ml

President of the Office
Mr António Campinos

by email: PRESIDENT@epo.org

OPEN LETTER

SUBJECT: Appalling lack of consultation are the "New Ways of Working"?

Dear Mr President,

The New Ways of Working "Pilot" started on the first of June for a period of two years. The implementation is on-going and we note that fundamental changes to come were not submitted to statutory consultation.

Bringing Teams Together
The May MAC report of 2 June 2022 mentions the project "Bringing Teams Together" which foresees a new management of office space allegedly "to ensure that teams cluster in our buildings when working onsite". This project was never submitted to statutory consultation.

On 7 June 2022, a DG1 management meeting took place during which the project was presented:

• All staff will change office in a global reorganization plan.
• PH 1-4 will be totally emptied. The workforce will be moved to the Isar, PH 8 and PH 5-6

---

• The Isar building will contain 350 Examiners (vs only 1 Examiner currently).
• To keep an individual single office, staff needs to be present on the premises at least 3 days per week. Those who only come to the premises for the minimum attendance will have an "office for the day", which does not contain any personal items.
• Directorates and Teams will be regrouped altogether and offices annexed to each other according to onsite presence rather than same or adjacent fields of work.

This project introduces the deepest change in working conditions ever in the history of this organisation here in Munich, and it definitely requires a sound legal basis and a formal decision with an identifiable signatory. We are appalled by the sheer absence of any consultation and that the final details were revealed behind the back of staff representation.

New Normal Planning Tool
Staff is now requested to record in a new Planning Tool their working location even when they are working on-site. We remind that the Guidelines on New Ways of Working (Circular 419) confirms (cf. Art. 2(2)) that "teleworking is voluntary" and Art. 55a(1) ServRegs has not been changed. Working onsite is therefore the default. Consequently, the tool should be automatically configured accordingly. The tool was never submitted to statutory consultation.

Canteens & Isar Terrace
The reopening of canteens in Munich is long overdue. It was originally planned for 1 June 2022 and then postponed to 20 June. We hear that the administration is considering asking the caterer to postpone yet again the reopening to 1 July – but not from the Site Managers. The administration

---

failed to provide us with any information or justification, and it is difficult to understand the Office's strategy which only makes the life of the caterer more difficult. Or should this even be the true intention? Noticeably, the administration took advantage of the pandemic to disband the canteen committee, and the Site Manager of Munich City has essentially put the statutory meeting between her and the MSC in its place. Subsequently, the administration went on to take all the decisions without that statutory consultation that the Site Manager of Munich City had just introduced, thereby depriving staff of any say in the matter, let alone of the transparency previously provided.

We read that the construction of an outdoor terrace for the canteen of the Isar Building have started yesterday. Again, we note that such a project was not submitted to statutory consultation.

Consultation
Mr President, we cannot help but notice that every time we believe that the relationship between your management and the people who work to earn your manager's pay, staff, and their representatives, could not possibly get any worse, you seem to excel. Albeit, yet again, in the wrong direction.

In accordance with Art. 37(1)(d) of the Service Regulations, the Local Staff Committee is "responsible for maintaining suitable contacts with the local Administration". We note that we do not have such suitable contacts with the Site Management of Munich City, (or Brussels). Yet further, the Local Staff Committee has the competence to "raise site specific issues" (Art. 37(1)(c) ServRegs). Finally, pursuant to Art. 37(1)(a) Service Regulations, the Local Staff Committee "shall be consulted on any proposal [...] which concerns the conditions of employment of the whole or part of the staff at the place of employment concerned".

---

Moreover, it is also a Health, Safety and Ergonomics issue and should therefore have been submitted to the Munich LOHSEC. Pursuant to Art. 38a(6) Service Regulations "the President of the Office shall keep the [...] relevant Local Committee informed of any projects envisaged or implemented affecting its area of competence." The latter is defined in Art. 38a(4) Service Regulations as "all measures and reports relating to occupational health, safety and ergonomics on the premises of the place of employment concerned". At least health (cf. official reasoning to "avoid the ghost corridor feeling") and ergonomics (constant moving from office to office for many) are clearly touched.

This is a site-specific and health issue and it definitely involves a change in the conditions of employment. It requires your immediate attention and action: we demand you fix it without delay.

Sincerely yours,

Michael Alex Kemény

Chair of the Local Staff Committee Munich City, Haar and Brussels
It goes without saying that nothing has improved since Battistelli 'left' except the appalling silence of the media. Attempts to cover up EPO scandals are themselves a major scandal. █