10.11.22
Gemini version available ♊︎
Summary: Based on every metric tracked by Netcraft, the Web is going down consistently; this merits discussion or active debate that remaining news sites (fewer of them left, many go offline permanently) barely entertain
The World Wide Web is a transport layer for all sorts of things, ranging from text to video and even very large compressed archives. The Web is also being "extended" for no reason other than some companies' business model, not performance, security, privacy etc. Today's Web isn't made for the user (visitor) but for predators who view people as "products" and advertisers/governments as clients.
Over time more and more Web traffic is consolidated in the hands of companies that don't even make a profit. They're connected to governments and their objective seems to be manipulation of the public, including but not limited to censorship and surveillance thereof. In other words, the Web is becoming a tool of observation and social control.
So what's going on with the "old" Web? It seems to be gradually going away. Having not covered patents so much this year, I took a quick glance at once very busy sites about patents. One is about 20 years old and the other one is way older than 20 years.
Notice how in IP Kat the posting volume is diminishing over time: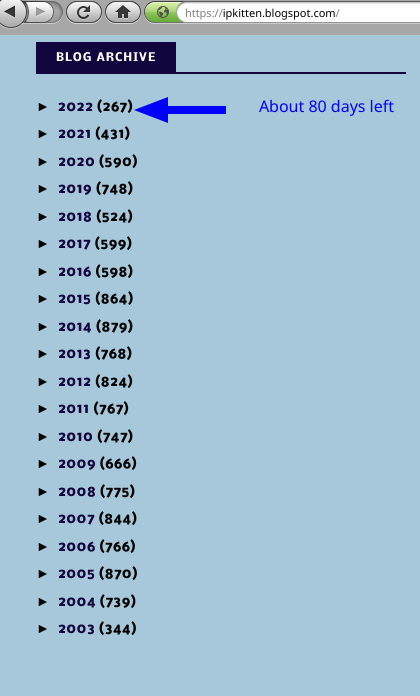 The same is true for Watchtroll, ipwatchdog.com (active since the 1990s). It seems like it's dying. Just 2 or 3 comments this week or in the front page. We remember it being a hub for many professionals or people obsessed with litigation. The editor and original founder left years ago, seeing the demise already, and the new editor, who is barely competent, brought no resurgence/rebound. Dreary:

We still participate heavily in Geminispace. Unlike the Web, it continues to grow ("There are 2806 capsules," says Lupa) and it fills a sorely-missed gap: pre-bloat Internet. Here's a growth graph (last generated earlier today):
By contract, this is the Web: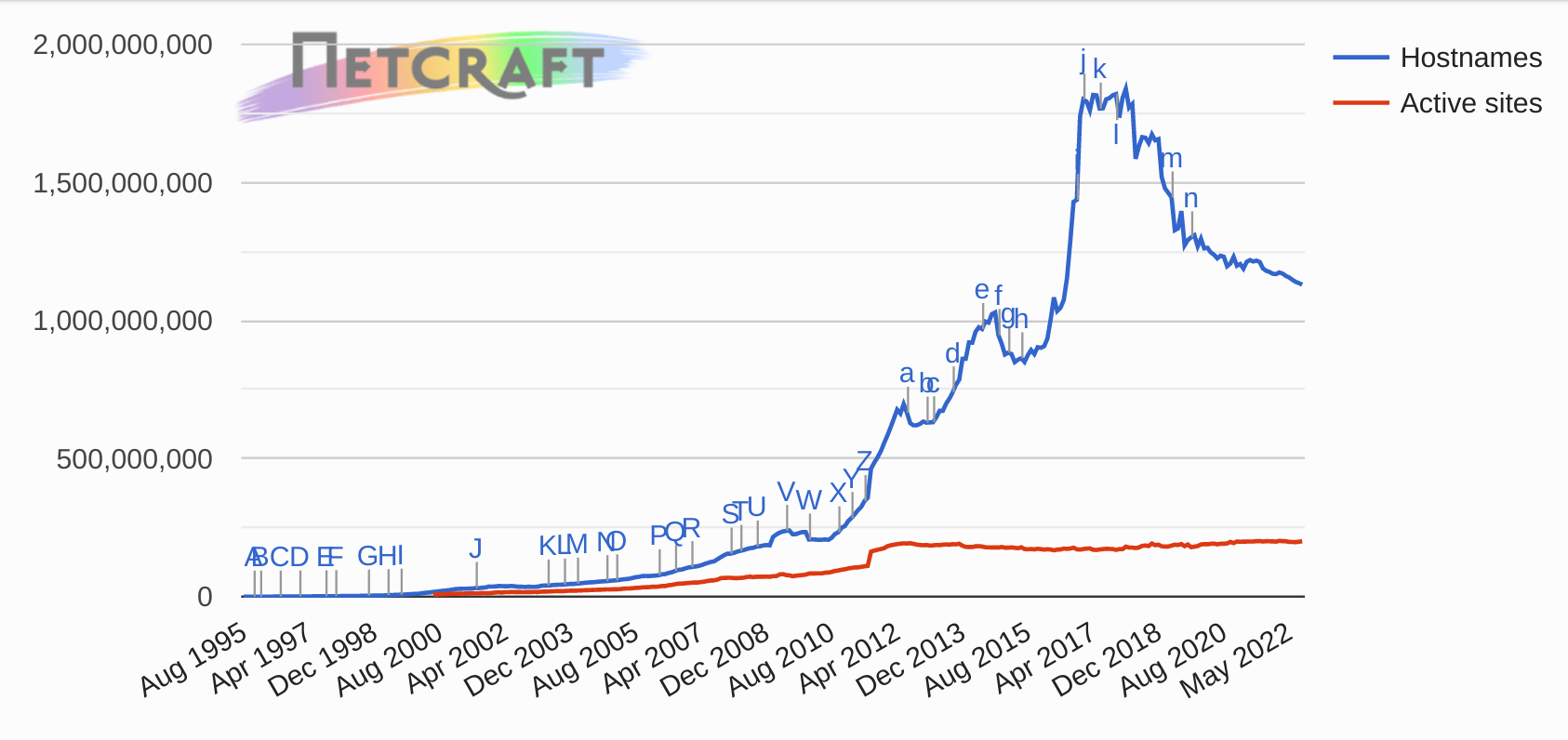 Source: September 2022 Web Server Survey.
To quote the opening paragraph: "In the September 2022 survey we received responses from 1,129,251,133 sites across 271,625,260 unique domains, and 12,252,171 web-facing computers. This month all three metrics have decreased since August, with a loss of 5.82 million sites, 115,512 unique domains and 113,356 web-facing computers."
As it stands at the moment, Gemini is up, the Web is down. But one is like a million times bigger, so that doesn't say much.
We cannot tell for sure what replaces the Web or takes people's attention online, but "apps" seem to be a thing*. They are attention-grabbing (or "screen time"-hogging) bunch of garbage and noise for the most part. They demonstrate a transition from computing as a productivity toolset into an apparatus of serfdom. █
______
* Our associate argues that "apps" are "outdated, insecure, bug-ridden single-site browsers running insecure, bug-ridden JavaScript over HTTPS and not even a stateful protocol."
Permalink
Send this to a friend