11.01.14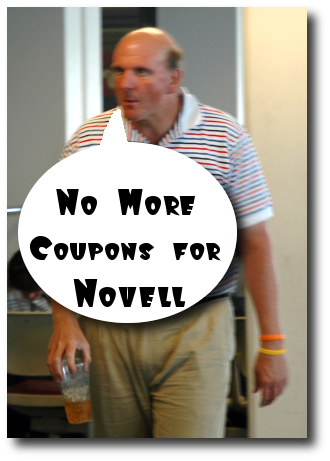 Image from Wikimedia
Summary: Microsoft collusion with patent extortion (as in the early days of the Microsoft-Novell deal) continues to this date, reveals Samsung
MICROSOFT must be in a state of panic. It does irrational things, like a stranded criminal. Microsoft's lie about 'loving' Linux was facing sheer resistance from FOSS luminaries because the lie is just outrageous beyond words]. It is the very inversion of the truth and it is as ridiculous as saying that BP loves Shell and Shell loves BP, to give just one hypothetical example. It makes no sense at all, so why does Microsoft bother trying?
This new article titled "Samsung says Microsoft deal invites 'charges of collusion': filing" has been rather fascinating. Microsoft is apparently 'loving' Linux so much that it colludes against it. Well, will Nadella go to prison? Bill Gates and Steve Ballmer perhaps? What silly questions! Rich people don't get sent to prison for rich people's (white-collar) crimes. Microsoft pretends to "love" Linux while quite clearly attacking it, still. Android uses the Linux kernel, just as a reminder.
"This is beyond extortion. It's an antitrust violation and even collusion/corruption."To quote the article: "Samsung said its collaboration with Microsoft on Windows phones raised antitrust problems once Microsoft completed its acquisition of Nokia's handset business, according to a court filing."
So here we have a criminal company using collusion and abuses under the guise and cover of NDAs. As SJVN put it in his blog: "Samsung fires another shot at Microsoft in Android patent battle"
SJVN's argument is that "[t]his move came as no surprise to lawyers who've been following the case. One intellectual property (IP) attorney whose firm is covering the case closely said that Samsung is simply adding another argument to their contention that their existing Microsoft Android patent deal is invalid on business contract grounds.
"According to Reuters, Samsung said it agreed to pay Microsoft Android patent license royalties in 2011, but the deal also stated that Samsung would develop Windows phones and share confidential business information with Microsoft. If Samsung were to sell a certain number of Windows phones, then Microsoft would reduce the Android royalty payments."
This is beyond extortion. It's an antitrust violation and even collusion/corruption. Will criminal charges be brought against anyone? Will anyone in government bother trying to press charges? Not likely.
As Mr. Pogson put it the other day, Windows is in very serious trouble and therefore Microsoft is too. GNU/Linux, on the other hand, keeps growing, especially in smaller devices such as phones and tablet, notably owing to Android. To quote Pogson's conclusion:
So, XP is dead, "7" is dying, "8" is a zombie, and "10" is vapourware with nowhere to call home. M$ continues layoffs. POOF! It all falls down. In the meantime Google and the OEMs will crank out many millions of ChromeBooks. Canonical, Linpus, RedHat, Suse… and the OEMs will crank out many millions of GNU/Linux PCs. Several OEMs will crank out many millions of GNU/Linux thin clients. Android/Linux will reverberate with another billion or so units of small cheap computers(tablets, smartphones). This looks like good news to me.
Yes, well, Microsoft too realises that Linux is winning, so it is left with either the option to demonise it or to monetise it, e.g. through hosting or patent extortion. In a sense, Microsoft needs Linux more than Linux needs Microsoft. Linux needs none of Microsoft. All that Microsoft does is commit crimes against Linux, so Linux proponents can only hope for total elimination of Microsoft.
There are layoffs at Microsoft, as Pogson pointed out, and this includes salespeople. To quote Value Walk: "According to knowledgeable sources who spoke to Business Insider on Friday, October 31st, Microsoft Corporation (NASDAQ:MSFT) is laying off its entire global advertising sales team. The reduction in force comes as the ad sales positions have become largely redundant as individual divisions are handling their own ad sales today."
Here again we see that these layoffs were not about Nokia. Microsoft tried hard to paint that sort of picture to save face.
When it comes to Microsoft, the more layoffs, the merrier. This company destoryed many jobs using its crimes and these sorts of crimes clearly continue to this date. In a sense, GNU and Linux won't be safe until Microsoft is totally gone. █