01.17.17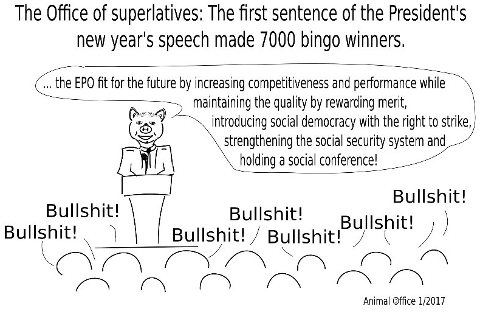 Summary: The latest cartoon being circulated within the European Patent Office (EPO)
"When asked by Ars, the EPO's spokesperson mentioned the imminent arrival of the unitary patent system as an important reason for revising the EPO's internal rules…"
Summary: Unified Patent Court (UPC) lobbying has gotten so bad that it now infiltrates general media outlets, where people are asked to just blindly assume that the UPC is coming and is inevitable, even though it's clearly in a limbo and is unlikely to see the light of day
THE UPC Big Lie refuses to die. There is so much money at stake and those who hope to grab that money will just lie ad infinitum. Yesterday, Alan Johnson from Bristows (chronic liars [1, 2, 3]) wrote this blog post in the firm's growingly-neglected site (as the UPC is clearly in a limbo).
"They have a TERRIBLE, truly appalling track record on facts."Bristows has made false predictions so many times in the past that anyone with a braincell should learn to simply ignore them by now. But no; those who want to believe (like alien enthusiasts) just keep boosting all that nonsense. Whatever seems more optimistic is deemed better, but basing anything one publishes based on the liars from Bristows is not safe. They have a TERRIBLE, truly appalling track record on facts.
Here we have Alexander Esslinger (a.k.a. "Patently German") propping up the latest nonsense from Bristows et al by saying "Provisional phase of #UPC to start in May 2017; fully operational in December 2017″ (he is actually citing Withers & Rogers, whose employee Dave Croston has just published fake news about the UPC).
"Many people have already explained why UPC is definitely inseparable from the EU.""Unified Patent Court to be operational by December 2017 says the Preparatory Committee," says this firm liking to this blurb from Team UPC. The Preparatory Committee is basically like a group of UPC boosters; they're not independent actors. "Funfair fortunetellers predicting the future," one person called it. If credibility depends on past predictions, Bristows and Team UPC should be regarded as chronic liars and repeating lies from Team UPC is hardly good journalism. They said 2015 about UPC ratifications, then 2016, now they say 2017. When will people learn to distrust people who continuously lie in an attempt to pressure/compel politicians to make an error, under the false impression of UPC inevitability?
Watch WIPR bragging about their "top story", which is basically not fact-checked. The title is also misleading, as "can" (in the body) becomes "due to become" (in the headline). Never mind that Lucy Neville-Rolfe (whom they quote/cite) left or has been sacked after just months at her job.
"If the UPC became a reality, British businesses would be subjected to court rulings from places like Brussels."According to this new tweet, Lucy's successor "Jo Johnson who said ' #UPC isn't an EU institution' http://www.parliament.uk/business/committees/committees-a-z/commons-select/science-and-technology-committee/news-parliament-2015/intellectural-property-ev4-16-17/ … at 11:08″
Well, Jo Johnson (who is very young for a politician) is wrong. Maybe he is still clueless because he's new at the job and has no prior experience in this area. Many people have already explained why UPC is definitely inseparable from the EU. See for example this older series:
Johnson clearly does not understand how the UPC works if he claims it not to be an EU institution, or at least something that is disconnected from the EU. If the UPC became a reality, British businesses would be subjected to court rulings from places like Brussels.
Going back to the aforementioned fake news, citing WIPR, Patent Attorneys like this one hope to convince us that the UPC is coming (never mind if the UPC Preparatory Committee has itself put the brakes on it). The Preparatory Committee is nothing but chronic liars and self-serving manipulators. Just look at their affiliations! And WIPR trusts them (along with Bristows) enough to say — in the headline even! — that "UPC due to become operational in December 2017″?
Sorry, but this is fake news. It's lobbying by misinformation. Here is how the article starts:
The Unified Patent Court (UPC) preparatory committee has announced that the UPC can become operational in December this year.

Today, January 16, the committee announced that it is now "working under the assumption" that the provisional application phase will start at the end of spring 2017, "presumably in May".

The committee said that the court can become operational in December 2017.

It confirmed that judicial interviews can begin and "appointments eventually confirmed".

In October last year, WIPR reported that the UPC had postponed the recruitment of UPC judges in light of the Brexit vote.

"The current timetable is being revisited in light of the result of the referendum in the UK, which will to some extent delay the entry into operation of the UPC," it said at the time.

In November last year, former UK Minister of State for Intellectual Property, Baroness Neville-Rolfe, made the announcement that the UK will implement the unitary patent and UPC.
"With UK ratification expected in April," Benjamin Henrion quoted from this. But he is quoting the group of liars, Bristows UPC, who have been repeatedly misleading the public about it and are now promoting their blog post along with their marketing hashtag. Perhaps they hope to attract attention to their business by making ludicrous claims. We don't know for sure…
The bottom line is, a lot of what we're seeing in the media, manipulated by Team UPC, is fake news. We must respond to that in order to avoid confusion. These people are playing dirty. █
01.11.17
Patent maximalists have been spreading this meme for quite a few weeks if not months
Summary: Four new examples of patent maximalists embracing/adopting the pseudo-populist slogan to advance their goals of increasing litigation (which they profit from) and undermining PTAB (which made patents great in the quality sense)
IT IS OFTEN said that politicians flip sides (defect) or flush down their principles when a better opportunity arises. That is why many GOP politicians suddenly apologise and sidle with Trump, hoping to salvage/scrape some powerful position/s in his cabinet. The Republican Party as a whole has been like that; the same goes for the business world and even fellow oligarchs like Bill Gates. Suddenly they want to be friends with Trump, as they hope to get something from (or through) him.
"Suddenly they want to be friends with Trump, as they hope to get something from (or through) him."This post is not political, however, and it isn't intended to fall for the "left" [sic] versus "right" false dichotomy. This post is about the patent microcosm, which is a surrogate for a profession, not a political party (separate and partly overlapping dimensions). The patent microcosm has been "China"-baiting like Trump (even if he himself relies on China) and it pretends to stand for one thing while doing the opposite. For instance, it insists it's interested in "innovation" — however one defines it — and in practice it crushes innovation.
"Make Patents Great Again" is a disturbing term (motto/slogan) we have been coming across for a while. We have already given examples where the patent microcosm spreads this term. Even a seemingly 'leftist' site like Patently-O does this right now (in the headline even!). What it speaks about is filling the swamp, so to speak, by appointing an utterly corrupt and disgraced judge, Mr. Rader (we wrote about his scandals many times in the past). To quote Patently-O: "Scott Graham of The National Law Journal reports that Chief Judge Rader is in the mix to be the next USPTO Director. Rader wrote hundreds of patent opinions during his 15 years on the Court of Appeals for the Federal Circuit, including four as Chief Judge. Prior to joining the judiciary, Rader spent eight years as counsel to the Senate Judiciary Committee's Subcommittee on Patents, Trademarks, and Copyrights. He is a recipient of the Jefferson Medal for exceptional contributions to the field of intellectual property law. In a fairly minor scandal, Judge Rader resigned from the bench in 2014."
"This whole "great again" meme/motto has become somewhat of a plague this year."It wasn't minor at all. It was a serious scandal.
The above screenshot (this rather disturbing photo of a hat where "great" means "litigation") comes from an IAM tweet. As Benjamin Henrion said in his response, "make software patents great again -> they were never great."
Even if they were, that would go back to the days when patents were few and of high quality. Right now they are anything but great because many of them are bogus, low quality, etc. We're all in favour of patents being great; but what we mean by "great" is "high quality", hence fewer (and thus more potent).
This whole "great again" meme/motto has become somewhat of a plague this year. For self gain again, as in "How Trump Can Make Intellectual Property Great Again" (new headline), "James Edwards [...] consultant on intellectual property and health policy," writes:
On the path to making America great again, President-elect Donald Trump will have a tremendous opportunity to reverse the steady slide away from a property rights-oriented American patent system.

There are good reasons to believe a Trump administration will readily grasp this critical problem and work to revitalize the American patent regime.

First, someone like Trump who has succeeded so well on the world's biggest stages in real estate development will readily understand the fundamental need for sound, secure, enforceable property rights. After all, you face huge risks and problems developing real estate if you haven't first secured the rights to that property.
More lobbying of Trump? And again for patent maximalism? Under the guise of litigation being "great"? We expect a lot more of that in the coming months. The motto-isation of their agenda is a sick, selfish plot.
Peter Harter and Gene Quinn (Watchtroll) sort of support Trump in their desperate effort to revive software patents, having just published "Will Patent Courts Be Great Again?"
"More litigation (again) and a patent gold rush (again) isn't what will make America (US) great. It's actually one of the reason it's not great and it's why many small businesses perish."Now they say "Patent Courts"… because what they want is not great patents (good quality) but a lot of litigation. And they profit from litigation…
"Hopefully it won't take a rocket scientist to figure out that the PTAB is a controversial venue choice," Watchtroll writes. No, it's only controversial in the eyes of the patent microcosm, which simply hates PTAB because it does what's right. They are concluding with "Courts can make patents great again in America. And if not they will at least be as active as they have been in the past 10 years in terms of shaping the patent dialogue."
More litigation (again) and a patent gold rush (again) isn't what will make America (US) great. It's actually one of the reason it's not great and it's why many small businesses perish.
PTAB itself is working against bad patents and thus protecting small businesses. That's what usually happens upon petitioning, which is affordable (unlike court cases that push start-ups towards bankruptcy). Recently we wrote about 8 wireless patents that got invalidated thanks to Section 101 and Dennis Crouch from Patently-O has a new article about Wi-Fi One v. Broadcom. It's about PTAB. To quote: "The PTAB rejected Wi-Fi's argument and call for discovery on the issue — holding that the "privy" requirement could only be met if Broadcom had the right to control the District Court litigation."
"PTAB itself is working against bad patents and thus protecting small businesses."Crouch also wrote about "Separation of Powers Restoration Act" and noted that "[f]or the [US]PTO, the change would open the door to challenge the PTO's implementation of its PTAB Trial procedures as well as examination procedures, examination requirements, etc since any "rule" created by the PTO can be challenged with de novo review as well as any questions of law (even where the PTO has authority to make those determinations and was previously given deference)."
This kind of "separation of powers" is what the EPO was supposed to have (until President Battistelli attacked the equivalent of PTAB). Imagine a President Trump doing the same to PTAB in the US… █
01.07.17
Nostalgic and picky/selective (as always and forever) with 'facts', ignoring what's inconvenient

Summary: Firms that are profiting from patents (without actually producing or inventing anything) want us to obsess over and think about the rare and few cases (some very old) where judges deny Alice and honour patents on software
SOFTWARE patents are a dying breed and thus a dying business for patent law firms. They know it, hence they're angry and vindicative. Some of them even attack judges (the messengers). These patents keep dying both inside and outside the courtroom (e.g. PTAB) in the US, in spite of some USPTO examiners granting them, probably in an effort to inflate some numbers.
According to this patent attorney, "VA Dist. Ct. Killed 8 Wireless Patents under Alice/101: http://assets.law360news.com/0878000/878025/https-ecf-vaed-uscourts-gov-doc1-18917727618.pdf" (deemed abstract and thus ineligible).
We have not seen a single article about this case. None!
What we are seeing, on the other hand, is patent law firms' sites romanticising/bringing up old cases, like this quick mention of McRO behind a paywall. To quote:
The full Federal Circuit has denied a bid by Electronic Arts and other gaming companies to rehear its September decision that found McRO Inc. software patents for lip-sync animation technology patent-eligible under Alice, according to an order issued by the appeals court Friday.
In other words, nothing is changing. But again, this is one among perhaps four (just 4!) decisions in the whole year when the Court of Appeals for the Federal Circuit (CAFC) ruled not to invalidate a software patent. What about all the rest? What about all those patents (hundreds if not thousands) that PTAB and the courts invalidated? Shouldn't the patent microcosm inform clients (and potential clients) of the reality?
Mishcon de Reya, the nasty and malicious firm that the EPO hired to spy on/silence Techrights, has just been quoted in relation to the same CAFC case, courtesy of a relatively new site:
Bandai Namco Games America has been denied an en banc rehearing in its cornerstone software patent case against McRO.

All regular active judges for the US Court of Appeals for the Federal Circuit heard the petition and issued their response at the end of 2016.

Mark Raskin, partner at Mishcon de Reya, who is serving as trial counsel in the case, said: "We're very excited that the entire Federal Circuit has recognised the technical innovations of our client's inventions and the California cases will now proceed, hopefully expeditiously."

The McRO case drew a lot of attention with its interpretation of the landmark Alice v CLS Bank decision.
As we noted before, Mishcon de Reya also works for Microsoft and the EPO. It's hardly surprising that the firm advocates software patents. Another legal firm — one that the EPO hired to threaten Techrights — promotes the UPC.
There is another new article from a law firms' platform, covering the Amdocs case (also at CAFC) as follows:
An interesting case came out of the Federal Circuit in Amdocs (Israel) Limited v. Openet Telecom, Inc., No. 2015-1180, 2016 WL 6440387 (Fed. Cir. Nov. 1, 2016) in which the Court reversed the district court's granting of Openet's motion for judgment on the pleadings on the basis that the patents were not directed to patent eligible subject matter under § 101. This is significant not for the result but for how the Court arrived at its conclusion. The majority and dissenting opinions offer several important insights: (1) the Court is struggling to find the proper "decisional mechanism" for deciding whether a software patent is directed to patent ineligible subject matter; (2) members of the Court continue to suggest borrowing from other sections of the Patent Act to analyze Section 101; and (3) claim construction can be very effective at staving off dismissal based on patent eligibility.
This 'news' is more than two months old. Why aren't these legal firms covering some of the latest? Probably because it's not convenient for them. It's not good for their business. █
The EPO's Battistelli has lost his main UPC ally in the UK, Lucy Neville-Rolfe
PM May's view 'We're not leaving only to return to the jurisdiction of the European Court of Justice' won't be true for a long time, if ever https://t.co/Q7MnXNAdcA

— Luke McDonagh (@DrLukeMcDonagh) December 8, 2016
PM May: "The UPC is not an EU court. Let's ratify."

Baldrick: "But the UPC is bound by EU law & CJEU."

PM May: "Shhh, Farage may hear us!"

— Luke McDonagh (@DrLukeMcDonagh) November 30, 2016
Summary: The issues associated with the UPC, especially in light of ongoing negotiations of Britain's exit from the EU, remain too big a barrier to any implementation this year (and probably future years too)
THE UPC was a big topic, more so towards the end of last year, especially because of Lucy's ludicrous statement about it and then her resignation/firing, culminating in yet more uncertainty and a limbo. SUEPO correctly (if not belatedly) took note of top posts in the patent microcosm's sites. On IAM it wrote: "IAM blog's top 20 most-read stories of 2016 (IAM Magazine, 22 December 2016). EPO info can be found at reference points 9, 11, 15 and 16."
"A lot of the above articles are actually not about the EPO directly but about the UPC, which Battistelli keeps promoting."On Kluwer Patent Blog (Team UPC) SUEPO wrote: "Brexit and EPO unrest in top ten of most popular posts Kluwer Patent Blog in 2016 (Kluwer Patent Blog, 01 January 2017). EPO info can be found at reference points 1, 3, 5, 7 and 10."
As we noted here a couple of days ago, IP Watch too shared some statistics and noted that articles about the EPO topped their list. A lot of the above articles are actually not about the EPO directly but about the UPC, which Battistelli keeps promoting. Battistelli lies a lot about the UPC. According to what he told the media in 2015 (his so-called 'media partners' even printed these lies), the EPO was in great shape and UPC would have been a done deal and ready to roll last year. We recently wrote the following series which explains why, as long as the UK intends to leave the EU, the UPC is basically stuck or deadlocked. Brexit and UPC are inherently incompatible. Revisit the following:
Towards the end of this series we quoted Dr. Luke McDonagh (University of London's Law School) quite a lot. He is a UPC sceptic in the sense that he does not believe it can happen and next month he will speak about it, debating with/against the patent microcosm. [via]
"Brexit and UPC are inherently incompatible."McDonagh is not a patent attorney and he is definitely not part of the patent microcosm, so his input on this subject has been refreshing and valuable. We look forward to his talk and maybe even reports about it (probably not only to be covered by the patent microcosm's sites). From the description of this event: "At this event Dr Luke McDonagh of The City Law School will launch his new book 'European Patent Litigation in the Shadow of the Unified Patent Court' (Edward Elgar, 2016) with a panel discussion on the impact of Brexit on patent litigation in the UK and elsewhere in Europe, with a particular focus on the forthcoming Unified Patent Court and future relations between the UK and EU."
The book's description can be found here (first chapter free, as mentioned here before) and to quote from the outline: "Making use of evidence from within the business and legal communities, this book highlights the key issues concerning the new system and examines what the impact of the reforms is likely to be on Europe's patent litigation system in the near future."
In its current form, the UPC is in impasse/deadlock. It won't become a reality unless something quite radical happens. █
01.05.17
Producing nothing, insulting everybody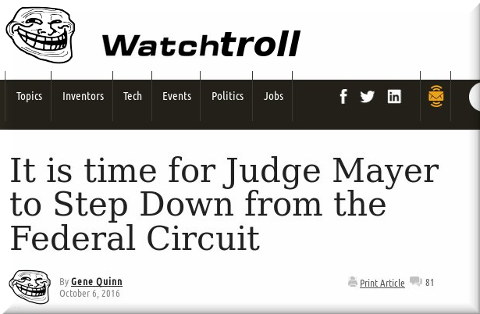 Summary: A look at some of the latest spin and the latest shaming courtesy of the patent microcosm, which behaves so poorly that one has to wonder if its objective is to alienate everyone
THE patent reform in the US (AIA, especially after Alice) brought us the blessing known as PTAB, which is responsible for the immediate and permanent elimination of many software patents and the reduction in litigation. It lowered confidence in even more of these software patents (potentially hundreds of thousands of patents).
""Idiotic", "impotence"… what next? Will Watchtroll accuse judges and PTAB of rape and pedophilia too?"PTAB continues to scare people who made a living from software patents (not software, just patents). With his habitual insults directed at PTAB, Gene Quinn (Watchtroll) continues to fling criticisms at PTAB, bemoaning the latest decision which he summarises with the word "idiotic" in the image (and IBM's patent chief actually boosts these people, who also attack judges! See the image at the top!).
"Idiotic", "impotence"… what next? Will Watchtroll accuse judges and PTAB of rape and pedophilia too? Frankly, these people are a lot more rude than anything we have ever seen and some of those people actually advertise themselves as professionals. "If a machine is patent ineligible bc it is an abstract idea," Watchtroll wrote in Twitter, "no point in keeping powder dry. The 101 fight is now."
He wants a "fight".
"Telling Watchtroll about software development is an exercise in futility; he doesn't even know how software works."Well, the Section 101 fight is over. The patent microcosm lost. Most software patents are dying and this is good because, as Benjamin Henrion put it in his reply, "patents also destroyed software development."
Telling Watchtroll about software development is an exercise in futility; he doesn't even know how software works. I debated this in length with him and then he chickened out, blocking me in Twitter.
Watchtroll (a front for the patent microcosm, not just one person) is now lobbying Trump to makes Patent Chaos Again (as expected, with lots more of this lobbying to come).
"These have included enabling the PTO to attack patent validity in a second window," says the article, "attacking classes of inventions such as software and medical diagnostics…"
"PTAB is a lot more professional because these financial incentives hardly exist, which makes their staff more objective."Nobody is "attacking" and there is no "fight". As we pointed out here before, the attorney known as Patent Buddy uses words like "survive", "kill" etc. rather than use terms that don't pertain to war. The people actually call PTAB a "death squad!" Picture that for a connotation.
Here is Patent Buddy saying about the above case: "In the MRI-101 Invalidation Decision, the PTAB Reversed the Examiner finding eligibility under 103, but not 101."
Examiners at USPTO have historically been rewarded to just award lots of patents, irrespective of quality or prior art (which can take a long time to assemble and study). PTAB is a lot more professional because these financial incentives hardly exist, which makes their staff more objective.
Earlier this week we found this lawyers' site claiming that "[t]he tide may be turning in the Section 101 landscape and it is making waves in the patent practice area." No, it's not. The patent microcosm lives in wonderland and only pays attention to a few CAFC decisions that suit their agenda. The article says that CAFC's "latest rulings on the issue—Enfish v. Microsoft Corp., BASCOM Global Internet Services v. AT&T Mobility, and McRO v. Bandai Namco Games America—possibly signal a new direction for patent eligibility in a post-Alice era. On the damages front, the U.S. Supreme Court grabbed headlines with its highly anticipated ruling in Samsung Electronics v. Apple, the first design patent case to be examined by the Court in over a century. Our panel of experts discussed these issues as well as patent trends on the horizon in 2017."
"There's no "win", it's not a game. It's also not a "war" or a "fight"."We actually debunked this just recently (December 27th), in relation to similar claims about CAFC cases. Less than a handful of cases (less than one hand's fingers) don't change years of patent invalidations, including by Judge Mayer, whom Watchtroll is insulting (see above again).
CAFC is soon going to decide whether challenging low-quality USPTO patents (through PTAB) is acceptable, says MIP, noting about a particular case that CAFC "has granted en banc rehearing in Wi-Fi One v Broadcom. The court will consider whether judicial review is available for a patent owner to challenge the USPTO's determination that the petitioner satisfied the timeliness requirement governing the filing of IPR petitions" (these are the petitions that typically initiate invalidation by PTAB).
Regarding this new article from lawyers' media, one person wrote, "CAFC vs. PTAB decision discrepancies: Who wins?"
There's no "win", it's not a game. It's also not a "war" or a "fight". In fact, most of the time CAFC agrees with PTAB, so the framing of infighting is simply incorrect and inappropriate. To quote the actual article:
Apple Inc. has won at least a moral victory in a fight with the U.S. Patent and Trademark Office over touchscreen technology.

The U.S. Court of Appeals for the Federal Circuit agreed with Apple on Tuesday that the patent office failed to sufficiently explain why Apple's method for reconfiguring touchscreen icons is unpatentable due to obviousness.

Apple applied for a patent in 2009 on its method of using a sustained touch to activate an icon, which then allows a person to drag the icon to a new location on the screen. A patent examiner found the claim obvious in light of separate prior inventions on sustained touch and dragging. Combining the two inventions "would be an intuitive way" to rearrange touchscreen icons, the examiner concluded and the Patent Trial and Appeal Board affirmed.
This is just one of those exceptions where the CAFC does not fully agree with PTAB and wants the judgment reassessed.
The bottom line is, things are progressing in a positive direction as the US patent system persists in improving patent quality. It's well overdue. Here we have a new case which "focuses primarily on §101 issues."
"The bottom line is, things are progressing in a positive direction as the US patent system persists in improving patent quality."To quote: "The oral argument of the week is MACROPOINT, LLC v. FOURKITES, INC., No. 2016-1286 (Fed. Cir. Dec. 8, 2016) decided by a Rule 36 judgment."
Those who claim that Section 101 is losing its potency or that CAFC is at war with PTAB or anything like that are being extremely dishonest and typically — if not always — they are the ones directly profiting from these misconceptions/distortions.
Watchtroll and its ilk need to go away or not be taken seriously. Time after time we have demonstrated that the site's purpose is to attack those who don't agree (even judges!) and sometimes to organise 'echo chamber' events so as/in which to lobby officials.
Watchtroll is to the patent world what Trump is to civilised politics. █
01.02.17
European Digital SME Alliance is legitimate (grossroots), not AstroTurfing like Team UPC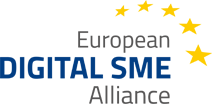 Summary: Another example of UPC promotion from within the EPO (a committee dedicated to UPC promotion), in spite of everything we know about opposition to the UPC from small businesses (not the imaginary ones which Team UPC claims to speak 'on behalf' of)
YESTERDAY we wrote about how the Chairman of the Select Committee promoted the UPC based on false claims. It turns out it wasn't a one-time thing as this document form the Central Staff Committee [PDF] contains yet another example of misleading if not false claims. The transcript in German says: "Es ist mir eine Freude, Ihnen und dem Engeren Ausschuss zum Abschluss der Verhandlungen zum Einheitlichen Patent als Vertreter des Personals gratulieren zu dürfen. Die Patentprüfer, die zukünftig das Einheitliche Patent prüfen werden, sind hervorragend ausgebildete Ingenieure und Naturwissenschaftler. Viele davon sind promoviert und haben respektable Erfahrung in Forschung und Industrie gesammelt. In ihrer Arbeit sehen sich die Kollegen streng dem EPÜ verpflichtet. Und gerade deswegen freuen wir uns, dass die Artikel 142 bis 149 EPÜ nun mit Leben gefüllt werden. Auch die IGEPA hat sich immer für das Einheitliche Patent ausgesprochen.
"It's unreasonable to expect that an Office which is run by a notorious tyrant can produce something which serves the public rather than Battistelli and his corporate ilk.""In ihrer täglichen Arbeit leben die Kolleginnen und Kollegen den europäischen Gedanken. Die Wirtschaftslandschaft in Europa ist geprägt durch kleine und mittelständische Unternehmen. Ein starkes und sorgfältig geprüftes Einheitliches Patent kann dazu beitragen, dass nicht nur die Großindustrie, sondern auch die KMUs davon profitieren. Leider müssen wir beobachten, dass für die Arbeit in den dreiköpfigen Prüfungsabteilungen kaum noch Zeit bleibt. Die Effizienzsteigerungen, von denen Ihnen hier regelmäßig berichtet wird, haben eben auch ihre Schattenseiten.
"Allerdings mag es ja durchaus in Ihrem Interesse sein, meine Damen und Herren, die Struktur des europäischen Patentsystems und der Europäischen Patentorganisation anders zu gestalten. Sie haben mit Artikel 172 EPÜ die Möglichkeit, eine Konferenz der Vertragsstaaten einzuberufen. Vielleicht genügt auch schon eine Konferenz der Minister der Vertragsstaaten nach Artikel 4a EPÜ, die eigentlich schon hätte stattfinden müssen, weil sie ja laut EPÜ mindestens alle fünf Jahre stattfinden muss. Ich kann Ihnen versichern, dass die Kolleginnen und Kollegen dann zu dem Erfolg des Einheitlichen Patents beitragen werden und spreche Ihnen abschließend meinen herzlichen Glückwunsch zu dem erreichten Abschluss aus."
Automated translations of these paragraph suggest that the above admits "the economic landscape in Europe is characterised by small- and medium-sized enterprises. A strong and carefully tested Unitary Patent can help not only the large industry, but also benefit SMEs."
However, a year later we know that nothing has changed and the UPC would harm everyone but large corporations (some of them foreign) and patent trolls.
If Team Battistelli is so eager to make the UPC a reality in spite of what the European public keeps saying, then it's clearly an antidemocratic institution whose nature we shall continue to expose. It's unreasonable to expect that an Office which is run by a notorious tyrant can produce something which serves the public rather than Battistelli and his corporate ilk. There's an emergent pattern here — one that EPO staff is too familiar with by now. If EPO becomes an instrument of domination or occupation, then it needs to be overhauled, starting from the top. █
01.01.17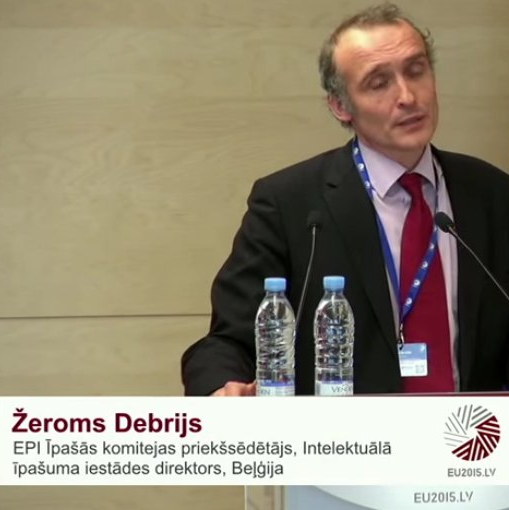 From Panel 2: Development of the European Patent System
Summary: The UPC is neither desirable nor practical, especially now that the EPO lowers patent quality; but does the Select Committee understand that?
The EPO's Web site describes the Select Committee's mission as follows: "The legal basis for the Select Committee is Article 9(2) of Regulation (EU) No 1257/2012 ("the Regulation") and Article 145 EPC. The committee has been set up by the 25 member states participating in the unitary patent, to supervise the EPO's activities related to the tasks entrusted to it in the context of unitary patent protection. The committee's competences include the setting of fees."
"According to insiders, Battistelli is trying to replace examiners with machines, paving the way to even worse patent quality."According to this Staff Committee report [PDF] on the 147th meeting of the Administrative Council (early 2016), the following statement was made in German by the Select Committee: "Wir begrüßen jeden Fortschritt in Richtung des einheitlichen Patentschutzes. Ich versichere Ihnen, dass das Personal hochqualifiziert ist, um das Einheitliche Patent mit sehr guter Qualität zu prüfen. Wie Sie wissen, werden europäische Patente oft nur in wenigen Ländern validiert. Mit dem Einheitlichen Patent wird es aber in vielen Staaten von uns erteilte Monopole geben. Daher ist es wichtig, dass eine sehr hohe Qualität gewährleistet ist. Ein sorgfältig geprüftes Patent benötigt aber Zeit. Wenn Sie auf Effizienz schauen, sollten nicht nur Produktionszahlen im Vordergrund stehen. Wenn die erteilten Monopole für die Wirtschaftslandschaft in Europa nützlich sein sollen, ist eine unbegrenzte Effizienzsteigerung nicht denkbar. Wir sind daran interessiert, immer besser zu werden. Eine Unterstützung durch IT-Tools ist sicher sinnvoll, aber versprechen wir uns nicht zu viel davon. Recherche und Prüfung muss immer von Menschen gemacht werden, wenn sie sinnvoll sein soll. Software ist und bleibt immer nur ein Hilfsmittel. Beachten Sie also, dass eine Steigerung der Effizienz bedeutet, dass pro Patentanmeldung im Durchschnitt weniger Zeit investiert wurde. Der Patentprüfer hat weniger Zeit für die Bearbeitung der Anmeldung gehabt. Wir sind bereit, zur hohen Qualität des Einheitlichen Patents beizutragen. Hierzu benötigen wir aber eben auch genügend Zeit, und ich hoffe darauf, dass Sie dies nicht außer Acht lassen werden."
It says something along the lines of "we welcome any progress towards unitary patent protection."
Obviously, as this is their mission, but the informed public is against it.
"I assure you that Staff is highly qualified to test the Unitary Patent with very good quality," the above says, but under Battistelli (UPC booster) patent quality already nosedives.
"EPs are being invalidated in courts, yet Battistelli remains unaware of this."The Chairman of the Select Committee (we assume Jérôme Debrulle) says "it is important to have a very high quality is guaranteed." Well, that's already a failed objective. Battistelli ruined the EPO, which certainly cannot be trusted to provide patents with unitary (Europe-wise and beyond) effect in prosecution.
"A support from IT tools is certainly useful," the Chairman says, "but … research and testing must always be done by people…"
According to insiders, Battistelli is trying to replace examiners with machines, paving the way to even worse patent quality. There's Early Certainty that Battistelli is losing his mind.
"We are ready for the high quality of the Unitary Patent," the Chairman says, but what quality is that? EPs are being invalidated in courts, yet Battistelli remains unaware of this. █