02.20.17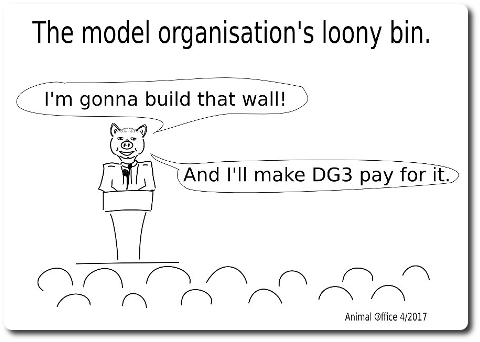 Summary: Battistelli's solution to everything at the EPO is exclusion and barriers
Google uses IPRs to eliminate everything that's left of this parasite

Summary: A new example of software patents against Free software, or trolls against companies that are distributing freedom-respecting software from a country where these patents are not even potent (they don't exist there)
InfoGation Corp. [sic] (corporations typically make things) is not a real company. Maybe it used to actually do something in the distant past, but now it's just a pile of patents. Their Web site is a one-page stop, the classic troll-themed Web site, referring to "technology" (for so-called 'licensing') rather than actual products. Search the Web for the term "InfoGation Corp." and just about every single result will be about some lawsuit, which is rather telling.
"Search the Web for the term "InfoGation Corp." and just about every single result will be about some lawsuit, which is rather telling."Under the "Patent Trolling Archives" section, the Patent Investor described InfoGation Corp. as an "assertion entity" (fancy name for troll), noting that after it had gone after Taiwan's HTC (the first time we wrote about InfoGation Corp.) it also attacked other Google partners, mostly in China, e.g. ZTE and Huawei. Google stepped in to defend these partners.
Watchtroll is bashing PTAB, essentially by calling the patent holder, InfoGation Corp., "small software developer" (yes, software patents) and saying that those challenging the patents merely "gang up". This is quite a lot of Watchtroll FUD in quick succession, e.g. after it had published a piece we debunked this morning. We don't want to start a line-by-line rebuttal; instead we'll just say that Watchtroll has been grooming this troll for quite some time (it wrote quite a lot about it in the past). It also exploits it for PTAB bashing — an old tradition at Watchtroll. Is PTAB going to trash some more software patents, thus taking InfoGation out of business once and for all? We sure hope so. This would help deter trolls and discourage further litigation such as this. █
"[The EPO] can't distinguish between hardware and software so the patents get issued anyway" —Marshall Phelps
Summary: Old and familiar tricks — a method for tricking examiners into the idea that algorithms are actual machines — are being peddled by Watchtroll again
I COME from a professional background of computer vision and I am also familiar with (and trained in) processor technology, so when I say that software is inherently mathematics I am not just merely repeating what other people are saying. In fact, having debated this in length with Watchtroll a couple of years ago, it became abundantly clear that he (Mr. Quinn) does not know that the heck he is talking about; he could not even name any computer program he wrote. It's astounding that people who want to believe that software is patentable take him seriously*.
I therefore worry that Watchtroll is seen by many as some sort of 'authority' on the subject; it's a site by and for law firms, or a propaganda mill for their pockets (software patents). They do a lot of lobbying and also shaming of officials like the Director of the USPTO (they never even mention the EPO).
"The latest Watchtroll piece wants people to think of computer programs as computers; as if putting something that is akin to prose through a processor magically makes it patentable."The latest Watchtroll piece is titled "Operational Mathematics on a Processor is not an Abstract Idea". They are mixing two things here; processors are not abstract but mathematics is a whole different thing. They cannot just magically link two things to make them look like the same thing. In our view, which was consistent over the years, the processor itself can have patents associated with it, and we don't object to that. But algorithms are not processors and they are rarely if ever embedded in gate level. The computers are programmable. That's what Manchester innovated after the (second) World War and what the Computer Science department here — the department which I studied in — became most renowned for.
The latest Watchtroll piece wants people to think of computer programs as computers; as if putting something that is akin to prose through a processor magically makes it patentable. Clueless or just lying to oneself?
We often wonder how many of the software patents proponents who write for Watchtroll actually come from Computer Science and can comprehend computer programs/code. We cannot recall even one. "Peter also works as a patent engineer in patent prosecution," says the disclosure in the above article. What the heck is a "patent engineer"? That makes it sound like the act of patenting itself is an engineering task? Can they patent the process of patenting too? I once dated a girl who said she was a "nail engineer" (later it turned out she meant manicurist), so here again we have these artistic semantics.
"Sadly, based on what we heard, the above-mentioned pattern of deception (combining or blurring the gap between machine and code) is often used to trick EPO examiners into granting software patents; they can mislead themselves into thinking that they don't grant software patents, but they do.""Operational math on a processor is a switching device and not an abstract idea," Peter writes. The processor just takes an instruction or a set of instructions (input) and produces some output, yielding something that can be processed for visualisation, sound etc. But the processor is not the program itself. The programs are stored in memory or in registers, which themselves resemble a book and are already covered by copyrights, not patents, just like a book. We could go on and deconstruct the whole piece from Peter, who is an Electronic Engineer, not a software engineer (far from the same thing).
Sadly, based on what we heard, the above-mentioned pattern of deception (combining or blurring the gap between machine and code) is often used to trick EPO examiners into granting software patents; they can mislead themselves into thinking that they don't grant software patents, but they do. █
____
* Well, here is Mr. Watchtroll being treated as some kind of guru on the subject [1, 2] just a few days ago.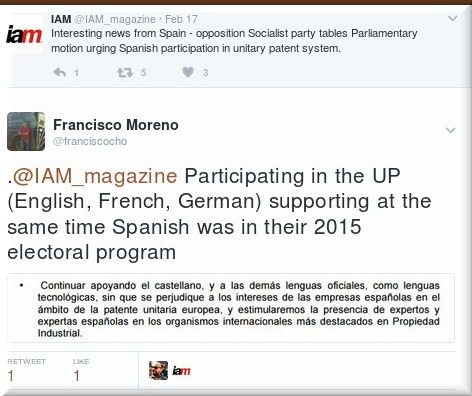 Summary: The impact of the corrupted (by EPO money) media goes further than one might expect and even 'borrows' out-of-date news in order to promote the UPC
THE EPO has already paid (one might say bribed) a lot of media organisations as large as the Financial Times for fake news about the UPC. It also spent over a million Euros for a PR firm (FTI Consulting) to manipulate the media and this PR firm paid IAM 'magazine', which for a number of years had promoted the UPC (even before FTI paid).
Over the weekend we found IAM stating: "Interesting news from Spain – opposition Socialist party tables Parliamentary motion urging Spanish participation in unitary patent system. [...] Up to now, there has been a united political front in Spain keeping country outside the UPC system. It challenged its creation at ECJ & lost" (untrue). Spain would be utterly foolish to ever look at the UPC, for reasons we explained here before; the UPC would only harm Spain and the EPO does almost nothing — or worse than nothing — for Spain.
"But hey, if it helps the UPC campaign, why not air it, right?"There is one major problem with what IAM stated to create a false sense of optimism. As Francisco Moreno pointed out, along with a screenshot: "Participating in the UP (English, French, German) supporting at the same time Spanish was in their 2015 electoral program" (so this is far from news).
IAM tried to make 'news' (more UPC promotion) out of something that was not; there's no excuse for this other then shoddiness or sloppiness in reporting, especially given that IAM's editor in chief, by his own admission, lived for a long time in Spain and can probably speak Spanish (or Catalan) just fine.
But hey, if it helps the UPC campaign, why not air it, right? Especially when EPO (or EPO PR) money flows in… █
Abject poverty when it comes to human rights cannot be compensated for with a generous salary
Summary: The status of the EPO as an entity above the law (in Germany, the Netherlands, Switzerland and so on) is becoming the subject of press reports and staff is leaving in large numbers
THE EPO has been reasonably quiet this year; the same goes for SUEPO, which came under severe and almost mortal attacks. ILO has barely helped as Team Battistelli mostly ignores it even when it rules against Team Battistelli. It's more of that "above the law" attitude.
We recently became aware of this site which speaks of the Administrative Tribunal of the ILO. It also has this update:
Latest news: In the meantime the High Court of The Netherlands (Hoge Raad) maintained the international organisation's immunity, despite severe human rights violations. Contrary to what the judges ruled a complainant has no means of accelerating a trial with the Administrative Tribunal of the ILO – in any case Articles 15 and 7bis of the Tribunal's rules cannot be considered such means in "normal" lawsuits (cases of conflict), cf. http://www.ilo.org/tribunal/about-us/WCMS_249195/lang–en/index.htm . The two Articles were translated and interpreted wrongly by the Attorney General of the High Court – which the complainant's Borgersbrief indicated, yet the judges seem to have ignored it. They went even further by ruling that the absence of such acceleration means is not a reason to remove the organisation's immunity – that not only the complainant's career was destroyed by the decision impugned, but also her health permanently harmed, did apparently not matter (I wonder in which case the organisation's immunity would be disproportionate then….any clue??).
It is inexcusable that the EPO can enjoy immunity under these circumstances, for reasons we already explained in posts such as:
We are attempting to gather more information on the above case, but in the mean time all we have is the list of ILO decisions regarding EPO staff. Occasionally we look more closely at a few.
Yesterday we explained why the EPO is becoming a threat to the European Union. It's not just about reputation issues but also growing disdain that leads to revocation of memberships, such as Britain's. Responding to the British press, one person asked: "Does [the EPO] do anything useful at all, apart from making headlines with complaints about their boss?"
And here is the latest comment, taking note of Germany's failure as well (Maas has his own interests):
The EPO staff has no fundamental rights at all.

I read in the comment of Int.og: ¨ The host country may not be able to do anything directly, but as with anyone under diplomatic immunity they could say that he is no longer welcome, and ask him to leave.¨. This could surely be a possible reaction of Germany and The neteherlands.

The German prime minister Angela Merkel said to the new US President Trump:

"Germany and America are bound by common values — democracy, freedom, as well as respect for the rule of law and the dignity of each and every person, regardless of their origin, skin color, creed, gender, sexual orientation, or political views. It is based on these values that I wish to offer close cooperation, both with me personally and between our countries' governments."

Mr Heiko Maas, Federal Minister of Justice and Consumer Protection is well informed that there is a bad copy of Donald Trump President of the European Patent Office: namely Benoit Battistelli of french nationality. He is a bad copy because he has no respect for the rule of law, even not for the European Patent Convention, and the dignity of each and every person.

A nice overview you can find in the document for the Bavarian State Parliament published on 02 February 2017: Request – finally ensure the fundamental rights of the staff of the European Patent Office! https://www.bayern.landtag.de/www/ElanTextAblage_WP17/Drucksachen/Basisdrucksachen/0000009500/0000009748.pdf

It is for me and many others not clear what the reason is why Mr. Maas did nothing until now and many people working at the EPO have to suffer day after day.
And along the same lines, another comment:
A corporate dictatorship with diplomatic immunity?

I find it deeply disturbing that a commercial organisation can attain a status comparable to a sovereign nation, operate as a dictatorship, then be essentially immune to any government intervention, merely because it's "international".

So is Google, Microsoft and Apple, but that doesn't make them immune to government intervention.

Frankly I think the EPO is an abomination that should be exterminated and replaced with something that is fully accountable in every jurisdiction in which it operates, starting with its present Gangster-in-Chief.
According to this new comment from IP Kat, the EPO has "more than one hundred examiners retiring and leaving this year," probably running away from Battistelli's sinking ship. To quote:
Again and again the rumours about over recruitment appear…..
Yes there are a few directorates where the stocks are decreasing, but there are many more where the stocks are still increasing.
Overall in the EPO the stocks are very very slowly going down.
With more than one hundred examiners retiring and leaving this year, without recruitment the stocks would increase again next year.
Why is this so hard to understand?
We were shown a simulation which predicts exactly this for our directorate, so also we have to recruit.
It made sense, and shows that there is enough work overall.
It doesn't make me happy that the new examiners do searches while I do much more examination, but it's fair since I have enough!
We are in the meantime attempting to contact the above-mentioned people, for there are clearly stories that ought to be told. █
02.19.17
Who needs parties like UKIP and National Front (France) when people like Battistelli do so much more to discredit the Union?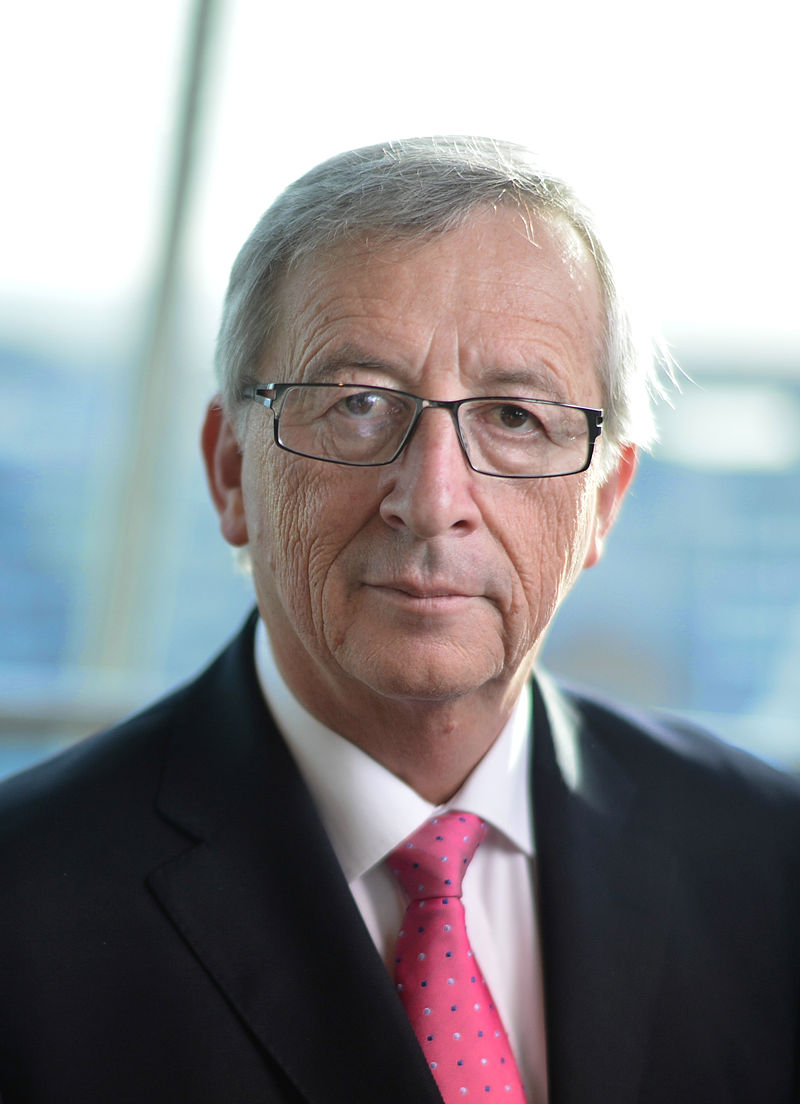 By Factio popularis Europaea, CC BY 2.0
Summary: The increasingly pathetic moves by Battistelli and the ever-declining image/status of the EPO (only 0% of polled stakeholders approve Battistelli's management) is causing damage to the reputation of the European Union, even if the EPO is not a European Union organ but an international one
SO FAR in 2017 the EPO has attempted to keep a relatively low profile. The main PR attempt was this nonsense about Cambodia — a country with zero European patents. The Singapore-based (read: patent trolls' new heaven) Mirandah Asia repeats the PR, essentially regurgitating EPO talking points. Gladys Mirandah and Ang Chuan Heng try to make it appear like some sort of EPO 'victory', perhaps not quite grasping how pathetic it looks. Even EPO insiders have begun making fun of it, for it immortalises what has become of the EPO under Battistelli. Today's EPO is widely regarded as a laughing stock, so dysfunctional and abusive in fact that it has become a textbook example of international bodies gone rogue. Union officials have already been informed, but there is not much that they can do as they lack authority over the EPO, which also enjoys immunity.
"Today's EPO is widely regarded as a laughing stock, so dysfunctional and abusive in fact that it has become a textbook example of international bodies gone rogue."The other day SUEPO took note of the good reporting by McCarthy from The Register. He wrote about some of the latest debacles:
The president of the European Patent Office, Benoit Battistelli, is ignoring yet another formal rebuke of his policies by disregarding two decisions by the International Labour Organization.

In letters going back and forth between EPO management and the organization's main staff union, SUEPO, representatives are refusing to take part in a "voluntary" drawing of lots to decide on new members for the EPO's appeals committee.

[...]

In response, the regional Bavarian government – which oversees Munich, where the EPO is headquartered – is due to consider a lengthy sanction of Battistelli that argues he had been behind a "whole range of major intrusions into essential fundamental rights of the employee" and calls on the state government to "take action accordingly."

It is unclear what action the German government can take against Battistelli. Even though several governments have formally broken with protocol to publicly condemn the EPO president and his actions, due to the unusual make-up of the EPO, only the full Administrative Council of over 30 European countries can actually fire him before his term is up.
"All I can say is that he must have some real dirt on someone, somewhere to have kept his job this long," one person wrote.
Another person said: "The host country may not be able to do anything directly, but as with anyone under diplomatic immunity they could say that he is no longer welcome, and ask him to leave. But unlikely to happen."
The Administrative Council's complicity was brought up as follows: "Here's the list of members of the administrative council. Perhaps they need to explain why they're not doing their job ?"
Some people believe that Battistelli controls people by blackmail, but the explanation might actually be simpler.
One person said: "It's not surprising and not uncommon, someone running 'something' and elected or not, thinking himself more important than the importance of what they are running, like the security guard at the gate who acts like he owns the place, typical/despicable human nature."
That perfectly describes what happened at the EPO, which the following comment describes as a "European organization" even though non-European nations are part of it:
It's not the first time that some European organization has got into this sort of mess, with a power-hungry type who's hard to be sacked creating a little empire. The need for every government to agree to sack him seems typical of these groups, no-one trusts the others to do the right thing so they insist on full agreement of all 30-odd people before any major decision gets taken. Inevitable result: no major decisions ever get taken (well, except for salary increases & expenses payments, of course). Meanwhile, of course, we (the taxpayers) continue to finance this fiasco.

Come the revolution that wall is going to be very crowded…
It's common to see the EPO exploited by anti-EU elements, so then came an old reminder to readers (happens in almost every comments thread):
Just to clarify – it's not actually a European organisation. Its an international organisation based in Munich, the Hague and (a little bit) Berlin. It is not funded by the EU at all, but instead by fees levied for patent searches and examination.

And you, the tax payer, should educate yourself a little more about what you actually vote to reject.
But the above wasn't intended to be EU bashing, as the reply made apparent:
I very carefully didn't mention the EU at all, because I am well aware that it isn't an EU organisation. It is, however, a European one (the clue is in the name: European Patent Organisation) and while it may be funded by the patent applications, the Administrative Council that oversees it, and about which I was commenting, is made up of "representatives of the contracting states" who are most assuredly financed by their respective taxpayers.
And it's not about Brexit at all, as the latter part states:
And you, the Anonymous Coward, should perhaps remove the Brexit chip from your shoulder long enough to actually read the post you reply to.
Paradoxically, Brexit was very damaging to the EPO's UPC ambitions and the EPO's own behaviour contributed to the perception — at least in the UK — that the EU was out of order. In a sense, bad EPO behaviour led to the demise of the very initiative it was trying to bring across the Channel.
A View From Australia
Speaking of the EU, Madeleine Kelly (FB Rice), an Australian hoping that the "European Union" [sic] (EPO is not an EU thing) clarifies patent scope, wrote: "Common sense has prevailed, much to the relief of patentees and practitioners alike, and this new and much more liberal test for partial priority should mean the end for poisonous priority and poisonous divisionals, at least in Europe. Whether or not the Australian courts will follow suit remains to be seen."
The above is a contribution from the Boards, not Battistelli's Office. Patent scope in Europe has gone all wrong and even software patents are habitually being granted now.
Australian software patents were covered here before. They are still the subject of active debate and the Productivity Commission advises strongly against them. Australian patent attorney Bradley Postma was a featured item a few days ago and another Australian patent attorney, Mark Summerfield, bemoans the difficulty patenting business methods these days (he last wrote about it some days ago, having ranted about it for a while). It looks like sooner or later even IP Australia will look better than the EPO, which now overcharges for low-quality work. █
To a carpenter, for example, every problem looks a nail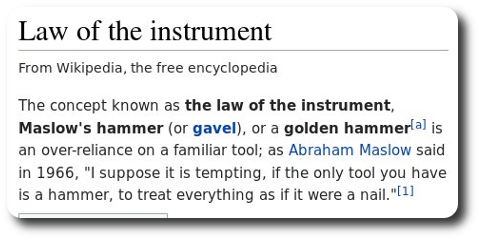 Reference: Law of the instrument
Summary: Cherry-picking one's way into the perception of patent eligibility for software and the misguided belief that without patents there will be no innovation
CHERRY-PICKING is somewhat of an art form in legal blogs. They so often altogether ignore cases/decisions that don't bolster the narrative which they promote and simply act as a megaphone when the exceptions occur.
Such was the case with this CAFC decision — one of those truly unusual cases (happened about 20% of the time last year) where PTAB is sort of 'vetoed' (overruled) by CAFC. This was reported on by Patently-O the other day and now there's more, including from MIP:
A Patent Trial and Appeal Board finding of unpatentability for obviousness based on two prior-art references in Personal Web Technologies v Apple has been remanded because "the Board did not adequately support its findings"
This is about software patents and we wrote about that some days ago, around the same time we highlighted Mintz Levin's bad/misleading advice. People from this firm are still spreading their misinformation, e.g. in another domain or with slight variations in the same domain. They want to make is appear as though software patents are alive and well because of a few, cherry-picked decisions. They just want more business from poorly informed clients whose patents would turn out to be worse than worthless (costly if litigation is even attempted).
Another site, Banana IP (more like banana republic), offers tips for workarounds where software patents are simply disallowed (as a matter of law).
Patents: Understanding Software Inventions in India and US

[...]

The Indian patent law does not provide a proper definition of the term 'software' or 'computer program'. But, under the section 2 of the Copyright Act, 1957 a computer program is defined as "a set of instructions expressed in words, codes, schemes or in any other form, including a machine readable medium, capable of causing a computer to perform a particular task or achieve a particular result". Section 3 of the Indian Patent Act, 1970 summarizes about the inventions that are not patentable. In particular, Section 3(k) of the Patents Act excludes mathematical methods, business methods, computer program per se and algorithms from the patentable subject matter. According to the Computer Related Inventions (CRI) guidelines issued by the Office of the Controller General of Patents, Designs and Trademarks on 19th February, 2016, the computer program in itself is never patentable. The Examiners are advised to deny the claims if the contribution lies only in mathematical method, business method or algorithm. However, software can be patented in India if the software is in conjunction with a new hardware. In other words, the software must be in relation to a specific hardware (a device or apparatus) and the claims will include the device or apparatus used in conjunction with the software. Inventions that are combined with hardware and software features that are inventive, novel and hold industrial applicability are patentable.
Misconceptions around potency of software patents would do a disservice to everyone, including their proponents. What it all boils down to is a lie by omission, much like the lie just published in this article, disseminated under numerous headlines including "America's always had black inventors – even when the patent system explicitly excluded them".
This is a decent article (not much like the propaganda one finds in lawyers' sites who market their services) as it clarifies that inventorship does not require patents. In software we count lines and quality of code rather than assess something silly such as patents. People can invent with or without expensive papers to 'prove' merit. From the article:
One group of prolific innovators, however, has been largely ignored by history: black inventors born or forced into American slavery. Though U.S. patent law was created with color-blind language to foster innovation, the patent system consistently excluded these inventors from recognition.

As a law professor and a licensed patent attorney, I understand both the importance of protecting inventions and the negative impact of being unable to use the law to do so. But despite patents being largely out of reach to them throughout early U.S. history, both slaves and free African-Americans did invent and innovate.
We are often being told by the patent microcosm that patents are necessary for innovation or are a measure (or surrogate) of innovation. Basing one's worldview on such a belief leads to claims that rich nations like Switzerland innovate the most rather than rich nations being able to patent (expensive) the most — a subject which we tackled here last year. █
02.18.17
SIPO, China (Sina), Singapore and the failure to learn the West's tough lessons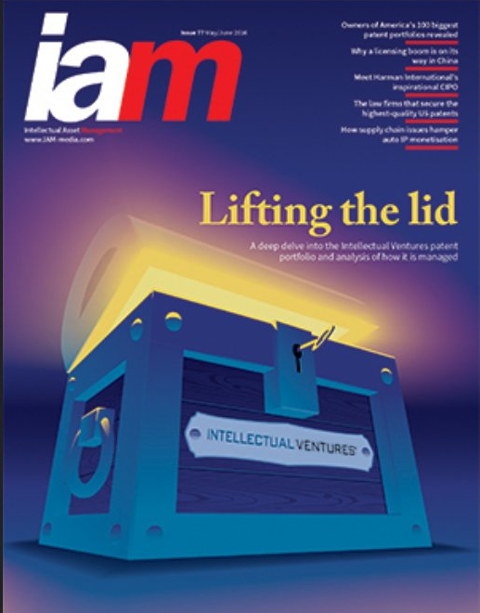 Summary: Disintegration of Intellectual Ventures (further shrinkage after losing software patents at CAFC), China's massive patent bubble, and Singapore's implicit invitation/facilitation of patent trolls (bubble economy)
IAM 'magazine', the unofficial voice of patent trolls, seems happy with the migration (or outsourcing) of troll activity to east Asia. That's why IAM writes so much about Asia these days (as does MIP), except when it grooms the world's biggest troll and Microsoft's vast patent troll, Intellectual Ventures, which now continues its slow death based on IAM's latest blog (filled with promotional language). After patents were 'imported' from Kodak they apparently move back to east Asia:
Intellectual Ventures has sold a portfolio of around 4,000 former Kodak patents to Dominion Harbor in another sign that the IP giant is actively slimming down its vast portfolio.

This is the fourth deal that IV has done with Dominion, including one in November last year which saw around 50 assets change hands. The firm also sold patents to Equitable IP, the monetisation business led by former ICAP Patent Brokerage CEO Dean Becker, as it has upped its rate of disposals. This blog also reported last year on the disposal of assets to a company called China Star Optoelectronics Technology (CSOT) by what appeared to be an IV vehicle. But none of those deals approach the size of the Kodak transaction with Dominion.
This kind of shift or passage of patents to China was frequently seen in previous years when large Chinese companies bought patents by the thousands. These were bought from the West, where post-AIA patent values diminished. We gave numerous examples of that and last year, naming — amongst others — Singapore, which reportedly doubles down on patent trolling (after Creative had made it (in)famous in 2016, by trolling very major companies in Singapore [1, 2]). This is what IAM wrote with highly sanitised language (e.g. trolling described as "IP value creation" by "patent monetisation entities"):
A new Singapore government report recommends "bringing in" or creating patent monetisation entities, as well as other kinds of other intermediary, to boost the country's IP commercialisation capabilities.

Published earlier this week, the report comes from the Committee on the Future Economy (CFE), which was established in January 2016 to review Singapore's longer term economic strategy. Among seven broad strategy recommendations made one to "strengthen enterprise capabilities to innovate and scale up", with IP value creation a central pillar.
East Asian patent systems not only lowered their patent bar (China's in particular) but also fostered a lot of litigation — a grave mistake which brings rise to trolls. The trend is noteworthy because some of these Chinese lawsuits are nowadays being filed by Chinese companies in the US and the EU. These chickens will come home and abroad to roost. █