06.02.23
Windows down to 11% in Africa: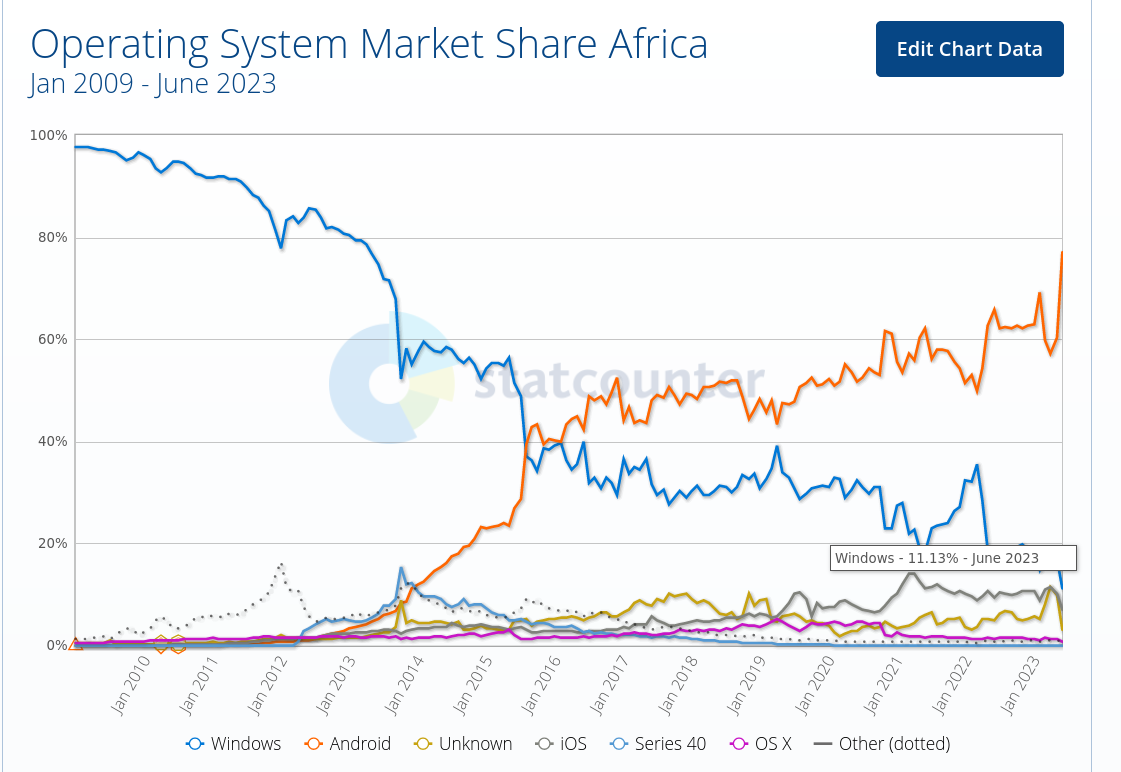 Summary: Microsoft, with 80 billion dollars in longterm debt and endless layoffs, is losing the monopolies; the media doesn't mention this, but some publicly-accessible data helps demonstrate that
THE MEDIA is in a truly terrible shape, but we can say here what the media is mostly ignoring, maybe because it's considered "advertisers-unfriendly".
We're now in the month of June. The numbers from African are quite telling (Android, which includes Linux, approaches 80% market share), GNU/Linux + KDE + DRM (SteamOS/Steam Deck) means that gamers are flocking to GNU/Linux (Microsoft's grip on gamers is slipping), GNU/Linux apparently rises to 14% market share in India, and worldwide GNU/Linux is estimated at 3% now (an all-time high by this firm's yardstick; it had issues with unclassified data in recent months). The news must be very displeasing to Microsoft, which is laying off a lot of staff every month this year. Since all this "HEY HI" (AI) hype in the media started back in January (Microsoft SPAM, paid-for chaff that distracts from layoffs) the market share of Bing fell and continues to fall.
"Microsoft is run by thugs and criminals, so wasn't this blackmail expected?"Reportedly, as of today, Microsoft is blackmailing the UK over the decision of CMA. Microsoft is run by thugs and criminals, so wasn't this blackmail expected? █