02.17.08
Permalink Comments off

Send this to a friend
Several days ago, a couple of OOXML patent issues were brought back to the surface. Then first was incompatibility of Microsoft's promise with the GNU GPL. The second was its incompatibility with small and lesser-known developers. OOXML was made by the rich, to serve the rich (Microsoft Office) and be caught up by the rich (e.g. Apple).
Here is a timely news story which teaches us (yet again) why software patent encumbrances can totally ruin a protocol or a standard. These encumbrances shatter to pieces competitors.
A suburban Philadelphia firm whose sole business is to buy up technology patents is trying to force large cable operators and major broadcasters to pay substantial license fees on the transmission of digital TV signals and Internet services.
What is the ownership here? Signals. Yes, signals can be an ownership of a person, at least based on the USPTO's definition, as was confirmed very recently.
USPTO calling data 'tangible' result

I want to see how data processing is producing tangible result. Mere processing a data produces new data. And data is not tangible.
By no stretch of imagination can this be seen as acceptable. What's next? Patenting a song? Patenting a singer's voice? █
Permalink Comments off

Send this to a friend
"Get me into that and goddam, we'll make so much money!"
–Bill Gates, Microsoft (source)
"The Gates Foundation does wonderful work, but it's only a portion of its many activities and functions…"Watch yesterday's news digest for various stories and some of the latest movements in the Gates Foundation and Bill Gates' private investment firm. Also consider the previous post about head-changing at the Foundation. If you are a new reader and such power shifts mean very little to you, read this and this.
The Gates Foundation does wonderful work, but it's only a portion of its many activities and functions, some of which include tax evasion, investment in questionable ventures and possibly the flirting with politicians' 'pet charities', which buy political influence (think antitrust).
A few days ago it emerged that there is another unfortunate side effect in the endeavors of the Foundation on good deeds [via Bob Sutor]
Gates Foundation's Influence Criticized

The chief of malaria for the World Health Organization has complained that the growing dominance of malaria research by the Bill and Melinda Gates Foundation risks stifling a diversity of views among scientists and wiping out the world health agency's policy-making function.
This leads to another news story. Jointly, the Gates Foundation and Microsoft work on strengthening the monopoly by handing out Vista-loaded PCs. Russian subsidies were mentioned just days ago and a new discussion about this revealed that the same thing is happening in Portugal.
In my country (Portugal) we have a very similar deal, available to all students and teachers in high school, which is subsidized by the cellphone/mobile ISP companies, the government and probably Microsoft, where you can get a laptop for 150 euros with a contract for 2 years for the mobile internet access with a nice discount from the usual monthly fees, from several well known laptop manufacturers (HP, Toshiba), and pretty decent machines also (Core Duo, 1 Gb RAM, the only downside is they all have integrated graphics cards), of course they all come with Windows Vista Home Premium as well.
Remember that such practices are intended to achieve dependence [1, 2, 3, 4, 5, 6, 7, 8]. This is a blatantly anti-Linux tactic. █
Permalink Comments off

Send this to a friend
A few days ago we mentioned a small rant about SLED (shown above). It came from the media, so it was noteworthy. The following new blog item voices other concerns about the OpenSUSE Live CD.
anyways, I tried out the opensuse livecd (vesion 1.0.61) last night, and it was… odd. I was too tired to poke around much – I just wanted to have a backup run overnight – so I only really noticed negative things. sorry.
The goal here is to show that SUSE is not at the forefront of GNU/Linux development. In many ways, it seems to have lost its lead. SUSE was probably the best GNU/Linux distribution out there before the deal with Microsoft. Jermey Allison sort of confirmed this in our interview with him. I was a SUSE user myself before the deal. I was a SUSE faithful for years, but Novell's post-Messman management took a wild ride.
This is not just a matter of diplomacy and law (software patents), but also a question of technical direction. As we point out regularly (even days ago), Novell's Mono is entering other GNU/Linux distribution and this raises serious issues, especially with respect to long-term impact.
The following is not exactly news, but among the development milestones mentioned in the latest KDE digest you have this:
Mono (C#) KDE bindings reach a usable state.

The KDE team is hopefully not planning to integrate Mono with the desktop environment's core. Be aware that Novell is still working on KDE, so it's part of its agenda. What's more, the new leader of the OpenSUSE project is a long-time KDE developer.
It's worth keeping an eye open, especially knowing Jody Goldberg's involvement with ECMA (for improved OOXML documentation). He is a former Novell employee (departed months ago), much like Miguel de Icaza who preaches about the greatness of OOXML while wearing a Novell VP hat in Microsoft conferences. █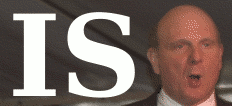 Who 0wnZ your ISO today?
Remember what really happened before OOXML got fast-tracked? If not, go ahead and find out. The meeting in Geneva is not any better [1, 2, 3, 4, 5]. With blacklisting of opposition it turns out to be more of a corruption (of policy) than just a farce. It's outrageous, scandalous, but nobody dares to speak out and take effective action. The European Commission is now looking at it (antitrust probe), but it might be too little too late.
A few days ago, Stephane informed us that ECMA is virtually controlled by Microsoft, not just hired by Microsoft (mind his comment). It is curious now that we discover more details about the utterly sad state of the whole process. To quote a small fragment:
So you can see what great power Ecma has over JTC1 — they can submit any standard they want for Fast Track, and no one in JTC1 can stop them, or even remove their right to submit Fast Tracks.

This may explain why Ecma is able to command such high membership fees. A full voting membership in OASIS, which would allow a company to help produce an OASIS Standard for later submission to JTC1 under PAS process, this costs $1,100 for a small company. To join the US NB and be able to lobby for a Fast Track submission from the US, this will cost you $9,500. But to join Ecma as a voting member (what they call an "Ordinary Member") this will cost you 70,000 Swiss Francs, or $64,000. That is what no-questions-asked Fast Track service is worth. I think that, from Microsoft's perspective, the extra $63,900 is money well spent. But what about from JTC1′s perspective? They don't get this extra money. So what's their excuse for having such permissive Fast Track procedures that give Ecma such control?
It is worth noting those money barriers because we keep stressing the fact that small developers haven't a chance of receiving legal protection for OOXML. Moreover, recall incentives (bribes) which were offered by Microsoft to its partners in Sweden (among other such examples). Participation can be costly, meaning that free and open standards are controlled by the rich, virtually to serve the rich. If this sounds familiar, it should. It is the same story with software patents.
Another recent issue with ECMA is this one.
Ecma's response is to deny the request, explaining that there is no need to change the name because "we believe there is no confusion".
Yes, ECMA's seemingly-infinite vanity is showing. How truly appalling. █
Permalink Comments off

Send this to a friend
Sun Microsystems has been an exceptionally polite and forthcoming company recently. It managed to be credited for a lot of things and its contribution with software such as OpenOffice.org must not be forgotten. It is irksome, however, when voices from within the company send out some warning signals. Let it be more specific and explicit for a moment.
When Sun acquires Free software projects and their parent companies, people raise many questions, especially with regard to motive. Sun's acquisition of MySQL, for instance, may be fine news for Free software, but not for Linux.
Last week, DisinformationWeek published the following article.
CEO Schwartz says that the Solaris, Java, virtualization, MySQL combo is best for development.

[...]

MySQL brings another key set of developers, the users of the integrated open source LAMP stack, he said. LAMP stands for Linux, Apache, MySQL, and PHP or Perl. The "L" doesn't have to be taken literally, he added. Sun can and will substitute Solaris for Linux in the stack.
You can hopefully see where it is heading. MySQL might, after all, not only be a route for entering customers' turf and selling hardware to them. With Solaris, Sun has greater control.
Those protective of Sun would speak about OpenSolaris and the companies' general openness (CDDL critique aside). But in the past few days alone there were two incidents reported, in addition to others which we can find and post here given some further (re)search:
From the 14th of this month:
Roy Fielding[1] finally quit the OpenSolaris community today, see his resignation letter[2]. The kettle finally boiled over and the realization come to many (but not all) that Sun is publishing their Solaris code for marketing purposes, rather than creating an independent, community-led, open source project with the ability to make real decisions.
This one is also very recent: Sun Confirms Inflexability & Community Disregard
On Monday OGB Chairman Rich Teer posted Sun's answer (crafted by Mr Bill Franklin with the assistance of Mr. Simon Phipps) to the OGB's request for clarification regarding the highly controversial decision to name Project Indiana "OpenSolaris". The issue is highly mixed, on one hand you have Sun Microsystems looking for a way to monetize OpenSolaris, on the other hand they are redefining the term "OpenSolaris", around which everything is based, without a single regard for the community.
It would be hasty to any draw comparisons to Microsoft's Port 25 here, because Microsoft does not touch GPL (not directly anyway. For that it has proxies like Citrix). Going further back to the end of November 2007 there is the following memorable story:
Sun bullied, used threats to gain control of open source project, former owner says

[...]

Sun used strong-arm tactics and made threats to the owners of an open-source directory project to wrestle away control, according to one of the former owners and creators of the project.
Sun later defended its stance and told its own side of the story. A bad taste in some people's mouths remained nonetheless. Early in the year Andy Morton said explicitly that there would be no merge with OpenSolaris. There was also great resistance to ZFS, which Oracle's btrfs might render unnecessary anyway.
A recent discussion on the lkml examined the possibility of a Linux implementation of Sun's ZFS. It was pointed out that the file system is released under the GPL-incompatible CDDL, and that Sun has filed numerous patents to prevent ZFS from being reverse engineered.
Mind the mentioning of software patents again. We mentioned this when Sun announced its acquisition of MySQL. Lastly, here is another memorable incident.
Save a Penguin, Unplug a Linux Server' May Win Most-Flamable E-Mail Award

I just got an e-mail from Sun which is probably the largest violation of L. Ron Hubbard's Survey tech that I've ever seen. It was an e-mail with the title of, "Save a Penguin – Unplug a Linux Server Today".
This post is far from being anti-Sun. Some of Sun's fine software products were advocated here before simply because they are appreciated. But there remains this possibility that egocentricity (not anything too sinister) is playing a considerable role, so it's something to be aware of and cautious about. █
Permalink Comments off

Send this to a friend