10.28.08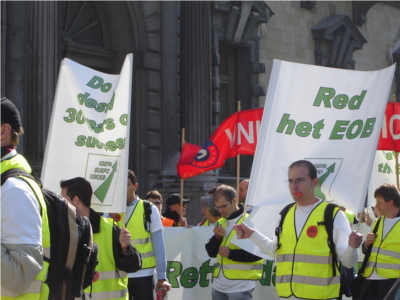 EPO Exposes Itself, Microsoft Exploits It
Since the latest development at the European Patent Office had occurred, we've posted a couple of items to explain how deplorable it was [1, 2]. Glyn Moody wrote a critical article about it, as well. To quote just a fragment:
Court decisions on whether software patents are permissible within Europe have see-sawed wildly, with some decisions in favour being counterbalanced by others that confirm that software cannot be patented "as such". Unfortunately, those meaningless weasel words "as such" have provided a tiny opening for proponents of software patents – typically large companies that want to use intellectual monopolies to stifle competition, and software patent lawyers who want more lucrative business – that the latter are constantly trying to widen.

[...]

One trick that has been tried by software patent lawyers is to define something called a "computer-implemented invention", which is basically a repackaging of software to include a technical effect in order to be patentable.
Digital Majority has found some more evidence of what was mentioned last week. Under many people's noses, Microsoft is already applying for software patents in Europe, and quite successfully in fact.
Last week Marshall Phelps observed that Europe thinks it does not grant software patents, but that actually it does. When the enlarged board answers the president's questions, maybe we can all have the same certainty as Microsoft's VP of IP Strategy and Policy.
India's Law Bypassed by Multi-nationals
It's happening again, but this time around, Google deserves the blame. Previously it was Microsoft, Nokia, and BT. They are trying to obtain patents on software-implemented methods, despite the fact that Indian patent laws forbid it.
Google has filed for a patent in India, for a map based local search application. This appears to essentially be a patent for Google Local on Mobile, a service launched in 2005, and subsequently renamed/replaced by Google Maps for mobile.
This is a soft patent.
Indians needs to respond to it [1, 2, 3, 4, 5, 6, 7, 8, 9, 10, 11] as the issue won't just go away. In absence of opposition, it's bound to get worse over time.
"Value your freedom or you will lose it, teaches history. "Don't bother us with politics," respond those who don't want to learn."
–Richard Stallman
Companies will always strive to seize ownership not only of physical things, but also content and even simple ideas. "Greed knows no bounds," as Microsoft once exclaimed so hypocritically, so it's time to stand up against this.
The Klausner Troll
A report from Reuters suggests that another patent troll got its way. It is a very silly software patent which this dispute involved. The patent was discussed (ridiculed) in several Web sites before.
Klausner said it granted Verizon Wireless, owned by Verizon Communications Inc and Vodafone Group, a patent license related to voice message alerts.
Here is a less restrained coverage of this.
Before you get uppity about having us call Klausner Technologies a patent troll, consider what they've been doing since their invention of the PDA: Suing everyone under the sun who has used visual voicemail.
As the post above shows, there is still resentment and denouncement of the term "patent troll." It's disappointing to find the IEEE entertaining defenders of patents trolls. Why would they sink to this level?
Need for Reform
NetApp appears to be suffering quite badly. Yesterday alone there was some evidence in the news, including the cancellation of their User Conference.
NetApp chucks staff at OS merger

[...]

Frustrated by drawn-out development schedules, NetApp has put all its US-based engineers to work on merging 7G and GX, its two ONTAP operating systems.
In another sign of how far-reaching the economic downturn has become, NetApp on Monday said it plans to cancel its user conference scheduled for February next year.
Like several other struggling companies (e.g. Avistar [1, 2, 3, 4, 5, 6, 7, 8]), they seem to be using their patents offensively, hoping to make a buck this way. The problem is that they attack Free/open source software projects. We covered this before. NetApp writes about this in one of its blogs. Witness the chaotic state of affairs (or general state) of the patent office, which has not yet suffered the wrath of budget cuts.
The patent office currently has a backlog of 730,000 patents, and they can't hire fast enough to close the gap. Waiting could take years.
Government officials elevated the USPTO's funding a few months ago, but is it sustainable in these difficult times? There seems to be unrest, lack of resources, and dissatisfaction from applicants. Over at Groklaw, this court case is being covered as well. The conclusion?
I vote for a new system, frankly. This one, as the NetApp-Sun litigation is just the most recent proof, is seriously broken.
Amen to that. █