12.18.08
Gemini version available ♊︎
Microsoft and Intellectual Monopolies
Some readers might still remember how Microsoft extorted a company, urging it to pay for intellectual monopolies. There were even threats of an embargo, which showed that Microsoft is a patent aggressor. Well, that's resolved now, probably meaning that Microsoft will be paid for products it has nothing to do with. They essentially use patents as a welfare programme.
Microsoft and Primax Electronics Ltd. of Taiwan say they've reached a licensing deal over the Redmond company's patented mouse technologies, resolving a complaint that Microsoft filed this summer with the U.S. International Trade Commission.

[...]

Separately, Microsoft yesterday settled a series of longstanding patent disputes with Alcatel-Lucent.
The Alcatel-Lucent tiff with Microsoft has gone on for quite some time [1, 2, 3, 4, 5] and they seem to have just reached a secret settlement.
Microsoft, the world's biggest software maker, and Alcatel-Lucent settled most of their patent litigation, officials of the two companies said Tuesday.

Financial terms were not disclosed. The agreement covers six lawsuits, including one that resulted in the largest patent verdict in U.S. history before it was thrown out by a judge. Microsoft will continue its appeal of a $368 million verdict it lost that swelled to $511.6 million in June, the companies said.

The companies have been fighting since 2002 when Lucent, then a standalone concern, began demanding royalties from Microsoft customers Gateway and Dell over features in the Microsoft Windows operating system. A federal jury in San Diego in one case awarded Alcatel $1.52 billion – the largest patent verdict ever – over digital music technology.
Patent Mess Getting Worse
TechDirt let its readers know that Stanford had created a valuable source that's a database of patent litigation.
Over at Stanford, some law professors have been putting together a database of IP litigation from the past few years, called the Stanford IP Litigation Clearinghouse. The Law.com article claims that there are "surprising" facts already coming out of the database, but they don't seem to be any different than what's been known for a while (specifically, that the number of patent lawsuits has been relatively constant over the past few years).
Here is the article that looks at some numbers.
It's not true that patent infringement suits are going through the roof — filings have held steady for eight years — but there are a whole lot more defendants out there looking for lawyers.

While many IP litigators have been busier in the past few years, the actual number of infringement suits has hovered between 2,300 and 2,800 a year. But in 2007, the number of defendants named in these cases jumped from around 6,000 in 2006 to 9,000 (see PDF chart; registration required).

That's just one of the facts revealed by Stanford Law School's Intellectual Property Litigation Clearinghouse, a searchable online database unveiled Monday evening that tracks all patent cases since 2000. Offering hard statistics on trends, from how many suits have been filed to how plaintiffs fare in front of a particular judge, the clearinghouse is being greeted enthusiastically by lawyers.
So, all in all, it's getting worse. Lawsuits are not a sign of success but a sign of unnecessary friction and distraction. Another new lawsuit has just hit eBay, which is part of the coalition to end software patents. [via Digital Majority]
Netcraft sued eBay and PayPal for infringement of its patents that cover an "internet billing method." During claim construction, the Western District of Wisconsin found that the limitation of "providing a communications link through equipment of the third party" requires that an infringer "provid[e] customers with internet access." Of course, eBay and PayPal do not provide internet access.
Here is a redundant lawsuit being dropped:
In July this year Hasbro set the legal dogs on Scrabulous, the popular Facebook-based Scrabble knock-off, saying it infringed on the intellectual property rights of the board game.

[...]

Scrabulous was later removed from Facebook, following a DMCA take-down order from Hasbro.
Europe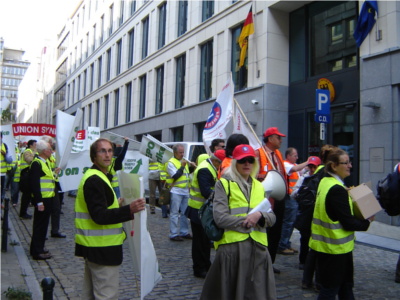 Trademark laws can be abused too. We mentioned this one example the other day and it turns out that the EU won't quite permit this. In fact, the push to end the pro-software patents lobbies in Europe persists as well, so intellectual monopolies as a whole are being challenged.
What will it be in the United Kingdom after Nokia/Symbian did its damage?
Following a recent legal appeal by mobile phone OS vendor (and now Nokia subsidiary), Symbian, the UK Intellectual Property Office (IPO) has just issued a practice note relating to software patentability that, according to patent attorneys, still does not bring the UK fully in line with Europe, in spite of a recent court case that suggested the IPO should change its previous practice.
We always have Nokia to blame, but had it not been Symbian, maybe it would be something or someone else.
What Lies Ahead
We wrote about "Linux Defenders" before, mostly to remark that it's challenging players in the system rather than the system itself [1, 2, 3, 4, 5].
Here is some more coverage that we didn't see before:
We ought to have the interview with OIN real soon now.
The monopolists and their cronies are devising a mechanism even worse than patents and copyrights to marginalise the masses and empower the MAFIAA monopolies. It's an appalling case of people elected by the people (politicians) secretly meeting other rich people behind closed door to conspire against the very same people who voted for them. The ACTA is a crime against society, which is why it's kept so low-profile [1, 2, 3, 4, 5, 6, 7, 8, 9, 10, 11, 12, 13, 14, 15, 16]. It will remain under the wraps until it's impossible to protest against it or reverse this crime.
"DRM is nearly always the result of a conspiracy of companies to restrict the technology available to the public. Such conspiracy should be a crime, and the executives responsible for it should be sentenced to prison."
–Richard Stallman
Fortunately, people are beginning to voice some concerns and express skepticism about the ACTA over at the Internet Governance Forum.
The third annual United Nations-led Internet Governance Forum in Hyderabad, India this month addressed a range of topics related to intellectual property rights and the free flow of information, and provided a venue for doubts about a closed-door international anti-counterfeiting treaty negotiation being led by the United States and Japan.

The proposed Anti-Counterfeiting Trade Agreement (ACTA) intended to align governments in their fights against illicit trade, might have the effect of stopping more positive developments in intellectual property law that emerged over the last year, warned Eddan Katz, international affairs director at the Electronic Frontier Foundation.

Developments related to IP were presented in several workshops by the dynamic coalitions on access to knowledge and open standards. Once again IP issues did not make it to the main sessions of the Internet Governance Forum (IGF), and IP was not mentioned more than three or four times in the main sessions rather ephemerally, with the exception of ACTA.

Brazilian diplomat Everton Lucero in a main session warned against ACTA as a negative example of the contrary to what is seen as the major success model of the IGF: multi-stakeholder cooperation between governments, industry and civil society and also the so-called "enhanced cooperation." "In fact [ACTA] is the worst example," Lucero told Intellectual Property Watch.
Tell people about the ACTA. The media does not cover this because it's controlled by the very same media companies that are committing this crime against the people. █
Permalink

Send this to a friend