06.09.09
To use your own IRC client, join channel #boycottnovell in FreeNode.
Permalink Comments off

Send this to a friend
Contents
Red Hat got publicity in the market share place. Being called "Linux" on Television, they watched as the term "Linux" as an operating system was spread on Television. And they continue to do so.

That should of been GNU/Linux, that should have been Stallman watching with the Red Hat developers.

Content creation used to be the stronghold of Apple and it's OSX operating system, but recently there have been signs that content producers are more and more attracted to Linux. What made me realize that creative software on Linux had made it with the content creation crowd is this poll on the DAZ Studio forums: more than 150 Daz Studio users would like to see a Linux version.

[...]

To conclude I would say that content producers like the idea of Linux: its stable, comes with a lot of free creative software and do not require much administration after the machine is installed. It is also much cheaper to purchase a Linux desktop that an Apple Mac, but what currently let these users down is the lack of intuitive, easy to use and expendable creative software in some fields.

And the people were cowed in terror and gave homage to Microsoft, and endured the many grave and perilous trials which the Windows platform and its greatly bogacious Licence forced upon them. And once again did they cry to Turing and von Neumann and Moore for a deliverer, but none was found equal to the task until the birth of Linux.

At the same time you don't need to know that Google runs Linux, that most top Web sites run Apache servers under Linux, or that your office may be running Linux right now, while what looks like your Windows desktop is actually a virtualizer.

Summary:
Editorial: The NILFS Filesystem
Distributions announced last week:
· OpenSolaris 2009.06 Is Here
· grml 2009.05 Improves USB Installation
· Elive 1.9.28 Fixes Macbook Boot Issue
· Untangle Gateway 6.2.0 Released

Asked if Linux could do as good a job in a Netbook as Microsoft XP, ARM's East replies: "Today the Linux world is not as good as Microsoft from the point of view of the user, but it's getting rapidly better. So it will get to be as good as Microsoft and, when that happens, the genie will be out of the bottle. Because Linux is much more cost-effective than Microsoft, people will ask: 'Why do we use Microsoft?'"

Desktop

And, I must add, have it your way at a price almost anyone can afford. The new Linux netbooks will crowd the $100 price barrier. And, as Dell just showed with its Inspiron 15n and Ubuntu Linux you can have a full-powered Linux laptop for $299.

Or, as some of my readers have pointed out, you can jazz it up and still be under $500. "I bumped it up to a core 2 duo 2.0GHz processor and 4GB RAM for $459. Now that's a pretty sweet laptop for under $500."

Exactly.

And that's why, if you want to save money and still have a great computer, you'll want to consider Linux. For the price, you simply can't beat it.

Business thrives on mobile computing. And with mobile computing comes a need for solid, reliable, secure hardware. What better match for the on the go professional than a laptop with the power to handle any task, an operating system secure enough to work on the road, and an infrastructure offering multiple lines of support. The System 76 Pangolin Performance laptop is all that and more.

Server

That said, all Unix variants (and even Linux distributions) do differ a lot in the locations and format of their configuration files, which is what Webmin is primarily focused on managing. So there is still quite some work involved in supporting new operating systems.

Companies are growing more comfortable with the concept of open source development, but they don't always approach it in the same way. Some try to build communities; some try to work in-house first then slowly branch out, and some just jump in with both feet and swim in the deep end from day one.

Kernel Space

Applications

It is still in alpha so it should only be used for testing for now. The Sourceforge wiki for Freeplane says "Our main goals for Freeplane are: Better Mind Map editor than FreeMind".

Now Certified: Sims 3

We are pleased to announce the release of Cedega 7.3 with day and date support for The Sims 3. With Cedega 7.3, Members don't have to wait to play one of 2009′s most anticipated games, you can play on Launch Day!

Today, in our Linux Page (in Spanish) we added a brief news about Alien-GUI which is an interesting software developed to grafically (and automatically) convert tar, deb in RPM.

KDE

Team Tiny Core is pleased to announce the release of Tiny Core V2.0 and introducing MicroCore a 7MB no X environment iso based on Tiny Core

Only eight days after the fourth release candidate was made available for testing, Tiny Core lead developer Robert Shingledecker has announced the final release of Tiny Core Linux 2.0 and Micro Core Linux 2.0. Tiny Core is only about 10 MB in size and is based on the 2.6.29.1 Linux kernel. Micro Core is a new 7 MB separate ISO that's based on the same core as Tiny Core, but does not include the X environment.

After some time in the making, the Source Mage Cauldron team would like to present you with the 0.10.0 stable ISO! This is the latest stable ISO release for installing Source Mage GNU/Linux. It comes with many improvements over the previous 0.9.6 series of ISOs.

We are pleased to announce that Untangle 6.2 is now available for download. Highlights of the release are our new multiWAN services: WAN Balancer and WAN Failover. Also included in this release is Ad Blocker, for filtering out banner advertisements.

xPUD

The xPUD developers have announced the release of version 0.9 of xPUD, a fast, lightweight, Ubuntu-based Linux distribution with a simple web-based user interface. The new release includes several improvements and new features, including an updated Wi-Fi and Ethernet network manager.

We're proud to announce a new version of xPUD, a small and fast Linux with easy-to-use user interface, is now released. Version 0.9 is full of improvements and exciting new features.

Red Hat

Linux distributor Red Hat and its affiliated Fedora Project, which creates the development release that eventually becomes Red Hat's commercially supported Enterprise Linux distro, have gone one louder this morning with the release of Fedora 11.

The new release has incremental improvements to lots of features, much as prior Linuxes have had, and the fact that there are no earth-shattering feature changes is really a testament to the fact that the Linux kernel and its related systems software and application stack (yes, I know Linux is not an operating system, strictly speaking, but to some ways of thinking, neither is Windows) has become a mature and credible alternative to Windows and Unix. Even on laptops and desktops.

The Fedora Project, a Red Hat, Inc. (NYSE: RHT – News) sponsored and community-supported open source collaboration project, today announced the availability of Fedora 11, the latest version of its free open source operating system. The community's eleventh release includes the broadest feature set to date, spotlights developments in software management and sound, improves key virtualization components and introduces Fedora Community, a portal project beta.

Red Hat (NYSE: RHT), the world's leading provider of open source solutions, today announced that the world's largest independent tire and wheel retailer Discount Tire Company has achieved success with a combination of Red Hat Enterprise Linux and Red Hat Satellite for its rapidly growing e-commerce business. With Red Hat solutions, Discount Tire has experienced increased performance, reliability, staff productivity and scalability for its critical IT infrastructure.

Ubuntu

We'll admit it, we expected to be knee-deep in Android gear by now. However, it seems like the consumer electronics industry wanted to build more mature products around versions 1.5 and 2.0 of Google's open source OS instead. Regardless, we're in the thick of it now having just witnessed a deluge of Android-based smartbooks / netbooks (expected before October) at Computex and Google's own announcement that at least 18 new Android handsets will launch this year.

Phones

Atmel is sampling a faster version of its low-power ARM926EJ-S-based processor, offered with a free Linux BSP. The SAM9G10 ramps up to a 266MHz clock rate compared to the SAM9261-S's 188MHz, boosts bus frequency to 133MHz, up from 94MHz, and consumes only 100mW in full-power mode, claims the company.

Perhaps the most significant mobile platform to appear on the scene since Mr. Jobs and his team at Apple introduced the iPhone, Google's Android offers a very compelling platform for cellular providers, mobile developers and end-users.

Hping is open-source network testing software, and some time ago one our software gurus compiled a version of Hping to run on the Sharp Zaurus, which is a fairly ancient Linux based mobile device.

Sub-notebooks
The shift among local organizations toward open source software (OSS) is driving more IT professionals to undergo additional training to equip themselves with the right skills.

For example, Yuma Tejima, telecom manager for Asia at Genesys Conferencing, was keen on the Certificate of Performance in Enterprise Linux Administration (Copela) because his employer was preparing to move from SCO to the Red Hat Linux platform.

Now this is, after 5 minutes of fiddling with pretty much every toolbar possible, how OpenOffice.org 3.01 looks on my Fedora 10:

I just came back from OpenRemote's one year old birthday party, a community meet-up arranged by Jean-Luc Vanhulst from Holland. We were staying outside of Amsterdam in a hotel called citizenM.

This is where open source software offers an attractive option as it is legal and affordable.

Copy? Go right ahead

Unlike proprietary software, users are encouraged to use, study, copy, modify and re-distribute open source programs.

The software can be legally used on any number of computers with no restrictions.

In practical terms, this means users do not have to pay licensing fees for each and every user and program used.

For businesses that want to use open source programs, they should buy those which come with comprehensive support for customisation and assistance in installing new programs or security patches for new security threats.

Linux is one open source software used as an operating system. Many companies offer different versions to suit different needs.

Linux is also available as a subscription service, which means that business users subscribe to a comprehensive range of services and product updates.

At Research In Motion's Wireless Enterprise Symposium in Orlando last month, Jim Balsillie, co-CEO of the BlackBerry maker candidly shared with ZDNet Asia's sister site, Silicon.com, about touchscreen devices, CIOs and the future of the BlackBerry.

Databases

Last week I spent a bit of time looking at The State of MySQL and mentioned some of the "outside innovation" taking place in the community. This week I'd like to focus on one of the more significant developments: XtraDB and xtrabackup, both developed by Percona.

Now you may not have heard much about Percona before. Founded in 2006 by Peter Zaitsev and Vadim Tkachenko with the goal of providing consulting for MySQL users, the company has grown in the last few years to employ some of the leading experts in MySQL and InnoDB internals. Several of the employees work on enhancing MySQL and InnoDB to meet the needs of their [paying] customers as well as the community at large. They've contributed numerous patches and ideas as well as writing on their popular MySQL Performance Blog and presenting at various conferences.

Pricing was not disclosed. According to Greenplum, the software runs on SUSE Linux Enterprise Server 10.2 (64-bit), Red Hat Enterprise Linux 5.x (64-bit), CentOS Linux 5.x (64-bit) and Sun Solaris 10U5+ (64-bit). Greenplum Database 3.3 is supported on server hardware from a range of vendors, including HP, Dell, Sun and IBM.

Monty Widenius is waiting for a call from Oracle Corp. that he knows will very likely never come.

The Finnish software pioneer, who founded open-source database management software company MySQL AB and sold it last year to Sun Microsystems Inc. for $1 billion, has offered his services to Oracle now that his brainchild is to be nestled inside the business software giant.

Statistics

This is a presentation by George Dafernos at the Oekonux Conference (Manchester 2009). Some interesting statistics with regards to FreeBSD developers, releases, productivity etc etc.

The Joomla Project is excited to celebrate a remarkable benchmark in the world of open source—our 10 millionth download.

Fog Computing

Events

An open source development team in Portland, Oregon has released OpenConferenceWare, a sophisticated free package for processing event session proposals and displaying event schedules.

The Central American Open-Source Software Festival [es] (ECSL09 for its initials in Spanish) will take place on June 17-21 in Estelí, Nicaragua. This will be the first opportunity for many enthusiasts of open-source and free software from across Central America to come together to share experiences, promote their projects, establish common objectives, and to find ways to work together. The schedule of events [es] includes workshops and panels where different members from communities will lead and participate in these activities.

As in certain commercial Mainframe solutions found in the market, but often at a dissuasive price, the Cobos Project enables developers to work locally: the required source files (Cobol, CICS, DB2) are downloaded on Eclipse then reloaded on the mainframe following the intervention of the developer, who can work totally autonomously on an economical workstation.

Google

Sun

Mozilla

Business

University was recognized among the top 100 organizations in the nation by CIO magazine for its leadership in new software development models for higher education. The 22nd CIO 100 Awards recognized the IU Office of the Vice President for Information Technology (OVPIT) for its leadership in developing open source software with dozens of colleges, universities, and commercial partners.

Information Systems have played an increasingly visible role over the past several years in improving the competitiveness of business. Integrated management software is today very often a key source of significant competitive advantage. Risks and integration costs are important barriers to all the advantages you gain from such systems. That's why, today, few small- and medium-sized companies use ERP.

The significance and usage of Open source platform is increasing more than before in the current recessionary times.

Government

It's time for the City of Hamilton to start publishing its publicly available data in an open, accessible format instead of today's hodgepodge of closed, clunky and idiosyncratic legacy formats that are hard to find and even harder to use.

Negotiations between the State Services Commission and Microsoft for a new, three-year software licence deal failed last month, leading to Christie, who is president of the New Zealand Open Source Society, to call on the Auditor-General to vet agencies buying Microsoft software. Christie says such agencies risk lock-in, fail to consider alternatives and become too reliant on a single multinational vendor.

Open Access

Hardware

According to the project page, Keykeriki is intended to enable "every person to verify the security level of their own keyboard transmissions, and/or demonstrate the sniffing attacks (for educational purpose only)". Yes, "educational purposes." In case you don't know, keyboard sniffers allow the user to eavesdrop on what is being typed by analyzing the electromagnetic signals produced with each keystroke.
Censorship/Web Abuse

Greens and IND/DEM get a boost, and PSE dwindles, but the position of the UK Conservatives could be crucial for the Telecoms Package and the future of the open Internet

It's been pointed out time and time again, that if a government (or a corporation) puts together a big database of information on people, that database will be abused.

If true, this is a pretty serious escalation in the Net Neutrality wars. Someone using Comcast, please replicate the simple experiment spelled out in the article and confirm or deny the truth of it.

Copyrights
Permalink Comments off

Send this to a friend
"I saw that internally inside Microsoft many times when I was told to stay away from supporting Mono in public. They reserve the right to sue"
–Robert Scoble, former Microsoft evangelist
Summary: There is no route through which to communicate with Ubuntu regarding the Mono problem
IN the Ubuntu Web site where ideas are being proposed, some appointed moderators were seen diverting people who raise concerns about Mono to bug reporting sections. But Jeff Enns makes the fair point that: "you are not describing a bug with mono. The forums would be a better place for discussion, not bug reports. Thank you." Tony Manco spotted this one yesterday.
"[P]eople who voice concerns about Mono are sent around in loops and their freedom of expression is hence compromised."So basically, people who voice concerns about Mono are sent around in loops and their freedom of expression is hence compromised. It's the same in the forums and even in the mailing lists (although raising the issue more politely would not hurt). Thanks to Tony Manco for noticing and notifying about this. Those who express dissatisfaction with the inclusion of Mono by default* are treated as though they are enemies. But why? By whom?
A Microsoft-born company (well, created by former Microsoft employees**) that advances Mono further is now given a spot in OStatic. Their article is not about their advancement of Mono***, but it does show how Microsoft can intersect with channels of communication about Free/open source software.
Another one of our readers says that Miguel de Icaza "FUDS Google Chrome. He's concerned that it might violate the LGPL." Here is part of his message:
We are on a similar situation with Moonlight where we ended up distributing proprietary codecs for VC1 (also MPEG-LA licensed) instead of the open source ffmpeg.

Today our answer for those that want to use ffmpeg (and it is my personal choice as well, since I rather dogfood open source software) is to compile Moonlight from source code and use the ffmpeg code themselves instead of depending on proprietary codecs to be installed.
The codecs that the user relies on are imposed by the publisher, not chosen by the receiver. This means that pretending that Microsoft Moonlight is fine without Microsoft binaries is purely deceit. It ought to be added that APIs too (e.g. Silverlight) can be a patent liability, with or without codecs. █
______
* Choice is fine, but to force patent liability upon people is plainly dangerous, maybe irresponsible.
** MindTouch was last mentioned here as it helps a certain Microsoft land grab.
*** There is at least one Microsoft employee who is even working directly on Mono.
"Microsoft did sponsor the benchmark testing and the NT server was better tuned than the Linux one. Having said that, I must say that I still trust the Windows NT server would have outperformed the Linux one."
–Windows platform manager, Microsoft South Africa
Reference: Outrage at Microsoft's independent, yet sponsored NT 4.0/Linux research
Summary: Another manufactured 'benchmark' from Microsoft gets the wrath of rivals
ABOUT A month ago, 18 companies sued the Swiss government for dealing with Microsoft behind closed doors and signing expensive (probably overpriced) deals by completely excluding competition [1, 2, 3, 4, 5, 6, 7, 8, 9, 10]. This set an important legal precedence and IBM may be setting another one right now. Sadly, as far as the news is concerned, this story is only covered by a Microsoft spinner from Ziff Davis (they work with Microsoft [1, 2, 3, 4]). The author does not even bother giving voice to anyone from IBM's side, so it's virtually ghostwritten by Microsoft employees. The gist of the story is this:
IBM lawyers have contacted Microsoft about the "Who Knew?" site, which claims that customers will save money and get better performance by running WebSphere on Windows Server 2008, instead of on IBM operating systems.
The dispute here must be over deliberate deception. Microsoft has never any qualms about misrepresentation of facts and faking of benchmarks. See quote at the very top. "Get the Facts", "Linux Personas", "It's better with Windows", "[Vendor] recommends Vista" and other paid-for messages (advertisements) are disguised as "facts" or endorsements, so this is not acceptable. GNU/Linux is not the only victim .
"Microsoft has never any qualms about misrepresentation of facts and faking of benchmarks."Let's take VMware for example. It was a long time ago that Microsoft commissioned the Yankee Group to attack VMware's business [1, 2]. Yankee consequently pulled the report (VMware did not accept this libelous attack), but Microsoft still hosted its copies of the propaganda it had paid for. Microsoft later proceeded to creating anti-VMware Web site/s. In a similar vain, Microsoft is using ACT to create pro-software patents Web sites in Europe.
When will this end and why does Microsoft still wonder if circles in IT distrust it, to say the very least? █
Summary: Microsoft's renamed engine drops to oblivion shortly after its launch
ACCORDING to this new report, Microsoft's biased and potentially law-breaking search/decisions engine [1, 2, 3, 4, 5] is reaching the end of the road quite so soon, despite approximately $100 million in marketing.
To Microsoft, the online business is crucial for survival as debt comes knocking on the door. Here is the latest Mirosoft investor who seemingly loses hopes:
We've owned shares of Microsoft (MSFT) for almost seven years — with nothing to show for it. I've been wrong on the stock, and something is wrong at the company. What is it?

[...]

It appears to me, however, that the wide variety of options presented by the internet makes it a much harder beast to control through monopolistic practices. Switching from one website to another is effortless. Most publishing now happens online, so proprietary formatting is gone. As a writer, I used to have to worry constantly about whether the format of my documents would carry over to the recipient. Not anymore. Almost everything is plain text anyway, or rich text, and both of those work anywhere. Blink! Just like that, compatibility with Word disappeared as a reason to keep paying money to Microsoft.

[...]

Exhibit one is the new Microsoft Bing. Have you seen it yet? It's the company's latest attempt to gain market share in internet search, where it just can't get any traction. Its inability to make headway in online search shows that it's stuck with the desktop, the very real estate that's declining in relative value because people spend less time there than before. Nobody is going to stop Googling stuff in favor of Binging it.

It's so lopsided online that Yahoo (YHOO) isn't interested in doing any kind of deal with Microsoft. Remember a little over a year ago when Microsoft tried to buy Yahoo, and Yahoo snubbed it? That's still going on. Yahoo feels more confident in its battle against Google (GOOG) without Microsoft on its side. Yahoo CEO Carol Bartz said last week at Bank of America's 2009 Merrill Lynch tech conference, "I personally think we would be better off if we never heard the word Microsoft." That's a pretty clear repudiation.

Bing is a convenient case-in-point for what ails Microsoft. It calls itself a "decision engine," which is already lame. When I search online, I'm no more making decisions than when I drive my car and "decide" at an intersection whether to turn or keep going straight. Sure, life is a series of decisions, but what I'm doing online with search is searching. I may be finding information to help me make a decision, but the main thing I'm doing is searching. So, already, the attempt to differentiate falls flat.

Beyond that, Bing is no better at helping me make decisions than the search results at Google and Yahoo. Besides, its real game becomes clear with its focus on buying things and enticing me with its garish cashback feature. That part is inelegant and transparently against my interests. Cashback pops up from the most expensive options, and tempts me to get a 5% rebate by paying 25% more on the price. This is straight from the playbook of discredit cards and the worst retail practices. Once I wised up to cash-back being a con from Redmond, the entire set of search results from Bing became suspect. If it's skewing the shopping results toward expensive items so it has a profit margin that enables it to give me 5% back and still retain a slice for itself, why wouldn't it skew search results in some way?

[...]

Disclosure: Author owns MSFT shares.
When more investors lose faith, they'll take their money elsewhere. This leaves Microsoft less capable of operating without more loans. █
"I'm going to f—ing bury that guy, I have done it before, and I will do it again. I'm going to f—ing kill Google."
–Steve Ballmer, Microsoft CEO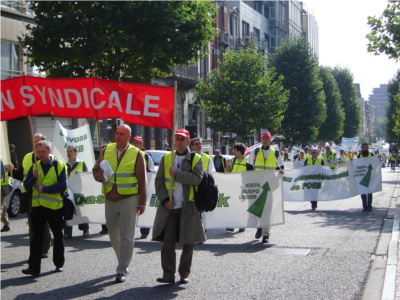 Summary: The EPO seems to be almost promoting or marketing patentability of software
SOFTWARE patents were rejected in Europe, but amid turmoil, the EPO is selling out to corporations. It does not even care about a democracy, nor does it pay attention to Spanish citizens for example.
The EPO continues walking down the wrong path. A new brochure titled "Patents for software?" has just been release by the EPO. Software patents are not legitimate in the EU. So why even produce such a brochure with a question mark as an excuse?
As the president of FFII puts it, "EPO teaches software programmers they have to read and understand 60.000 patents before writing code." The EPO has some other new additions to its Web site; to quote from this page:
Computer-implemented inventions

* Patentability of computer-implemented inventions at the EPO, module I NEW!
* Patentability of computer-implemented inventions at the EPO, module II NEW!
What on Earth is the EPO doing?
The Pirate Party, which toys with the propaganda meme (and straw man) that the copyright cartel arrogantly calls "pirate", is opposed to such abusive intellectual monopolies. Perhaps the party is worth supporting and publicly promoting*. From their site:
The Pirate Party has a constructive and reasoned proposal for an alternative to pharmaceutical patents. It would not only solve these problems, but also give more money to pharmaceutical research, while still cutting public spending on medicines in half. This is something we would like to discuss on a European level.

Patents in other areas range from the morally repulsive (like patents on living organisms) through the seriously harmful (patents on software and business methods) to the merely pointless (patents in the mature manufacturing industries).

Europe has all to gain and nothing to lose by abolishing patents outright. If we lead, the rest of the world will eventually follow.
If people don't stand up and oppose software patents, they too will likely pass. Microsoft pays lobbyists a lot of money to accomplish this goal by corrupting politicians. █
"Value your freedom or you will lose it, teaches history. "Don't bother us with politics," respond those who don't want to learn."
–Richard Stallman
_____
* It already has a seat in parliament, which gives it legitimacy as well as endorsement.
Permalink Comments off

Send this to a friend
Contents
Permalink Comments off

Send this to a friend
To use your own IRC client, join channel #boycottnovell in FreeNode.
Permalink Comments off

Send this to a friend