03.13.10
To use your own IRC client, join channel #boycottnovell in FreeNode.
Permalink Comments off

Send this to a friend
Contents
Permalink Comments off

Send this to a friend
Summary: Novell's proprietary business assets and what they have been up to in the past week
NOVELL news coverage has recently been overwhelmed by the big bid [1, 2, 3, 4, 5, 6, 7]. Novell's PR team has been very active despite all of this and it hardly even mentioned the bid, instead choosing to focus on fluff like SaaS and a survey that Novell was conducting itself in order to support its position, apparently.
Permalink Comments off

Send this to a friend
Summary: News and coverage concerning the distributions which joined Microsoft's patent racket against GNU/Linux
SUSE (SLES/SLED)
GroundWork continues to favour SLES for some reason and there is a new press release about it.
GroundWork Open Source, Inc. (GWOS http://www.gwos.com), the leader in commercial open source systems and network management software, today announced it will conclude the GWOS barCAMP Deux sessions with an exclusive release of a SUSE powered Virtual Appliance package that integrates GroundWork Monitor Enterprise 6.1 with Zendesk (www.zendesk.com).
At the high end, IBM deploys SLES for some large companies with mission-critical systems.
Implementing an IBM System z10 Enterprise Linux Server helps EFiS EDI Finance Service AG save money and the environment
Here is some guidance for anyone who wants SLED 11 installed on this HP hardware:
However, we still tested the stock version and came away impressed. For the vast majority of computing tasks – using Evolution to check your POP mail, burning a DVD disc using LightScribe (included with this SLED build) and even playing games or watching movies – the Elite 7000 is up to the task. Where we noticed a performance degradation is when we compared Linux-to-Linux between this system and a home-built PC that uses an SSD drive, an Nvidia Quadro CX graphics card and has 6GB of RAM. There was no comparison, of course – the home-built system was snappier even for popping up Firefox, copying files and running simulations with a program like Autodesk Revit Architecture (which normally prefers a workstation PC).
That's about it when it comes to SLE*.
Xandros/Linspire
Another distribution that we name "Ballnux" would have to be Xandros because Linspire and Turbolinux are more or less history. Here is a little new rant about Xandros:
Linpus and Xandros aren't looking quite so exciting. Of course, that could change as smartbooks with ARM-based processors start to hit the market, since they're not capable of running Windows.
Not looking like Windows does not make something deficient. People don't need Windows, they just need something that works. But anyway, Lindows, which was bought by Xandros in its "Linspire" form, is now being called one of the "worst products ever".
9. Lindows
The hype was palpable surrounding Lindows: it was going to be a Linux operating system that provided full compatibility with Windows. Microsoft didn't take kindly to this and even sued, unsuccessfully, saying that Lindows was infringing its Windows copyright. The court case just added to the excitement.
Xandros never did anything substantial with Linspire, not even with CNR.
Samsung
Microsoft is also extorting Linux phones and Samsung lets Microsoft get its way. Here is a new discussion about Samsung's Android phones and about Bada:
Many people think of it as a poor thought, but Samsung has made it clear that Samsung Bada is being launched to make smartphones accessible to everyone. The smartphone market is still in its growing phase and Bada platform aims at improving the current situation.
Bada is mostly a layer and the platform that's underneath benefits Microsoft if people buy their phones from Samsung. █
Permalink Comments off

Send this to a friend
Summary: Business as usual for the OpenSUSE community and the developers, who also announce new milestones
MANY eyes are on Novell's future (or lack thereof [1, 2, 3, 4, 5, 6, 7, 8]), but in many ways, OpenSUSE carries on as usual.
Community
Brent, an OpenSUSE person, writes about the OpenSUSE community (or communities in general) and he is not alone.
I thought it would be a good idea to try and engage you – the fine openSUSE community – in discussion about "Us" the Community. We seemed to have been spoiled by having a Community Manager, people kind of seemed to let him do the work or worse expected him to do so. Now that we don't have that position any more we need to go back to basics and start rolling our sleeves up. We've started but we have much to do. As such this is the first in I'm not sure how many posts on the subject.
With or without Novell, the OpenSUSE community is likely to live on, maybe even without that patent deal which Novell and Microsoft signed.
Events
Jan Weber represents the OpenSUSE community right about now.
On next weekend I will be present at Chemnitzer Linux-Tage running the openSUSE booth there, so if you don't know what todo next weekend and you are in the Chemnitz area stop by and visit Chemnitzer Linux-Tage, of course stop by at the openSUSE booth
In Nicaragua too, an OpenSUSE Group turns out to exist.
For us, the openSUSE Group in Nicaragua, this is a great opportunity to participate in leading one of the main groups and to send personnel to the remaining places, so we can provide a permanent and effective presence in the Country.
Reviews
In OpenSUSE Forums, someone has posted a sort of comparison between PCLinuxOS 2010 (still in beta) and the latest stable version of OpenSUSE. We could not find another review.
Setting up my HP wireless printer/scanner was also painless, that took me days of bashing my head against the keyboard fighting with the hplip drivers in 11.2, where it wouldn't work if you selected the printer the software discovered, you had to enter the IP manually. Plus PCLOS set the scanner part up automatically, that has to be done seperately in 11.2.
Novell' Untz saw OpenSUSE breaking.
It was funny to see Garrett breaking his openSUSE installation. Except that it shouldn't break this way when using GNOME:Factory on 11.2. Oops.
Technical
On the technical side of things, the release of OpenSUSE Build Service 1.7.2 was probably the most major development. "KDE OBS Generator Builds KDE Packages for Various Distros," heralds Linux Magazine.
The idea for kde-obs-generator emerged from CampKDE and FOSDEM. Since then, Novell employee Lubo Lunák has uploaded its first developer version on kde-apps.org. The program creates RPM and Debian packages for openSUSE Build Services (OBS) supported distros without having to know very much about package building. A few command line commands in kde-obs-generator will easily create packages, according to Lunák. He has tested it on Plasma, KDM and KSplash themes, simple wallpapers and, of course, KDE apps themselves. The tool should greatly simplify uploading content to the kde-apps.org site, for example.
More on OBS here:
Build your own Google Earth rpm

[...]

The procedure to build the rpm can be found in the openSUSE wiki. One word of caution about the procedure, you need to be an experienced linux user and you need to have access to the openSUSE Build Service (OBS) to be able to build the rpm. This is due to library dependency problem, which prevents it to build without modification to the base system.
Cornelius wrote about http://live.opensuse.org/ in this announcement which is also significant.
Enjoy this gift from our community member and don't forget to report any problems you find with this new milestone in our bugzilla.

PS: I had a talk with our SUSE Studio guys and they are up to something similar using their infrastructure. They have to solve some issues first, though. Feature for this is already filed in openFATE.
Cornelius has this older post about Studio.
Last time I blogged about open positions in the SUSE Studio team we were just preparing the first public alpha of SUSE Studio. We were excited about our application, but we didn't know what users would say. Now we are running SUSE Studio Online with more than 50.000 registered users. We have released an onsite version as part of the SUSE Appliance Toolkit, have won awards, and we get a lot of fantastic feedback. We have achieved a lot. To sustain this growth and success we are looking for some smart people to join our team. This could be you.
Then there's just a bunch of OpenSUSE-specific/oriented HOWTOs, notably:
• Installing ATi Drivers in OpenSUSE
• Develop Javascript Plasmoids on openSUSE
• Using osc build to make a jail on openSUSE
You can get the most recent osc and build tools from the openSUSE:Tools repository. You will also need an account on the build service.
Leftovers
The Wiki Team needs some help and another newsletter has been posted.
The next openSUSE german Wiki Team meeting will take place tomorrow Wednesday March 09 at 18:00 GMT. As always, the meeting will be held in IRC on the #opensuse-wiki-de channel on Freenode.
In this Week:

* Pavol Rusnak: Announcing Connect!
* Andrew Wafaa: openSUSE & Google Summer of Code 2010
* Bento-Theme implementation approach
* Linux.com/Joe Brockmeier: Beginner's Guide to Nmap
* Poll: Which linux Distro do you use frequently
The man behind these posts says that "Geeko wants you" and a Geeko tram gets spotted (but it's not really Geeko). On the more positive side of things, there's something for OpenSUSE to be genuinely proud of; It has achieved this minor goal of advocacy with an accidental television appearance:
Just received the message (via awafaa) that our preferred distro openSUSE is being featured in the trailer of the Film Genitori e Figli (Parent and children). Here an screenshot of the moment were openSUSE is visible at 01m:40s
GNU/Linux is used on sub-notebooks quite extensively, especially outside the United States. █
Permalink Comments off

Send this to a friend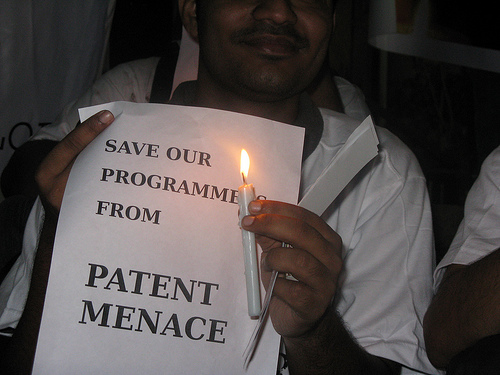 Summary: Overview of news about software patents and slightly beyond that
THE ISSUE of software patents is having an impact on GNU/Linux more than ever before. Apple, Microsoft, and a few other companies use software patents against the freedom of software. This post is a collection of items that hopefully inform and explain where we stand.
Acacia
There is only one patent troll that directly challenged GNU/Linux by filing a lawsuit against a GNU/Linux vendor, based on a software patent claim. Acacia sued Red Hat and Novell shortly after it had hired from Microsoft and Law.com has an update on the case.
Already this month, Rader has dismissed one patent case against Google and Yahoo on summary judgment and trimmed back damages theories in a lawsuit against Red Hat and Novell. These are somewhat unusual rulings for the Eastern District of Texas, which historically has not killed as many patent cases on summary judgment as other venues.

[...]

• In IP Innovation v. Red Hat, another case also involving plaintiff IP Innovation, this time against Red Hat and Novell, Rader made a statement on the hot button issue of damages in patent cases. The judge questioned the plaintiff expert's use of the "entire market value" rule, which calculates damages based on a percentage of total sales even if only a small feature of a product like a computer is infringing.

"Mr. Gemini's current expert report improperly inflates both the royalty base and the royalty rate by relying on irrelevant or unreliable evidence and by failing to account for the economic realities of this claimed component as part of a larger system," Rader wrote (.pdf).

Red Hat and Novell are being represented by Gibson, Dunn & Crutcher lawyers from San Francisco.
It is hard to tell if Microsoft was in touch with Acacia executives just before the lawsuit (there was a staff migration from Microsoft to Acacia), but as we showed many times before, the timing was interesting. The Acacia lawsuit was filed shortly after Ballmer had issued a patent threat to Red Hat.
i4i
"The Acacia lawsuit was filed shortly after Ballmer had issued a patent threat to Red Hat."The i4i case [1, 2, 3, 4, 5, 6, 7, 8, 9, 10, 11, 12], which we last mentioned a short while ago, is repeatedly being lost by Microsoft. They just don't give up, do they? It's still a case to watch because it dealt a blow to OOXML.
Tuxera
For those who do not remember how Tuxera is connected to Microsoft, here is a Wiki page serving as reference. There is noteworthy news about Tuxera becoming an SD Association member. They hopefully won't standardise only on Microsoft file systems that require money to be paid to Microsoft (for software patents).
Monsanto
One company that might be more malicious than Microsoft would have to be Monsanto. There are others too, but the nature of their malice is different (wars, poisoning, et cetera).
Monsanto officials are already inside the government (we have dozens of posts about Monsanto's inter-personal relationships) and this new report from The New York Times indicates that the company's patent franchise is still under scrutiny.
The price increases have not only irritated many farmers, they have caught the attention of the Obama administration. The Justice Department began an antitrust investigation of the seed industry last year, with an apparent focus on Monsanto, which controls much of the market for the expensive bioengineered traits that make crops resistant to insect pests and herbicides.
Glyn Moody, who refers to this post as his source, spots a comparison between Microsoft and Monsanto.
But the ones he chooses in contrast are pretty significant:

And the past:

Extractive. Over two decades, Microsoft has honed its extractive edge, coming up with cleverer and cleverer ways to extract profits from customers and suppliers. But Microsoft's just a flea on Wall St's elephant — who mastered extractive advantage by finding ways to, ultimately, extract trillions from you, me, and our grandkids. Extractive advantage asks: how can we transfer value from stakeholders to us, 10x or 100x better than our rivals?

Protective. Think Microsoft's the master of 20th century advantage? Think again. Monsanto's Round-up Ready strategy protects genetically modified crops with proprietary herbicide that crops need to flourish. The result? A protective advantage: Monsanto's made sure that farmers are locked in to Monsanto as tightly as possible. Protective advantage asks: are buyers and suppliers locked in to dealing with us, 10x or 100x more tightly than to rivals?

Hmm, Microsoft and Monsanto, what a combination – and interestingly, it's the latter that is singled out as clearly the worse of the two (which is why I am writing increasingly about the company and its activities.)
Monsanto is directly connected to Bill Gates [1, 2, 3, 4, 5, 6, 7, 8].
Apple and Microsoft
Moody also writes about Apple and Microsoft; specifically, he is referring to the secrets Sun's former CEO is telling about this pair (already covered in [1, 2, 3, 4]).
What Schwartz's wonderful anecdotes remind us is that every piece of software borrows from its predecessors, just as every artist learns from the artists that created before him or her. And that's to be expected, because software is a combination of art and science, and both gain much of their power by building on what went before, and then sharing that for others to build on in their turn, for the wider benefit of everyone.

The insane fad for trying to stop that sharing, and to turn those ideas into some mythical "intellectual property" is now reaching its inevitable conclusion, as patent thickets everywhere mean companies spend more and more time and money defending themselves against patent lawsuits, and less time getting on with their main business. There is only one solution: get rid of patents completely, and let the companies that innovate obtain their rewards from *using* that innovation to become leaders, not from trying to stop others from following belatedly in their footsteps.
Brendan Scott, an Australian solicitor specialising in Free/Open Source software, responds to Moody in his blog.
In the context of free software patents are problematic. In the ideal world patents on software wouldn't exist and there wouldn't be a problem. However, they do exist. Moreover, part of the reason they exist is because of a variation of mutually assured destruction – many businesses believe they need to acquire patents in order to defend against other patents.* Jonathan Schwartz sets out some of the sad, tawdry circumstances in which this logic plays out here.

I think it is a non trivial problem to find wording which preserves just the defensive potential of patents (which, is actually their offensive potential limited to specific circumstances of exercise) while preserving freedom when licensing software. Some of the more detailed free software licences attempt this. It is, I think, a more difficult problem to craft such wording to apply to standards – because standards purport to be agreed by some collection of people, while freedom requires that everyone be permitted to pursue their own goals. Thus, any 'promise' or 'covenant'** which is limited to an agreed specification must necessarily be inconsistent with freedom in a way qualitatively different to a patent clause in an open source licence. Moreover, any wording which applies to a particular version of a specification will be inconsistent with the evolution of that specification. In short, promises made in relation to specifications are likely to always be problematic (the best to hope for is a disclaimer – per W3C).
More information about Apple's lawsuit (and some background) can be found in The Prior Art blog, which is a good resource.
So while its partner HTC may be the "perfect target" for a patent attack, this is clearly a proxy war with Google—a company that has made clear that it's determined to push into the cell-phone market. That makes Apple's gambit a truly risky one.
We recommend that our readers do not pay Apple any money from now on (and encourage others to do the same). There are alternatives to Apple in every area of computing and these alternatives are also much cheaper anyway. A former Novell/SUSE evangelist finds out where Macs just don't work well (technically, as opposed to perception and visuals).
I have two MacBooks. One is from early 2007, the other from late 2009. Both have intermittent problems waking up from sleep often enough, and similarly enough, to indicate that the perfectionist culture rumored to drive Apple's every move has its severe blind spots.
Vista 7 — like Vista where shots have just been fired — has its problems too. We wrote about this in the morning, quoting our reader Goblin who now adds: "Speak with a "average" user of Windows 7 after its been running for a few weeks. In my experience, there's some unhappy people." He also gives a couple of examples [1, 2] that say: "Since I upgraded my Acer Aspire 6930 from Vista to Windows 7 I have been having many issues…"
Another example says that "these are some of the problems faced by me on the operating system windows7″; is anybody surprised? We have warned about it since 2008 and large businesses refuse to consider this operating system, usually after extensive testing that they require and can afford to perform. █
Permalink Comments off

Send this to a friend
Summary: How SCO orchestrated attacks on Groklaw and other takes on the trial against Novell
WE generally cover the SCO case only when there is a major development. One new post that we found particularly curious is titled "Blake Stowell Email to Maureen O'Gara: 'I Need You to Send a Jab PJ's Way'" (SCO also paid O'Gara, who carries on lying about the case).
This shows how corruptible the press really is, but then again it's Sys-Con [1, 2, 3, 4, 5], which is far worse than Fox. Microsoft also used Maureen O'Gara to send a jab in the Linux Foundation's way (OSDL at the time). Microsoft didn't do this directly. In order to reduce the risk, it used its main PR agency (there are several), Waggener Edstrom. Anyway, here is what Groklaw writes:
So. Now I know. Now we all know.

Blake Stowell, then the PR guy for SCO, sent an email to Maureen O'Gara, saying "I need you to send a jab PJ's way," and then right afterwards she wrote that invasive so-called expose, in which she revealed, or at least intended to reveal, things like who I called on my phone. A la the HP scandal. She got fired for doing it the way she did, and the then-publisher apologized to me publicly, but she says in the deposition she's not sorry a bit.

We learn this by reading excerpts from her deposition, previously under seal, attached to a letter [PDF] SCO's attorney sent to the court. SCO doesn't want the part of her deposition video played where she talks about me and Groklaw. It's beyond eye-opening, however, despite her pretense, as I see it, that there is no connection between the two events.

They also don't want the part about an email she sent to SCO, subject line, "I want war pay," played. It's allegedly humor. Just chatter. But you know, she is on the list of people SCO owes money to, now that I think of it, filed in connection with the bankruptcy. I wonder for what?

It isn't acceptable, in my eyes, that SCO's attorneys invariably smear Groklaw in every filing that mentions it. They don't just say "Groklaw," they say "the anti-SCO website, Groklaw." One can say quite a lot in legal filings, and get away with it, but there is a line where it becomes libel, when it is gratuitous, and that language is gratuitous. There isn't a media outlet that I can think of, other than Maureen O'Gara's newsletters, that hasn't criticized what SCO did. The Wall Street Journal was the first, actually, to suspect there was something rotten in Lindon, if you recall. Would it be acceptable to call it, in legal papers, the anti-SCO newspaper, the Wall St. Journal? I think not, and I suggest they are crossing a line.
Microsoft evangelists (on the payroll) are doing this to Boycott Novell and anonymous Novell employees too. Thus, they would be hypocrites to paint themselves as victims of bad publicity.
Our reader The Mad Hatter writes some more about the SCO case, calling it "SCOicide".
Due to the interest in the case, Judge Kimbell told both parties to minimize redactions in the documents that they filed, and not to minimize the number of documents filed under seal. Because of this we learned that Caldera had hired people to investigate and prove the transfer of code, and that they reported that they COULD NOT FIND PROOF OF ANY TRANSFER. They filed their reports before the original lawsuit was launched. Darl, the CEO knew that he didn't have any proof. None. But he went ahead with the lawsuit against IBM anyway.
Other coverage from the latest episode in this case includes:
1. Novell asks for further ruling on Motion in Limine No. 4
Novell has asked the Court to rule further on their Motion in Limine No. 4 [PDF; text]. The Court had previously issued a ruling [PDF] granting that Motion, but Novell now asks for further ruling, stating that "[t]he Court addressed this issue solely in the context of SCO's covenant of good faith claim. However, Novell's motion covered all of SCO's claims, including slander of title. The Court's prior ruling did not expressly address other claims, so Novell requests the Court to rule on the issue that was left open by its prior order."
2. Attorney: IBM-Novell worked together to hurt SCO
Novell Inc. lied about owning the copyrights for the Unix computer operating system then collaborated with IBM to damage Unix owner The SCO Group, the latter's attorney told a federal court jury Tuesday.

In the first day of testimony in a trial to settle a long-running legal dispute between SCO and Novell, SCO went on the attack by calling as its first witness the former CEO and chairman of Novell. Robert Frankenberg testified that despite Novell's claims of ownership, his intent was to sell the copyrights in a 1995 deal that's at the heart of the conflict.

The SCO Group claims that Novell "slandered" its title to the Unix system and caused it to lose as much as $215 million in revenue at a time when it was in a related dispute with IBM. SCO had accused IBM of improperly using Unix code for improvements that made the Linux operating system a commercial competitor.

SCO's 2003 lawsuit potentially put IBM on the hook for hundreds of millions of dollars. But then Novell late that year claimed that it, and not SCO, owned the copyrights, meaning SCO did not have a basis for its IBM lawsuit nor for demands that businesses using Linux pay licensing fees.
3. Novell, IBM accused of collaborating to hurt Unix owner, lawyer says
A trial in federal court that could have a major impact on the Linux operating system opened in Salt Lake City on Monday with The SCO Group's lawyer taking aim at Novell and IBM.
4. Arguments begin in SCO v. Novell over copyrights
5. Day 2 of the SCO v. Novell Trial – Opening argument – Updated Repeatedly – 1st Witness, Frankenberg (more documents)
Would it surprise you to find out that it turns out that apparently one of the jurors might be related to one of SCO's prior corporate officers? At any rate they have the same last name, and Salt Lake City is a big place, so perhaps not. Novell noticed the similarity in names, according to our reporter today, MSS2, only after jury selection was over.

MSS2 has just sent me his first report of day 2 of the jury trial in SCO v. Novell, with more to come. Today was opening arguments by both sides. And we have lots more goodies for you from two eyewitnesses, MSS2 and Tilendor. We begin with SCO's opening argument by Stuart Singer. All I can say after reading it is maybe you needed to be there. Or SCO must be a slow learner or Mr. Singer never reads Groklaw, or … well, see what you think.
6. Day 1 of the Jury Trial, SCO v. Novell – Updated 2Xs – We Have a Jury
7. Jury seated in SCO lawsuit against Novell
A jury has been seated to hear the lawsuit in which The SCO Group is claiming Novell interfered with its ownership of the Unix computer operating system and cost it more than $100 million in business.
8. Last-Minute Filings from Judge Stewart, SCO, Novell
9. More Back-and-Forth on Proposed Jury Instructions/Verdict Forms in SCO v. Novell
10. Day 2 of the SCO v. Novell Trial – Opening argument – Updated Repeatedly – 1st Witness, Frankenberg
11. Volunteer Needed for Thursday Trial Coverage
The Salt Lake Tribune then published this somewhat controversial article (also posted here), which led to this rebuttal from Groklaw.
And on it goes until Friday:
12. Day 4 of the Trial in SCO v. Novell – and Novell's Petition for Certiorari
13. Novell's Motion to Allow Evidence: SCO Opened the Door
14. Day 5 of the SCO v. Novell Trial & Some Help for Journalists Covering the Trial
Some readers of Boycott Novell have sufficient knowledge about the case and they comment about it in IRC. But for well researched commentary regarding SCO, we recommend that people read Groklaw, which could use more volunteers. █
"…Microsoft wished to promote SCO and its pending lawsuit against IBM and the Linux operating system. But Microsoft did not want to be seen as attacking IBM or Linux."
–Larry Goldfarb, Baystar, key investor in SCO approached by Microsoft
Summary: Disagreement between the press and the hostile acquirer as to whether or not Novell would stay in tact
NOVELL is at a stage of uncertainty and state of denial because it's likely to be acquired soon [1, 2, 3, 4, 5, 6, 7]. The Novell-faithful people watch with concern as their Novell skills/certifications are at stake and Novell's BrainShare, which is just days away, has "uncertainty" written all over it. Attendants are likely to bring up questions about the company's short-term plans. Novell's PR team promotes the event [1, 2], whereas analysts at Ovum claim that "The end is nigh for Novell":
After years of acquisition rumors, last week Novell received a buy-out offer from hedge fund Elliott Associates (EA). Whether the offer succeeds or not, Novell is likely to end up in pieces.

[...]

Novell's parts are more valuable than its sum

Novell's board is likely to reject the current offer before Novell's annual conference, BrainShare, starts on 21 March. It can keep rejecting EA's offers, but it cannot stop EA from going directly to Novell's shareholders. Should EA be successful, it is likely to pocket Novell's cash then split the company and sell its constituent parts.
This news report from Bloomberg (also published in BusinessWeek and later corrected slightly) claims that Novell will be torn apart by Singer and his minions, who are only interested in money and not in Novell's staff, products, and customers.
Elliott Associates LP, the fund manager that made an unsolicited $2 billion offer for Novell Inc., may consider selling the NetWare networking-software unit if its bid succeeds, a person familiar with the matter said.

Elliott, which owns about 8.5 percent of Novell stock, would also try to run the company more efficiently and bring about $400 million in cash that Novell holds off shore to the U.S., said the person, who asked not to be identified because Novell hasn't agreed to the bid. Elliott may also try to find a buyer for Novell's business that specializes in an open-source operating system, the person said.

"Our intent is to own Novell," New York-based Elliott said in an e-mailed statement. "We have absolutely no plans to sell any business units."
The Inquirer wrote about it shortly afterwards:
Novell will be asset stripped

SOURCES AT the investment fund Elliot have confirmed that if it is successful in its bid to take over Novell, the outfit will be asset stripped.

Its Netware networking-software unit will be flogged and the company will look for a buyer for its SUSE Linux operation.
Elliott Associates, the vulture fund, later issued a denial:
As the week was ending, rumors were swirling that the hedge fund suitor of Novell, Elliott Associates, which last week offered $1bn net of cash to take over the perennially struggling software maker, was going to start selling off its target's assets if it clinches a deal.

[...]

In response to the Bloomberg story, Elliott put out a statement two hours after the market closed denying the rumors. "The story that Bloomberg ran today was inaccurate. Elliott has made no statement with respect to its intent regarding Novell. Elliott wants to own the company. Elliott has no plans to sell any business units and to report anything else would be erroneous."
So what was the Bloomberg report based upon?
The Novell-faithful folks were also quick to point out this "mistake", whose correction came through PRNewsWire. In Associated Content, one fan of SUSE wrote: "Why Microsoft Needs to Buy Novell or Has Its Own Linux Distro?" [weak English]
I personally do not want to see SUSE to die. I 'dabbled my feet' with linux was SuSe 6.0. I actually bought the boxed version of that software (since installing, downloading, configuring, etc were a major pain in those days). Among all linux I tried that time (which was probably early 1990s), SUSE was always the winner in detecting any hardwares I throw into. All other distros just simply failed, usually, in detecting the 'soft modem.' Remember that era? If not, soft modem is that annoying modem that can be used with Windows driver only. You would be lucky to run your beloved 1.44k band modem if someone did the hack for linux driver of it.
Taking a moment to look a few days back (before the Bloomberg report and the subsequent denial), Paul Rubens believes that sale of Novell's assets is inevitable.
The enterprise Linux space has suddenly got very interesting following the news that a bunch of sharp-suited New Yorkers have made an offer to buy SUSE Linux's parent company, Novell. Whether or not they succeed, there can be little doubt that it's cheerio and night-night for Novell, a business that has been doomed since, let's be brutally honest here, everyone stopped buying NetWare.

The offer, from hedge fund outfit Elliott Associates, was for $5.75 per share, valuing Novell at a shade under $2 billion. But bearing in mind that the company has vast cash piles in various currencies, worth about $950 million, and the offer values Novell's businesses at around $1 billion greenbacks.
There is clearly a takeover expected, so the question is, by who?
Macquarie Securities initiated coverage on takeover target Novell (Nasdaq: NOVL) with an Outperform rating and $7.50 price target.
Microsoft's buddy reckons that Novell will be sold and in Boston (near Novell's headquarters) this is pointed out too. The takeover gets mentioned in many other places that we mentioned before (we try to produce an exhaustive list of links to articles) and negative speculations about Red Hat are fueled by FUD from Canonical's Matt Asay, leading to articles like this one.
But there are fears that if Novell goes, that could be the first domino which damages the commercial outfits based on Linux.

The next target might be Red Hat. Some think that if Novell's SUSE Linux business finds its way into Oracle's or VMware's or IBM's paws, it will be hard for Red Hat to remain viable as a stand alone company.
This is only based on CNET, which they think is a reliable news site. When they say "there are fears" they only refer to Matt Asay, who used to work for Novell and thus compete strongly against Red Hat. This whole thing also feeds the shameless Microsoft booster Preston Gralla [1, 2]. His disinformation is self explanatory and public admiration of Microsoft very much expected. █
Permalink Comments off

Send this to a friend