05.07.10
Gemini version available ♊︎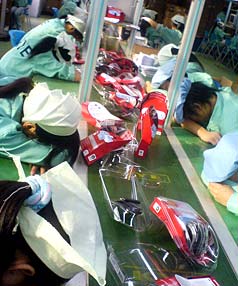 Worse than prison (learn more)
Summary: New 'piracy' propaganda from Microsoft China; BSA is looking for snitches; Vista 8 is said to crack down harder on counterfeiting
SEVERAL MONTHS ago we showed that Microsoft assumes you are a criminal (forget about "innocent until/unless proven guilty"). In more recent weeks we showed that Microsoft paints its customers/users as "pirates" and then uses this daemonisation as a lever. We used China as an example. In China, the real 'pirates' are Microsoft [1, 2, 3, 4] (Plurk case).
Microsoft's latest propaganda from China says this:
Since its entrance into the Chinese market in 1992, Microsoft has been searching for effective anti-piracy measures. Now it has built an integrated anti-piracy network, including law offices, Microsoft agents and anti-piracy organizations in local governments. The company reportedly earns 80 percent of its income in China from anti-piracy actions.
"If that site is to be believed," adds our reader. It's a Chinese Web site, probably controlled by the government which works with Microsoft to suppress the population [1, 2, 3].
According to kk.org, Microsoft uses its private police force (the BSA) to incentivise snitches against users of proprietary software.
Specifically, I find the snitching program of Business Software Alliance (BSA) to be a racket. The BSA will pay you to snitch on someone who is using commercial software without payment. But BSA will only pay you if they succeed is forcing a payment from the infringing institution.
Is this the type of world we wish to live in? One where, according to this vapourware domain (about Vista 8), the software we install on our computers (or forced to have installed on any new computer) acts as a policeman against us?
Proprietary software criminalises and divides users, who would snitch on one another for money. Is this ethical? Is this really necessary? █
"Copying all or parts of a program is as natural to a programmer as breathing, and as productive. It ought to be as free."
–Richard Stallman
Permalink

Send this to a friend