07.21.10
Gemini version available ♊︎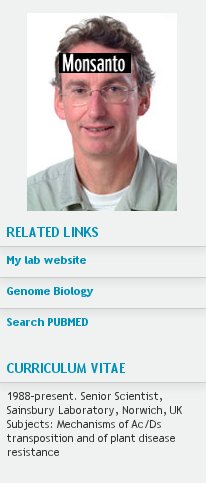 Summary: Proponent of food monopoly (using controversial patents on misunderstood seeds) remarks on the lack of disclosure, namely his paychecks from Monsanto
SEVERAL weeks ago we wrote about Monsanto proponent Jonathan Jones, who without any disclosure decided to promote Monsanto's agenda in the MSBBC. Here is Jones admitting the conflict of interests:
The scientist in charge of a taxpayer-funded trial that may determine whether genetically modified crops will be grown in the UK has been attacked for his close links to the US biotech giant Monsanto.

Professor Jonathan Jones, head of the Sainsbury Laboratory at the John Innes Centre, the UK's leading plant research centre, has shrugged off the controversy, insisting he has never tried to hide his business relationship with Monsanto or the GM industry.
"Never tried to hide" is not the same as disclosure. It is important that conflicts of interests are not left as "an exercise for the reader" to find. This is a failure both for the MSBBC and for Jones. █
Related posts:
Update: GM Watch has also just responded to this. "Jones backs down over Monsanto connection" says the headline and the author points out that "an article appeared in The Observer newspaper detailing Prof Jonathan Jones's failure to make clear his busines links to Monsanto in a recent article for the BBC."
Jones said: "It is not true to suggest I have attempted to hide my role as co-founder and science advisory board member of Mendel Biotechnology, which has contracts with Monsanto, Bayer and BP."
GM Watch also quotes a comment which says: "I found out about Prof Jones' involvement in an American based biotech firm back in 2001 when someone told me there were jobs going there. I was quite surprised to find Prof Jones, and if my memory serves me correctly a couple of other leading British plant scientists on the directorial board. The thing that surprised me back then was that having worked in their field for over ten years and having heard them speak on numerous occasions at conferences etc that I had never heard them mentioned their clearly relevant commercial interests. If my memory serves me correctly they always stuck to their wholly impartial for 'the public good' scientist persona.
"Now following the thieving banks [and] the thieving politicians, I am not surprised at all. Our leading lights are all the same, out for number one."
Update #2: GM Watch also brings attention to this site which documents Jonathan Jones' attacks on GMO critics/sceptics.
Permalink

Send this to a friend