08.07.10
Gemini version available ♊︎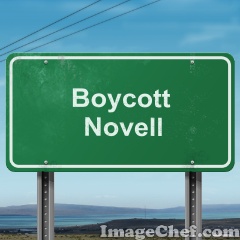 Summary: News about the SCO trial, the LA migration away from Groupwise, Pulse after Wave's cancellation, Fog Computing, and SUSE news
THIS is just a quick summary of Novell news. Over at Groklaw there is analysis of day 4 of SCO vs. Novell and some company is marketing a report about Novell this week. There is also evidence of Groupwise support and Groupwise will indeed be replaced in Los Angeles, in spite of disinformation.
L.A. Sticks With Google Cloud Computing Despite Delays

[...]

Because of the concerns, the LAPD's 13,000 personnel have stayed on the city's old Novell GroupWise system while other local agencies made the leap to Google for e-mail and collaboration capabilities in the cloud.
Google is indeed causing harm to Novell here. It also left Novell in a bad position with Pulse, which Novell insists will live on. Here is a newer article about the subject:
Other vendors have already built their own versions of Wave, such as Novell's Pulse and SAP's StreamWork, and these products appear to be alive and well.

Novell engineering VP Andy Fox said in an e-mail that enterprise users appreciate the social connectivity, real-time co-authoring, and file presence made possible by the Wave platform.

"Novell Pulse delivers this combination that business consumers want plus security controls enterprises demand," he said. "Novell is highly committed to the future of enterprise collaboration, and Novell Pulse is on track. Further, we remain committed to pursuing the benefits of real time collaboration to enable new applications, users and organizations to work together."
In a new IDG article about Fog Computing Novell gets quoted as follows:
"The goal is to acclimatise the organisation to ask 'what's actually out there?' and at the same time most of them are undertake the next step beyond virtualisation," Novell technology strategist, Paul Kangro, said. "With cloud, the compute becomes more grid-like, and the user deploys jobs into this grid – the way people think about how they run jobs, or how they run workloads, which they classically think about needs to change as well."
When it comes to SUSE, the same site mentions "increase[d] partner certifications particularly within Linux" and CRN has this post about Gallery.
Novell is heavily investing in partner training, certification and enablement.

The vendor's Asia-Pacific vice-president of alliance and channel sales, John Donovan, said during the next 12-18 months, it plans to substantially increase partner certifications particularly within Linux and the sales and technical arena.

"We're going really build a much stronger [partner] base than what we have today, which is pretty good anyway," Donovan said.
Novell has a real problem with channel partners, especially in places like the UK. █
Permalink

Send this to a friend