09.07.10
Gemini version available ♊︎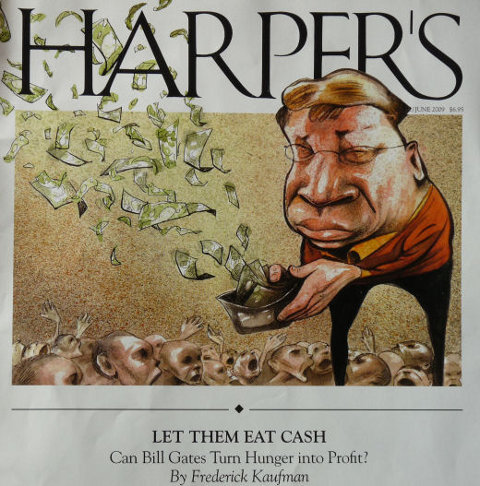 Summary: An analysis of banking interests in Africa, Gates' role in them, and their impact on the population
IN a later post about GMO we are going to address one aspect on this sensitive subject, but in this post we are going to explore the impact of Gates Foundation investments in Goldman Sachs (going back to this report from August 16th, as well as others, e.g. [1, 2, 3, 4]). Taken into consideration there ought to be a plethora of factors which we shall summarise at a later stage.
Gates' investment in Goldman Sachs is a subject we wrote about two weeks ago following literally thousands of links Techrights posted about Goldman Sachs over the years, e.g. about government influence. "Feeding the hungry" is the sort of sound bite everyone loves to hear and Gates sings it to the public many times. It's valuable PR, but what exactly happens on the surface? Today we won't be addressing the GMO agenda; however, we will be addressing the role of financial interests in food. By giving money to Goldman Sachs, for example, the Gates Foundation is actually feeding the bankers who starve the hungry. These are investments that achieve the very opposite of what's publicly stated, as we last discussed in the previous post (conflicts abound).
For a little bit of background (we put about a dozen links about it all in all), read articles like "The great hunger lottery – How banking speculation causes food crises" (it's not just Goldman Sachs, but it's probably the largest culprit). Warren Buffett too is investing in this whole thing. From several days ago in the news:
Buying Goldman stock will put you in good company

[...]

The Bill and Melinda Gates Foundation, the world's largest philanthropic foundation, bought 500,000 shares in Q2.

Warren Buffett's Berkshire Hathaway famously bought $5-billion in Goldman preferred shares at the bottom of the 2008 financial meltdown, and acquired warrants for another $5-billion. Charlie Munger, Berkshire's vice-chairman, commented that "we felt their merits outweighed their defects."
It was just some days ago that we found out about the deadly effect of price hikes in Mozambique's food:
The UN has called an urgent meeting on rising global food prices in an attempt to head off a repeat of the 2008 crisis that sparked riots around the world.

Seven people, including two children, were killed in Mozambique this week during three days of protests triggered by a rise in the cost of bread. There has also been anger over increasing prices in Egypt, Serbia and Pakistan, where floods destroyed a fifth of the country's crops.
Read the article titled "Goldman Sachs makes $1 billion profit on food price speculation" and then take into account other banking connections, the World Bank for example. To suggest that solutions for third-world countries will come from banks is to assume that debt can resolve/substitute hunger and that putting people under the control of international banks is truly in their interest. Banks don't produce food and often they create long-term liabilities.
We previously wrote about the Grameen Foundation [1, 2, 3, 4, 5, 6], which has roots in Microsoft and works with the Gates Foundation to put Western banking systems into places that are under-developed. Here is the Gates Foundation getting involved again, pushing US-based micro-payment technology that can only increase such dependence (see what was done in Haiti for example):
The Grameen Technology Center, formed nine years ago by a former executive at Microsoft, has deployed applications in Uganda that send text-message reminders for neo-natal patients in Ghana to take medication and tests. Through a partnership with Google and the local telecom service provider, Grameen is able to collect data through smart phones on how farmers are dealing with crop disease and then serve up instructions from the cell phones on how farmers can keep their crops from getting infected.
They are essentially enabling some businesses in the West. Maybe it's good, maybe that's bad, maybe it's a bit of both. It's up for the local population to make informed choices rather than foreigners deciding for these nations what's good for them.
China finds it rather offensive on the face of it. The financial press in the West shows how the world's wealthiest are suddenly relabeled "do-gooders" (following the money and using PR in the Financial Times), but such expansionism is frowned upon by China. They won't let Buffett and Gates play a role as "world's parents" and to be fair, China too is increasingly taking control and colonising poor nations, including some in Africa. Feeding the hungry is not a priority, it's a convenient excuse for getting in while having some consent from the exploited, occupied population (use of the local press for propaganda is crucial here too).
We are at risk of going off topic here, but one of the most fascinating things in Africa is the use of patents against it by the developed world (maybe about 10% of the world's population, depending where the line gets drawn). This helps show how notions which are taken for granted in the West are actually extremely harmful to the large majority of the world's people. Europe and the US each account only for about 5% of the world's people and assuming democracy amongst all living humans, there is magnanimous, abject, unjust, powerful, and hostile relationship that needs to be accounted for. It's a moral issue. █
Permalink

Send this to a friend